Day 20: Livingston MT to Helena MT
Decided to drive to Helena today, over Bozeman Pass of course. Started off and soon caught a train; downhill, but I'm not going to say no to a photo-op, and especially not a pair of warbonnets in the snow!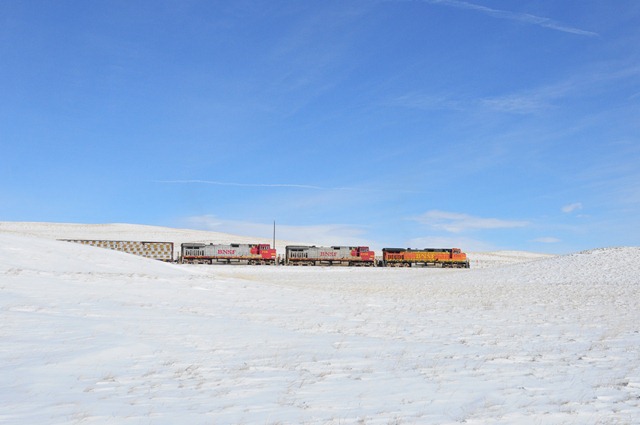 Continued on up the hill and set up a stakeout at the "Cowboy Cookout". 40 minutes later and I got my wish; a nice big BNSF earthworm.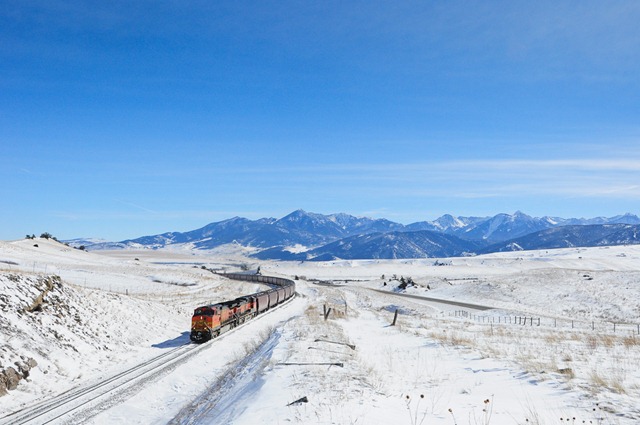 And then a few minutes along came the midtrain helpers; a 5-pack of SD40s, always a pleasant sight.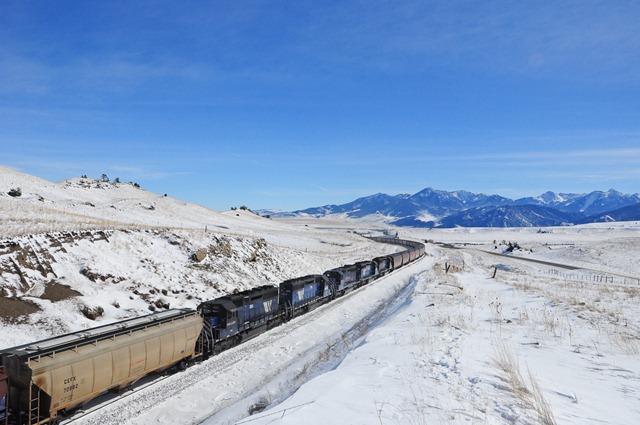 I was just about to leave but just ten minutes later another earthworm came crawling up the hill, again with a 5-pack of SD40 mid train helpers. Wow, just 10 minutes apart! Try that in NZ.
A trusty and surprisingly clean dash-9 brought up the rear.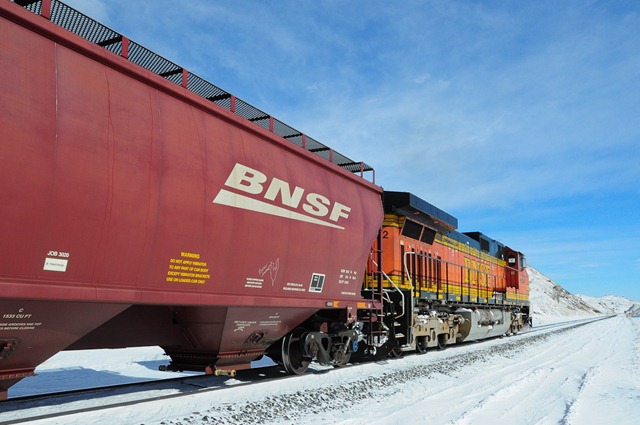 I raced up the hill and intercepted him at the tunnel.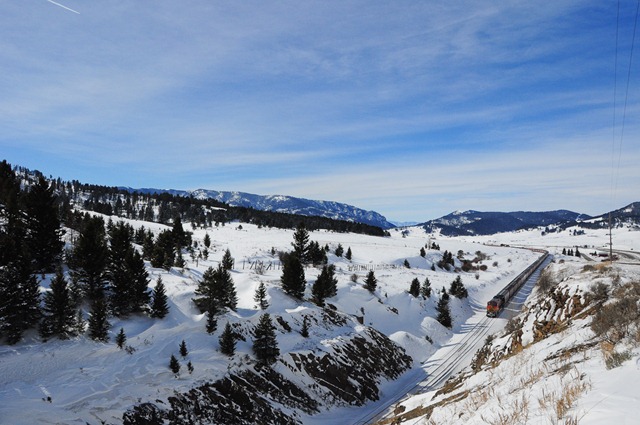 I continued on down the hill and found a spot to wait for the helpers on their way back. I had a bit of a wait, so read some more Douglas Adams (Dirk Gently's Holistic Detective Agency) on my Kindle. That thing is a life savour! In the last month I've read more than I have in the entire previous year. Soon enough the helpers came back and I got a nice shot looking into the canyon.
I decided to set off for Helena now. I was roughly following the grain train from before and he'd gone into the loop near Manhattan, so I went in to see what was up. The Montana Manhattan differs slightly from the better known Manhattan; for a start the biggest building here is surprisingly enough a grain elevator!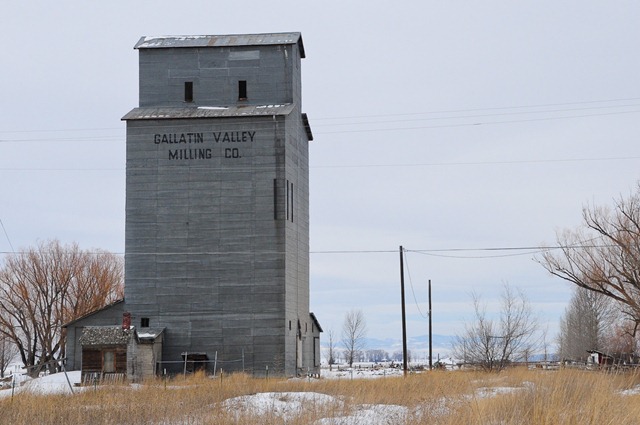 There was also some funny goings on. As I watched a pickup truck towed a tow truck that itself was towing a trainer. The first pickup then detached and the second towed its trailer around in a circle and finished exactly where they'd started. I'm sure it all made sense to the driver..!?
More interesting however were the trains. When I arrived there was an MRL local sitting in the loop with 3 locos and 1 wagon. Shortly after the train in front of mine arrived, then an opposing train arrived.
The first train left quickly, then the second left after a crew change, and an hour later the MRL local started doing its thing. If I'd know it was going to take that long…!
I continued on and stopped at Townsend, where they also have a grain elevator. The railway yard is rather nice with an old goods shed, a cantilever signal and a little yard name board.
Onwards I went and was soon entering Helena, the state capital. There was some lovely storm lighting here and quite by chance I ended up at the State Capitol building.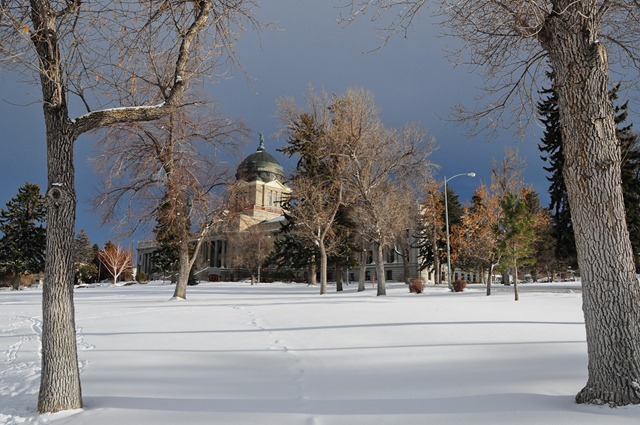 Shortly after I found the railway station and yard. The yard had two 5-packs of almost brand new SD70ACe helpers ready for action. They looked very sharp in their black/blue/white paint.
I continued on and found a motel, which for lack of affordable alternatives ended up being the very unromantic Motel 6. The check in procedure took forever; US border passport control is a quicker and simpler process and I'm only half joking! They wanted address, license number, phone, date of birth, a copy of my license, etc etc! And to top it all off the lady gave me the completely wrong room; I'm fairly sure the room she put me in already had people in it, so it's lucky the door key didn't work. Eventually though I got it all sorted and went off for a far too big mexican meal down the road.
Finally, a couple of curiosities found around Helena.
Firstly, a USPS (US Postal Service) mail delivery truck. These tiny wee trucks zip around all over the place, crisscrossing each other but presumably getting the job done in their own chaotic little way.
The second is a trailer house all packed up and ready to go. These seem like a pretty good idea for cheap or temporary housing. They're mass produced and can be very easily moved around, because the trailer is part of the house. Just attach wheels and off you go. Pull up at trailer park, rent a spot, lower the supports and connect up power/water/sewer and you're all done! Need to move? Just unplug everything, put the wheels back on, hire a truck and you're off. This particular trailer house is a "double wide" because each half is the width of a road lane. Once you arrive at a site just join the two halves together. Pretty clever stuff, and would be ideal for Christchurch right now! (I bet they're pretty earthquake proof too seeing as they aren't really secured to the ground and are made to withstand being towed on the highway)