Day 19: Billings, MT to Livingston, MT
Went down and had a look at the Billings yard, and in the process spied my first Montana Rail Link (MRL) locos. Yay! They have a very striking blue/black/white paint scheme that is simple, but distinctive and bold. And also very hard to photograph I'm discovering!
Seems to be grain train season at the moment, as every day I'm seeing the BNSF earthworms. They're not quite as impressive here as in Arizona, where they run them as 3x2x1 consists, that is 3 locos on front, 2 in the middle, and one on the rear… and they run at 60mph. But that said, the sight of a near uniform train of easily 100+ wagons is quite a sight!
All the yards over here have lots of aerials sticking up. I'm not quite sure the reason for this; presumably each point is monitored and signalled, but why not run underground cables instead?
While waiting for something to happen I went to Walmart and spied an amazing factory. No idea what it makes, but in the cool Montana winter air, it makes for quite a sight.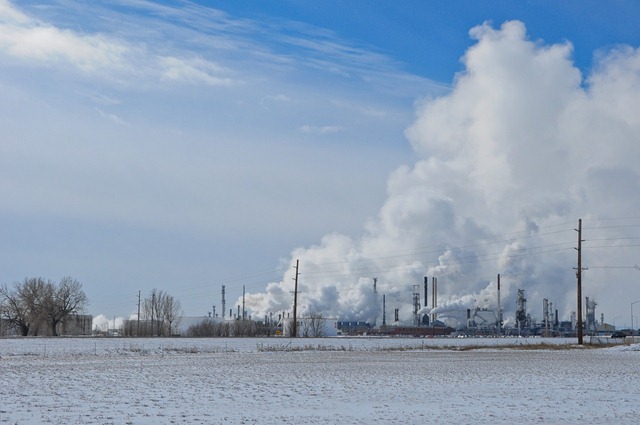 I hit the highway and a short distance down the road at MRL's Laurel yard I spied some action. Actually quite a lot of action. Coming in on the freeway I passed four trains, all bunched up with only a few lengths between each train, all waiting to get into Livingston. First was a coal train with a pair of SD70ACe's on front. Then a mint MRL SD40 with a wonderful horn came past, and then a pair of SD70/75s came past on a coal train. I didn't plan things too well and got stuck at this crossing for quite a while. Behind me was some kind of horse show (Miller's Horse Palace) and wow , they have some fancy trailers! I saw some that were basically full blown RVs… with space for horses too. A number of floats had satellite dishes, and most had air conditioning. The photo below is just a basic on, but notice how it is being towed; that is very common over here; yet I don't think I've ever seen it back home.
I drove on and was soon in Livingston, home of the MRL workshops. I didn't know what I was in for! I drove through the town and around the railway yards. As I rounded a corner I was greeted by the most amazing sight I've ever seen…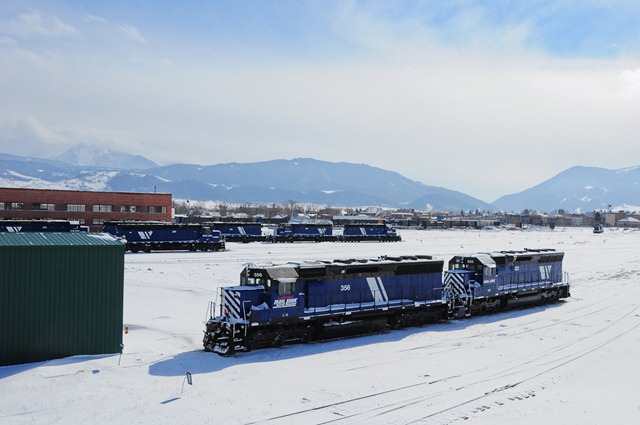 Locos. EVERYWHERE! So much black and blue that I started whimpering a little bit. And all of it classic EMD power; not a single widecab in view. I rounded another corner and found a pair of mint F45s, a very handsome looking loco especially so in the MRL paint.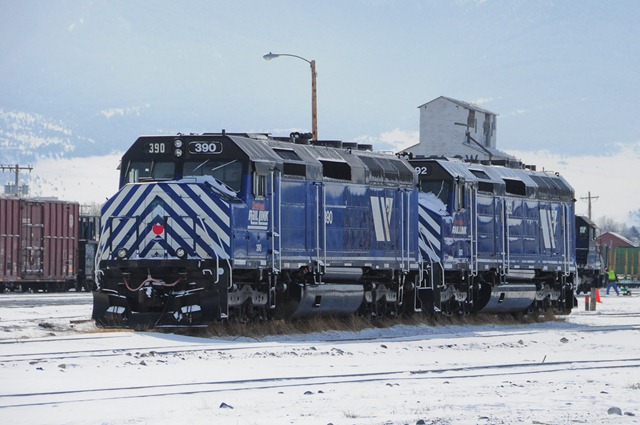 The workshops are an amazing sight, an amazing complex of brick buildings, although all very asleep for a Friday afternoon. I wondered if they would mind if I took one of the SD45s below home with me. I've always wanted an SD45 after all…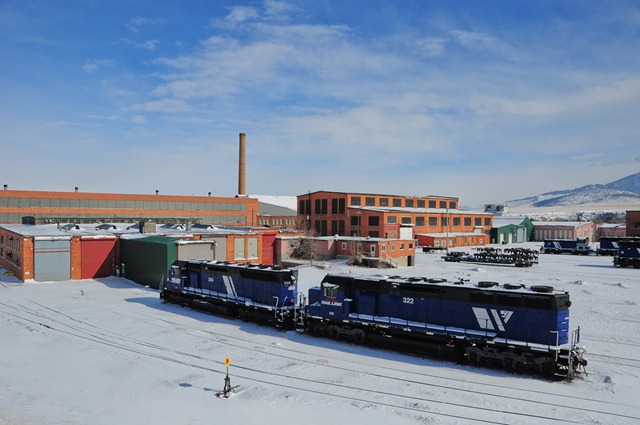 And speaking of SD45s, I thought I'd been born 20 years too late to see SD45s in revenue service, but over here in Montana the MRL are keeping the dream alive. The have a little bit of everything over here. If it was made by EMD, they probably have one.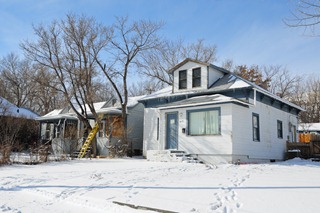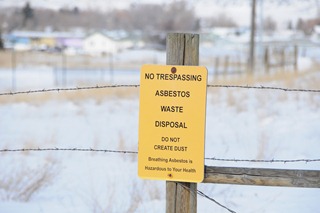 Some nice little houses overlooking the MRL workshops / A rather disconcerting sign…
I booked into a motel on main street right opposite the MRL yard and, it turns out, right opposite where they cut in the helpers. Livingston is at the bottom of Bozeman Pass, a very short but incredibly sharp pass between Livingston and Bozeman. Westbound BNSF trains arrive at Livingston yard and within about 10 minutes they have a four or five pack of manned helpers spliced into the middle of the train. Five more minutes for pumping up the air brakes and final tests and they're off.
While this was happening I checked into my motel. The proprietor was nice, but I found his lack of teeth a little disconcerting. It is very hard not to look when there is very obviously only one big tooth front center. Still I got a room opposite the trains.
I headed on up the hill to see what I could find and was very surprised at the grades the railway was taking; they seemed to be rising as fast as the road, and the SUV was finding the road a bit of a challenge! At the top I found a train just starting back down to Livingston; one high speed swerve into the exit ramp later and I was trying to get a photo before he ran away. Found a great spot…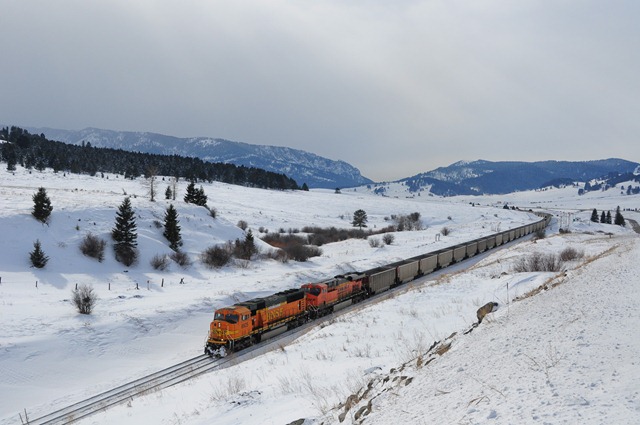 I let him go and went on down to Bozeman to see what it was like. Turns out to be a lot bigger than Livingston and with no real railway presence; just an old station and a loop for cutting out the helpers. And Bozeman obviously don't like railfans that much cos short of jumping off a highway overpass there was no way to get even remotely close to see what was happening.
I had to settle for watching the train pass the station, sans helpers.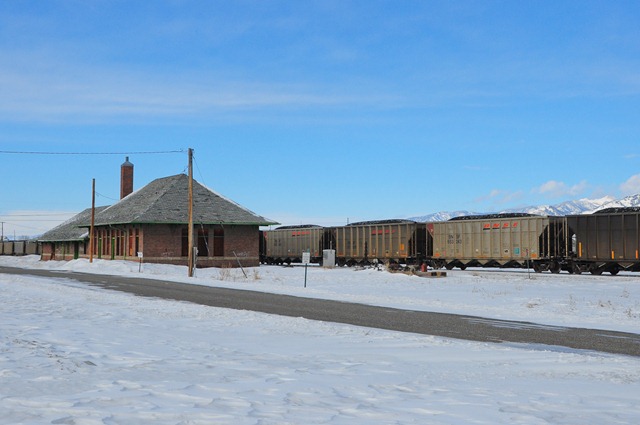 I raced back up the hill (once I'd negotiated Bozeman's railfan-hostile roads & returned to the freeway). Managed to catch the helpers returning at "Flynn Creek Outfitters; Horseback rides & cowboy cook-out". One can only imagine what that is… actually I'm not even sure I can imagine. Cowboy cook-outs?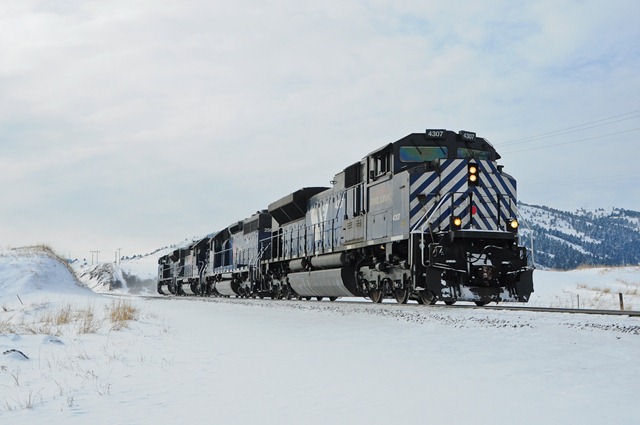 Caught the helpers on the hill near town, and again entering town.
The helpers are an odd mix of SD40-2s and SD70ACe's; DC vs AC, several generations difference in technology, and massive HP differences too. But they certainly seem to get the job done pretty well, and MRL appear to take good care of their locos.
I found a grain elevator… (I only photograph some tiny fraction of those I see too by the way!)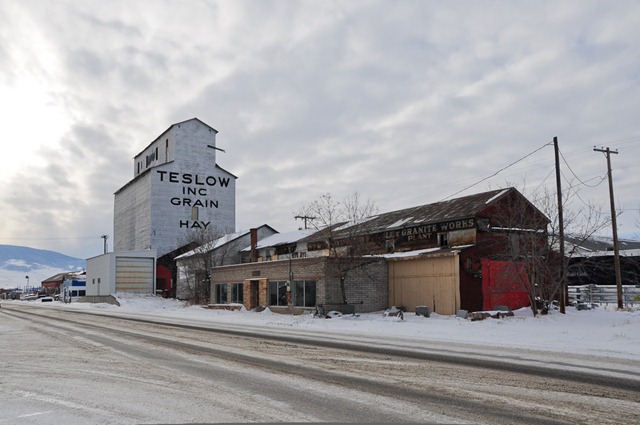 And by the time I got back to town the next train was ready to go over the pass, and I suspect they were still queued up all the way back to Billings.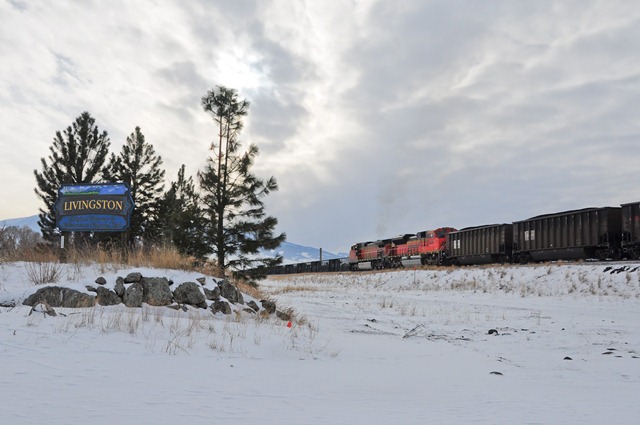 The train ran through and the helpers waited patiently near the crossovers. The train stopped about where the helpers would go and one of the crew cut the train in half. The front half continued forward into the yard, then the helpers crossed over on the main and coupled onto the rear half & tested the brakes, then dragged the back half up and coupled onto the front half, about opposite my motel. Here brakes are connected, everyone checked they can talk to each other, and off they go.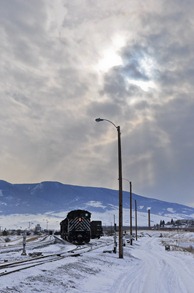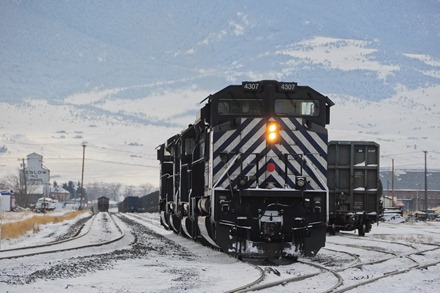 Oh look a grain elevator again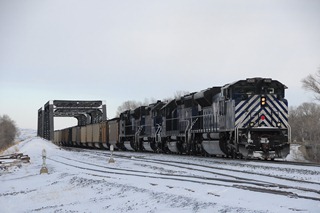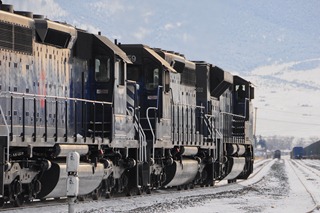 Coupling onto the read / dragging back half to meet the front half.
And off I go. The drive up is very pretty.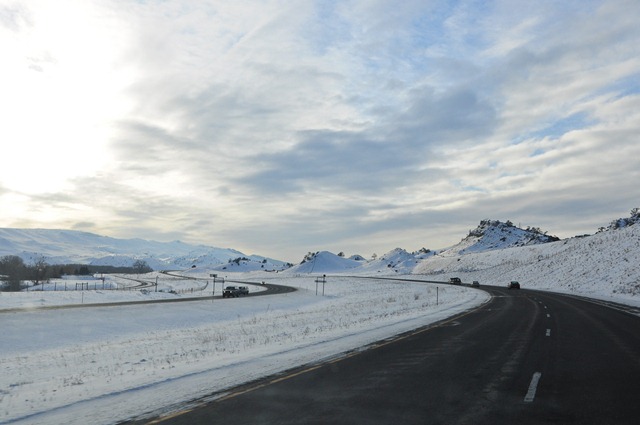 I stopped at the "cowboy cookout" again and got some nice sunset glint shots.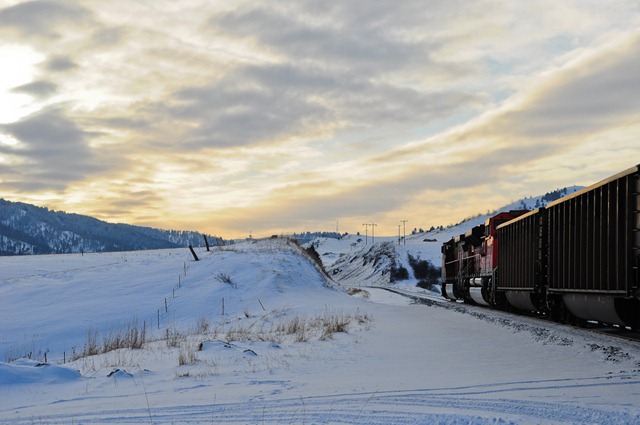 Eight locos to get this coal train over the pass! Wow! Zoomed up the top for a shot of it exiting the tunnel and wow!
And then just for good measure there was a train waiting at the top to come down! Even if I didn't like trains, it's hard not to be impressed with the scenery out here.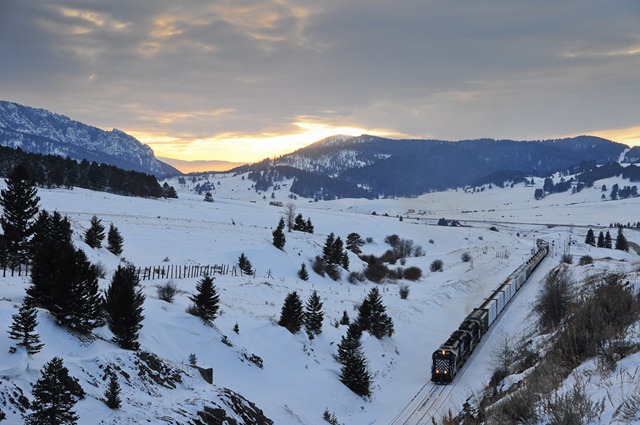 Everyone calls Montana "Big Sky Country", and I think I can see why. I mean sure you can see from the photos that getting an amazing vista out here isn't hard. But I think I can explain why too. Montana is very mountainous, but unlike NZ where you have big mountains and we get squeezed into the valleys, over here it's like someone got a lot of sloppy plaster and poured it into all the valleys so that you're left with mountain peaks and large flat plains in between. I hope that makes sense. Out here you're either on a mountain, or in the middle of a vast plain between mountains, which has the effect of presenting a lot of sky. Combine that with the mountains everywhere and you get an epic sense of scale.
Back to the trains…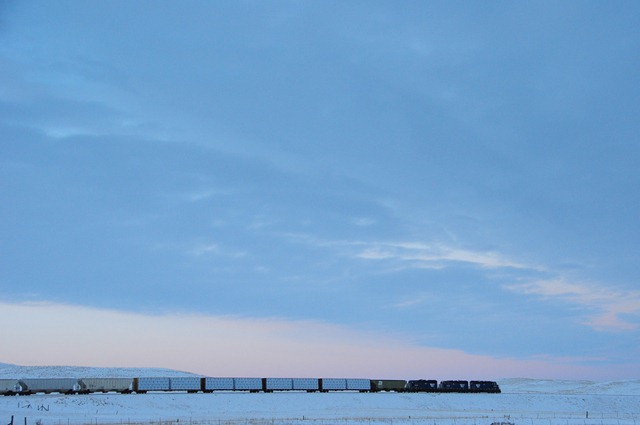 Same train as before coming off the pass.
Back at the motel I opened the door while I went to unpack and almost didn't see a little flash of black streak into my room. Seems the room came with a cat!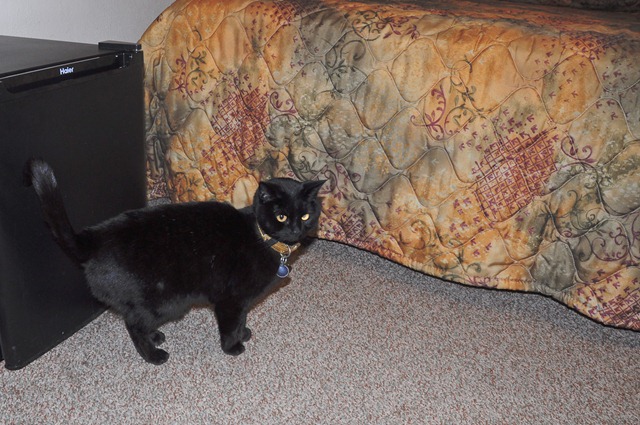 Roxy was very affectionate and she spent much of the evening between my and my laptop, paws resting heavily on my arm and purring away to herself. Then again it was pretty cold outside so who can blame her?
So that was my first day of railfanning the Montana Rail Link. I'm already deciding which of their locos I will have to model. The MRL is in many ways the current equal of the Rio Grande. Classic EMD power, manned helpers, steep mountain grades, striking paint scheme, great sounding horns, amazing scenery, action packed and always on the go. Although MRL actually have clean locos, something the Rio Grande couldn't always lay claim to. In fact, I'm beginning to wonder if Montana might replace Utah as my must-visit location in future? Even in winter the MRL isn't too difficult to railfan, and there is no shortage of trains here :-) (There is a reason for that: a series of derailments and extreme weather problems further north had forced a lot of BNSF traffic onto the MRL, hence the traffic jam I witnessed coming into Livingston)
I went to sleep that night to the sound of idling EMD locos outside my motel room.