Day 7 - Bozeman Pass
Woke up to find it snowing! Not heavily mind you, just a very light dusting that fluttered around in the breeze.
I lay in bed keeping an eye on the yards seeing if anything was happening. A couple of downhill trains came through, including a "no grainer" (empty BNSF grain train). A while later I heard some noise and saw a pair of MRL GP35s heading off, and a few minutes later they started tugging a string of wagons out of the yard. I figured this might be a manifest heading up the hill so went out to watch it. Turns out it was just shuttling around the yard, so I sat and watched for a while. They radioed in and headed off up the wye and then didn't come back. Went off to investigate and found them nearly at the end of the wye "spotting" an industry siding.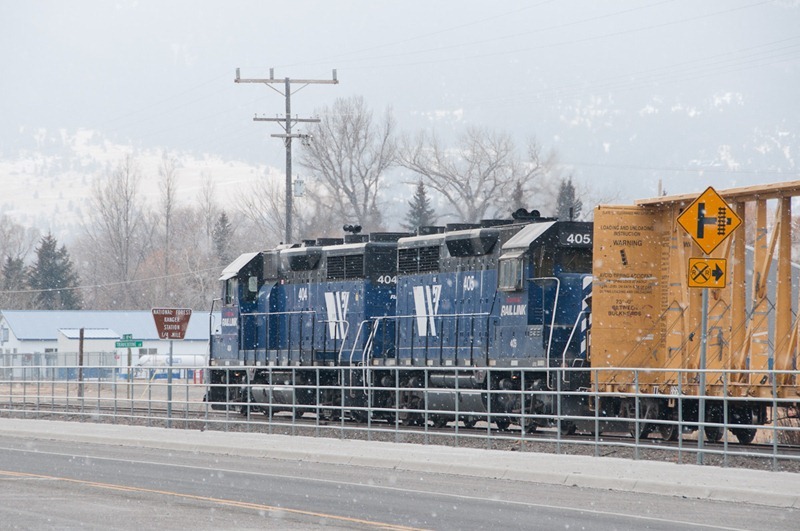 I went and watched and got a friendly wave as the snow flakes fell.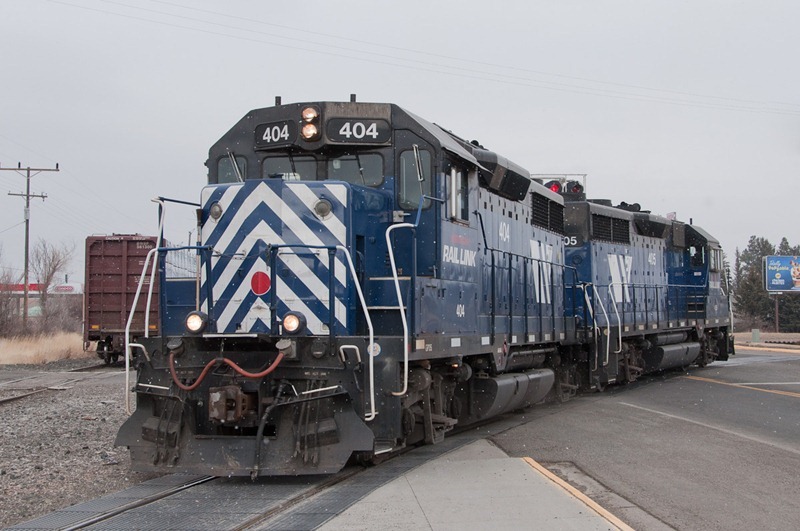 The GP35s are quite handsome locos and look good in the MRL paint I reckon.
They headed back to the yard and I went and waited. While I stood there a "locomotive crane" came through which was a weird site, a 3 wagon train with no loco!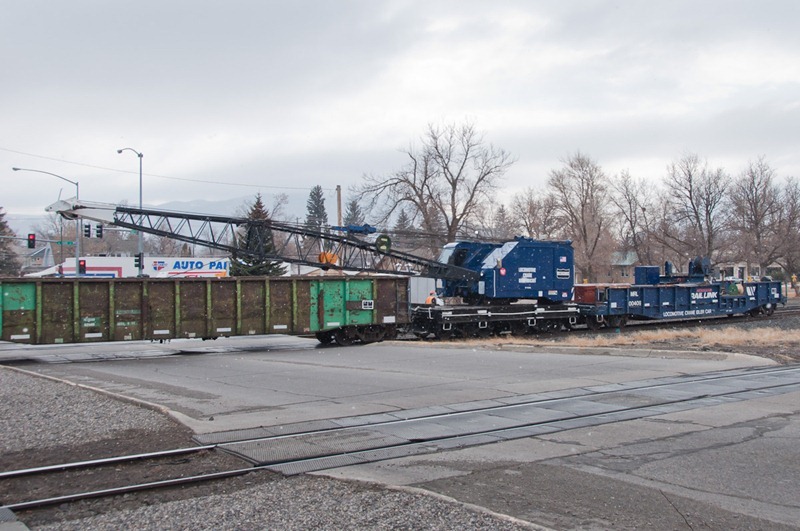 Soon my local came back and the conductor wandered over and had a quick chat as he switched the points. They headed back into the yard.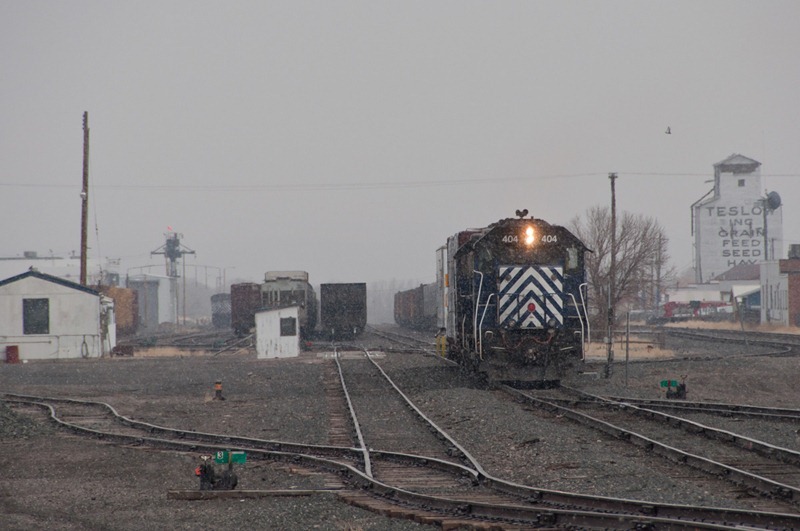 They then radioed in and got permission to head on over the hill to Logan. I chased them up the hill and eve though it was only a short 20 wagons or so, they GPs were working pretty hard hauling it over the hill. Went to wait for him at Bozeman but saw an east-bound coming through on the main so chased after that. Got some good noise as it pounded its way up the slightly less brutal western slope of Bozeman Pass.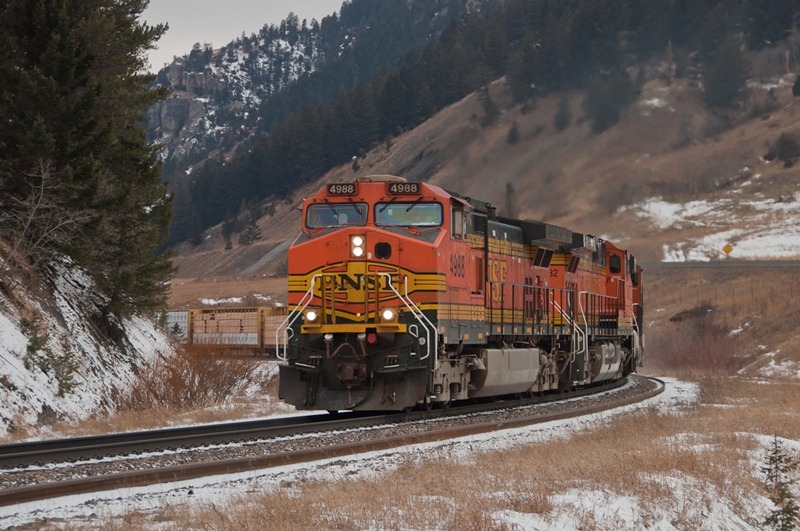 It was a long train and I regretted being on the wrong side of the tracks since it took a while to pass.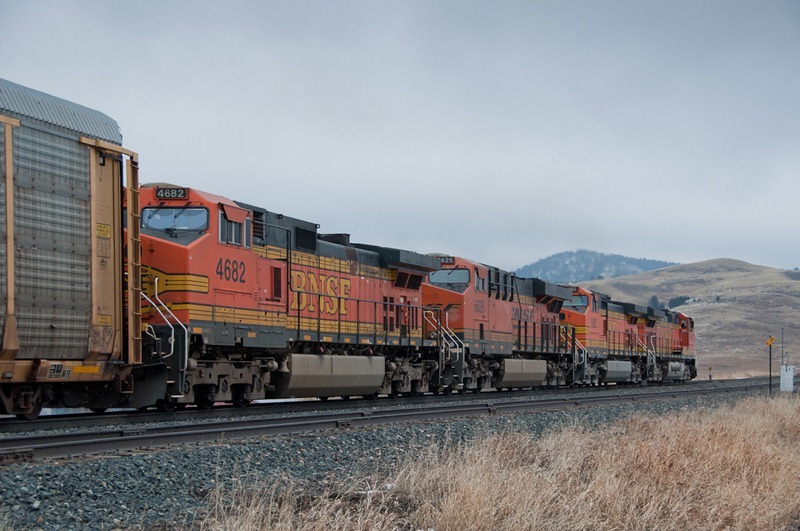 Caught it at the rather bleak summit and then back to my previously scoped out lookout point for another shot.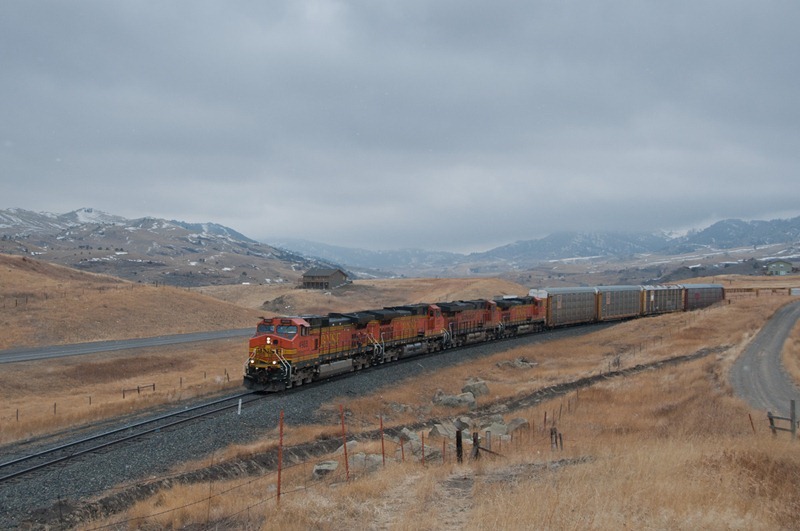 I would quite like that house behind the train, what a stunning view! As I watched him disappear into the distance I saw a telltale headlight in the distance and yes, turns out another train was already part way up the hill and waiting for its turn to head on up. 20 minutes later and here it was.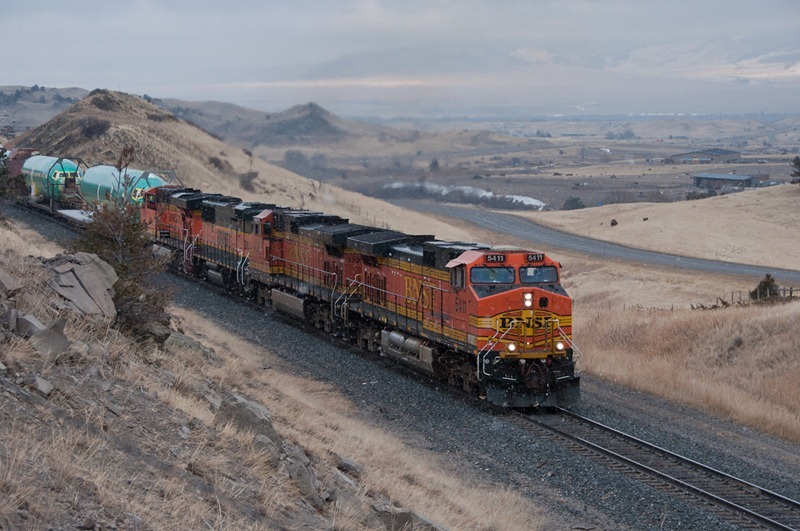 Note the cargo! Four 737 bodies of various configurations. The first one was a windowless one, presumably for freight. Note also the 3rd loco, a cabless B-unit GP60. First time seeing one of these, they exist solely for giving extra power and have no cab of their own, although I believe they have a tiny set of controls in a cubbyhole for shuttling them around the yard.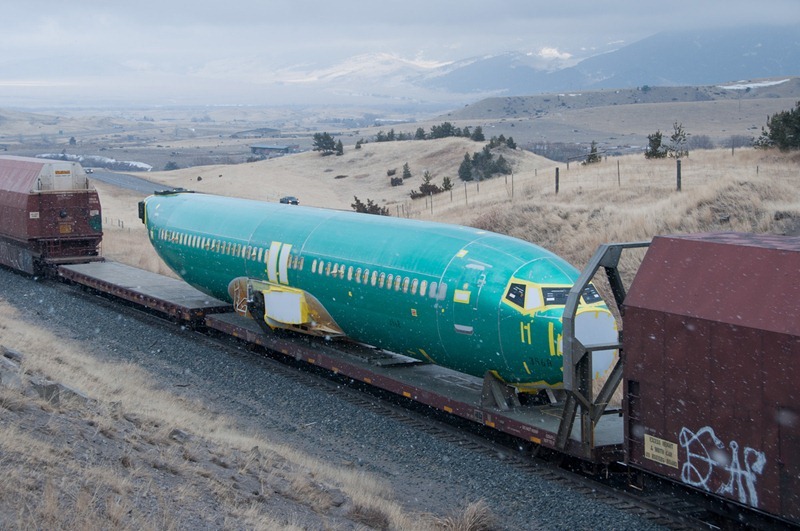 Pretty amazing that the US loading gauge is so big they can stuff aeroplanes through their tunnels! And here come the helpers, 3 minutes later.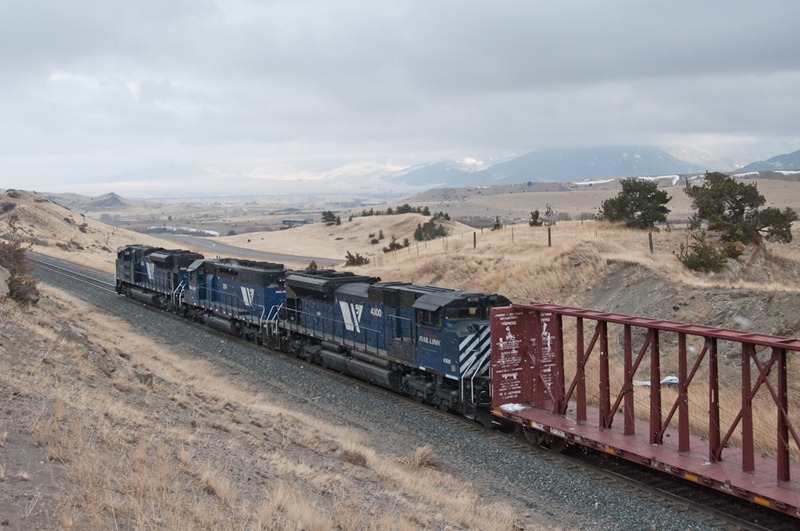 I dashed on up to Cowboy Cookout Rd and saw I had company.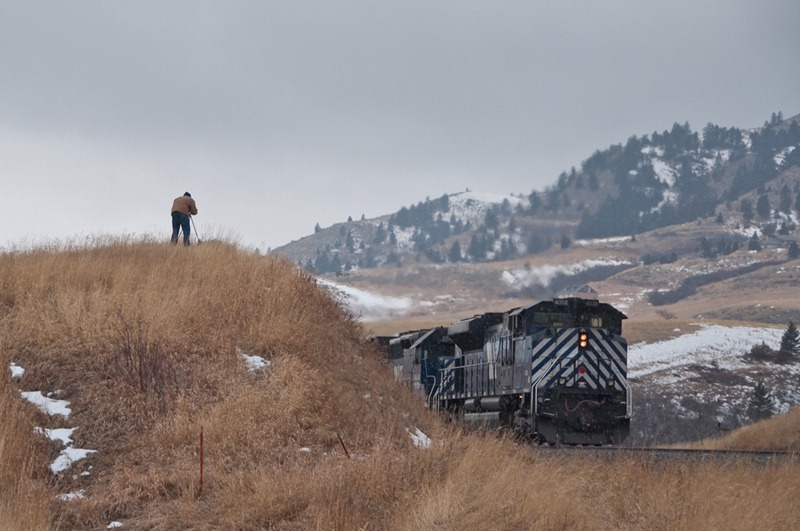 Turns out he was as surprised as I was to meet a fellow railfan out in the wild. He'd just been passing through and was lucky enough to catch this freight, and was extremely pleased to have caught the helpers. When I told him about the 10 minutes show he'd missed the day before he turned a little green. We exchanged names and I gave Brendan my card.
As we chatted he told me how the signals here are "smart" signals and only turn on when there is nearby activity. Well 30 minutes later they turned on and we were treated to the helpers returning back to Livingston ready for their next job.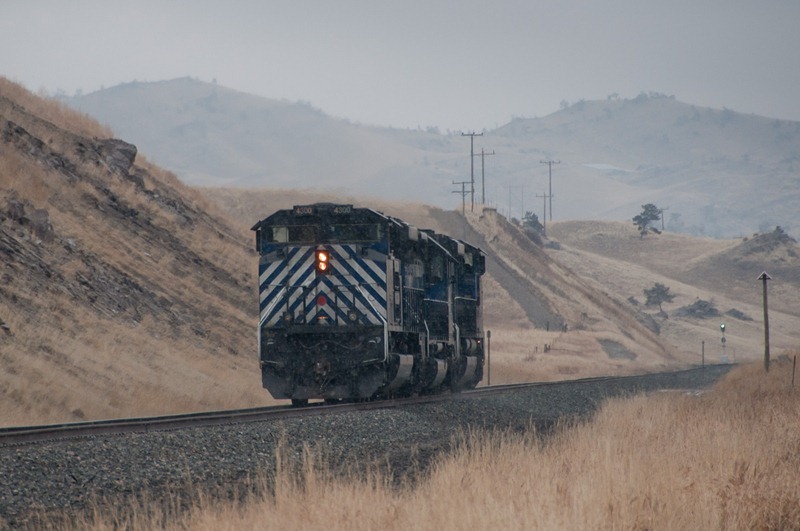 It was getting late and my video camera batteries were well dead (and even the usual trick of stuffing them down my top wasn't helping) so I decided to head back, but then on a whim I decided to check the summit for a shot that I really wanted. I parked in position and started reading my book. After a while my ears picked up that distinctive "could it be" noise and then soon I heard him tooting for the previous crossing, so I jumped out and got ready to attack.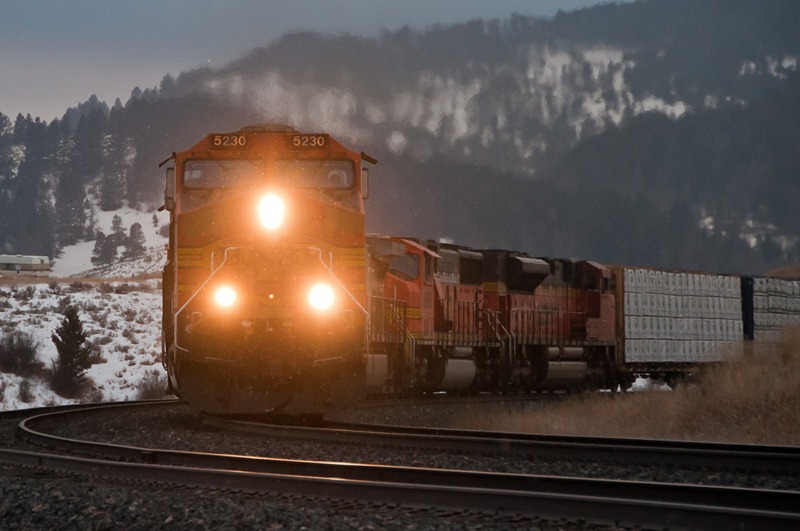 There was even a warbonnet in the mix.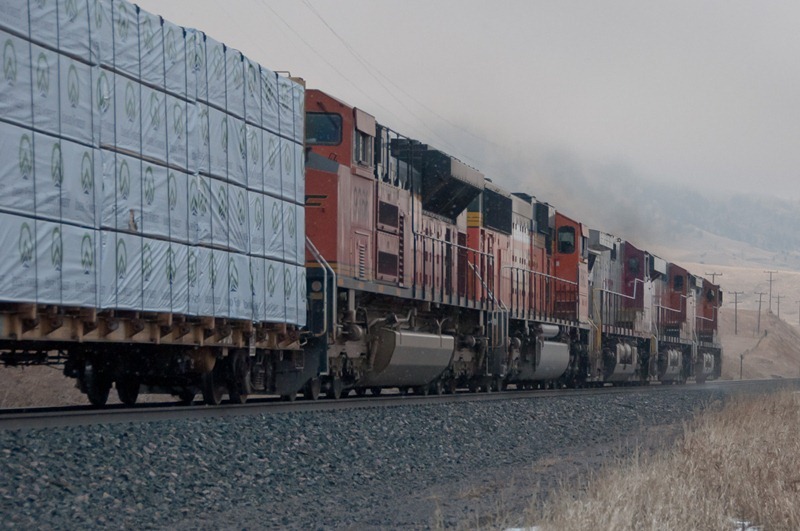 Down to Orea.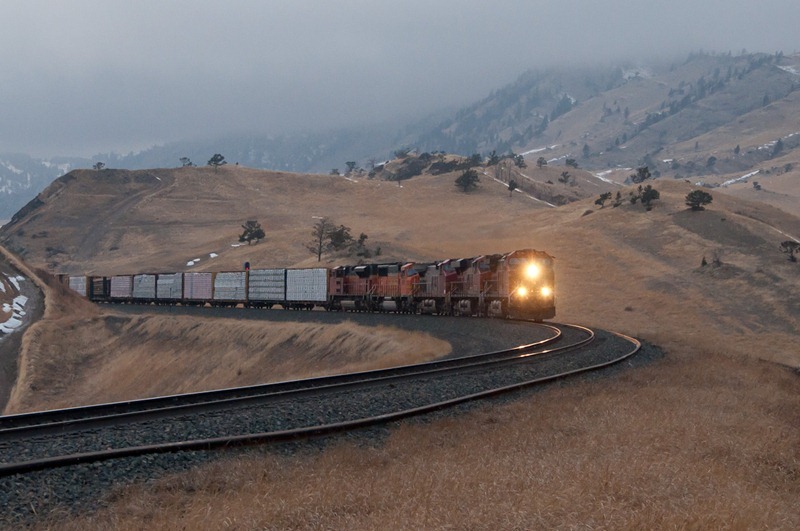 And one more on the outskirts of town.
I must say this lack of snow is quite novel.
As I parked the car at the motel I saw another train starting to move out, so back in the car and off to the outskirts again to get one last shot of the SD70ACe and SD45 (SD45!!!!) combo crawling up the hill.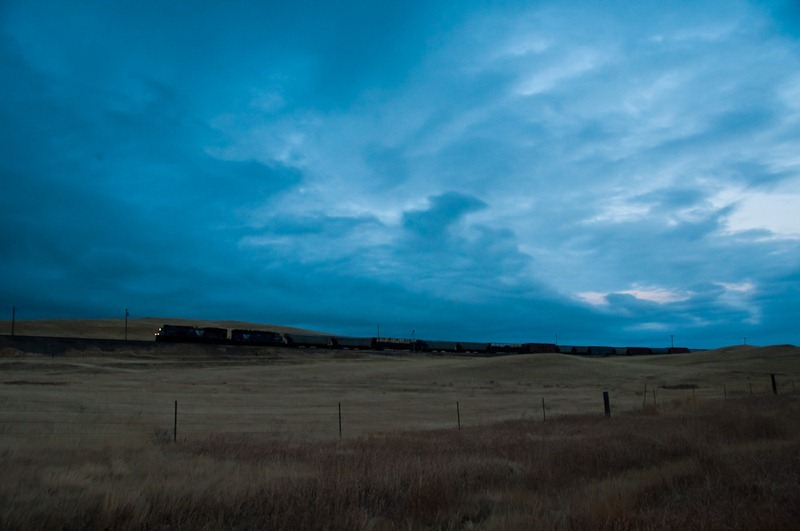 Pretty cold by now. Went and had chinese for dinner, had a massive plate of BBQ pork fried rice which was quite yummy. Headed off to bed, off to Helena tomorrow, but it's only a short 2 hour drive so no big deal.