Day 6 - West Yellowstone to Livingston, MT
Nothing like starting the day at –19°C! I had a little sleep in and since the heater was working tonight, it was much easier to get up in the morning. Packed and drove off slowly to give the car time to warm up. Drove out to the north, passing through a nice river valley.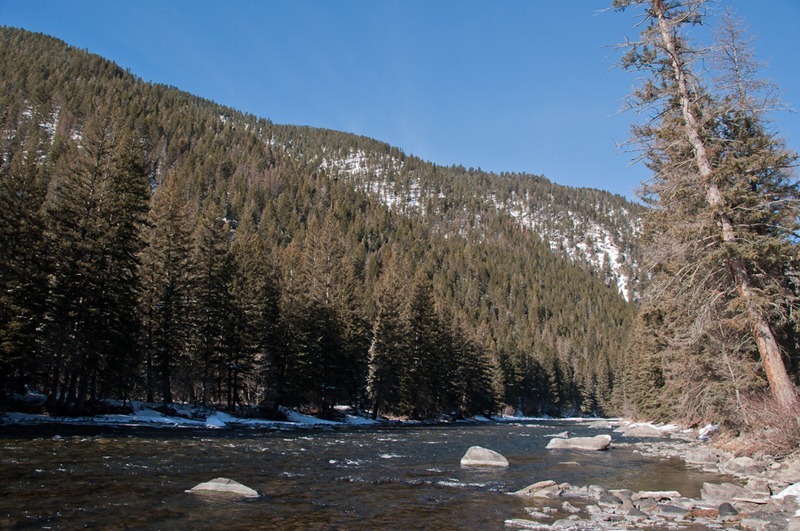 Things then opened up as I approached Four Corners. Soon I was passing through Bozeman and then onto familiar teritory as I zoomed along I90 over Bozemand Pass. I was shocked at how little snow there was here; last year it had been well and truely blanketed in the stuff. This year there were just little patches of surface snow in the shadows.
I arrived in Livingston and did the rounds. Montana Rail Link workshops were looking pretty bare, however I was pleased to see that there were still helper units sitting around.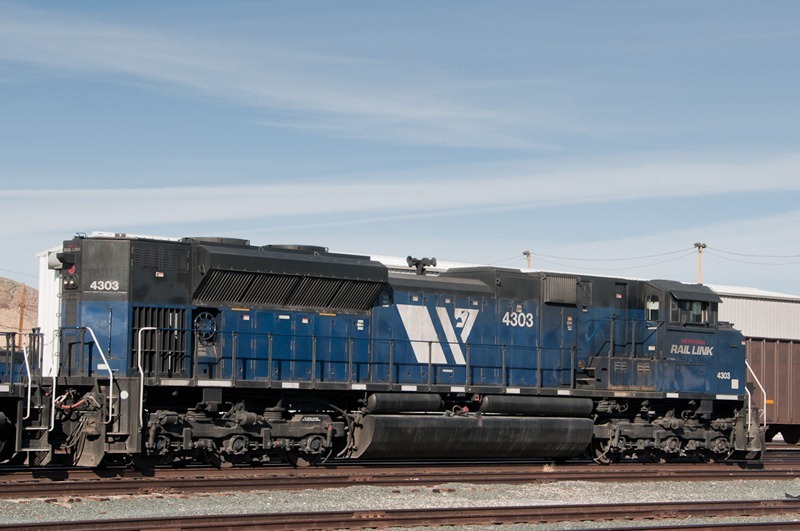 It seems the 5 packs of SD40s have been replaced with SD70ACe-SD40-SD70ACe combos. A slightly odd mix but they still look good in their striking black and blue livery.
I decided to head up the hill to see what I could find and struck it lucky with a BNSF manifest coming down.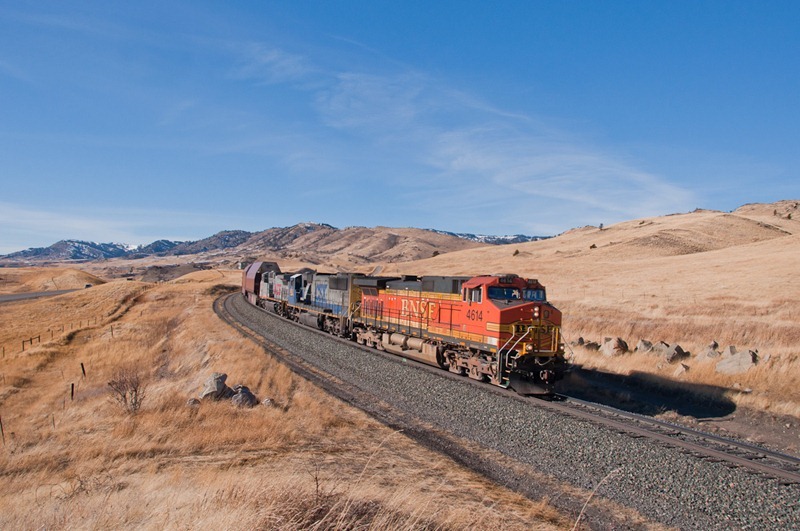 An odd mix of BNSF, CSX, and KCS locos, and it was downhill so no helpers. There wasn't much point chasing this one as I was already almost at the bottom of the pass. I found a good spot to park and an hour later I was rewarded with another downhill train.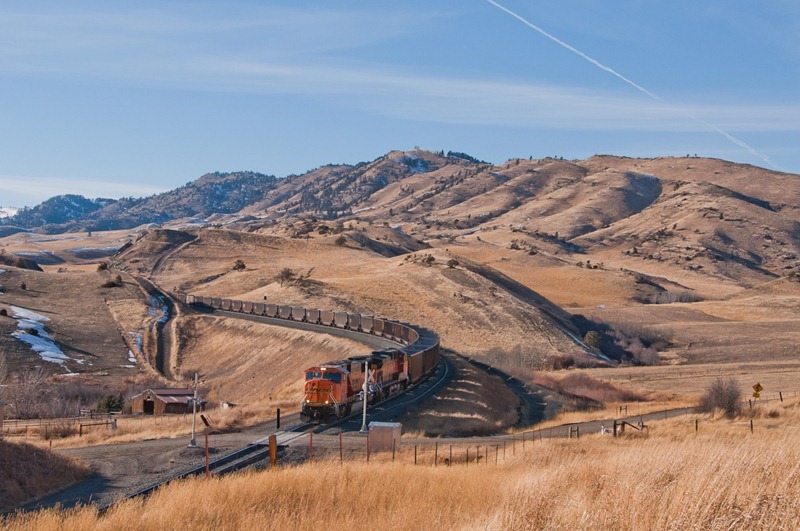 This one, at least, had a DPU on the rear so I could get some better lit shots.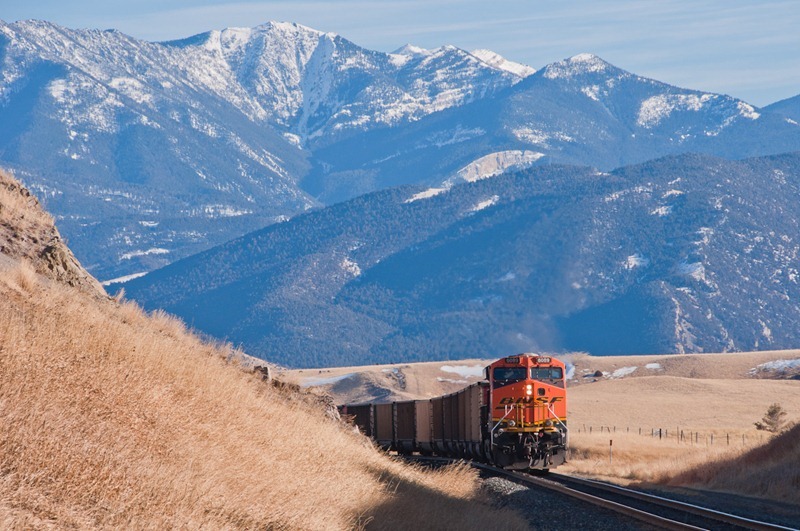 I decided that after waiting an hour I might as well follow it down and see what was happening at the bottom. There is every change that something had arrived and was getting helpered-up while this train occupied the pass.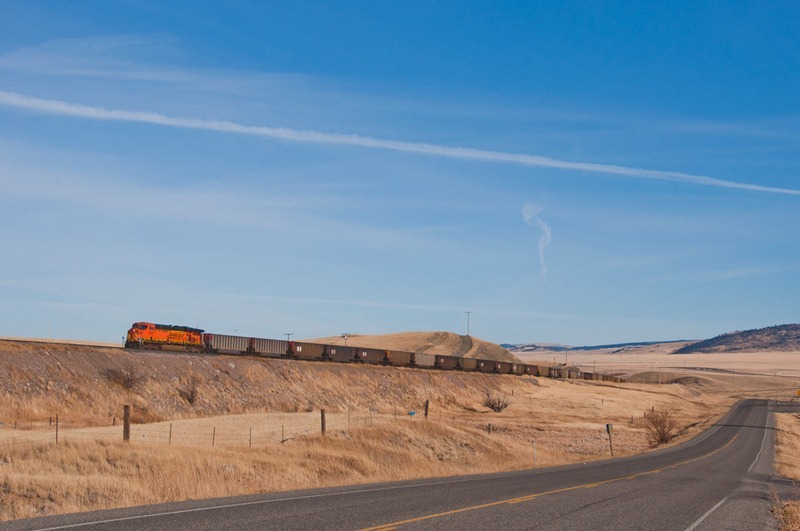 I didn't even get to Livingston before the train started slowing and on the outskirts of town we had a rolling meet: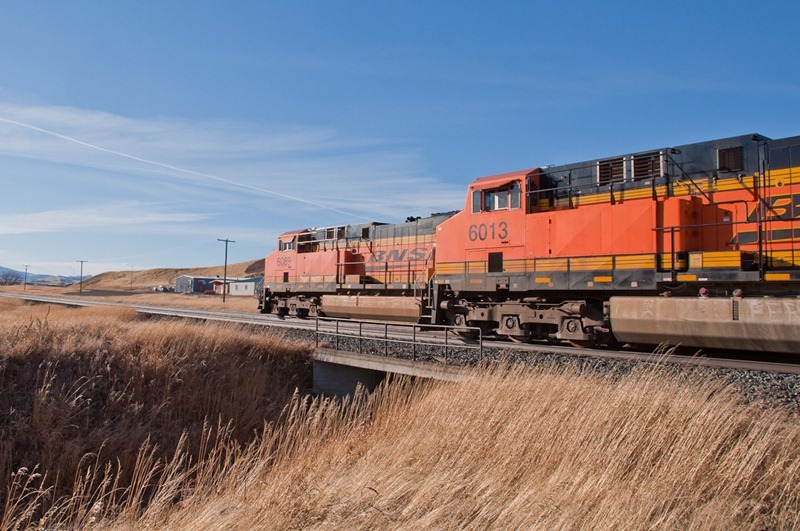 #1 was slowing to a halt, and #2 was in full throttle barely doing more than a fast walk! I had no problem getting ahead of him.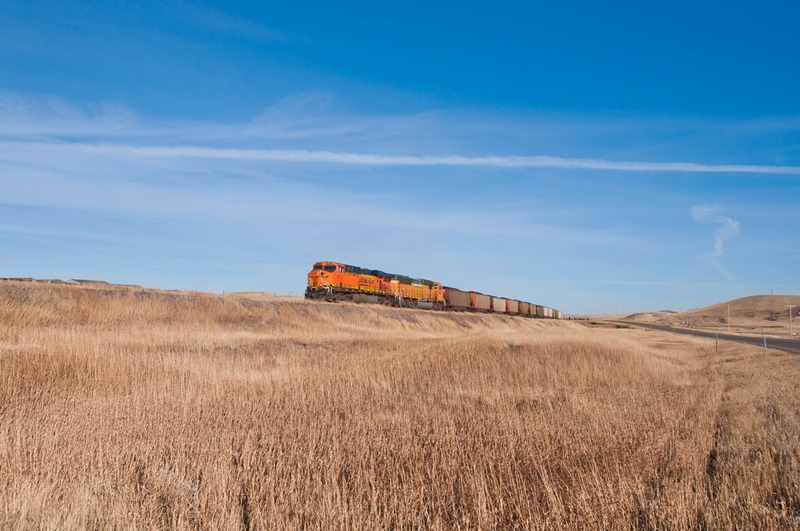 I zoomed up to my old stakeout at Cowboy Cookout Rd and got some great shots as he very very very slowly crawled past me. Even with a pair of big AC locos on the front, a 3 pack of helpers in the middle, and a pair more 70MACs on the back, it took 10 minutes to pass me!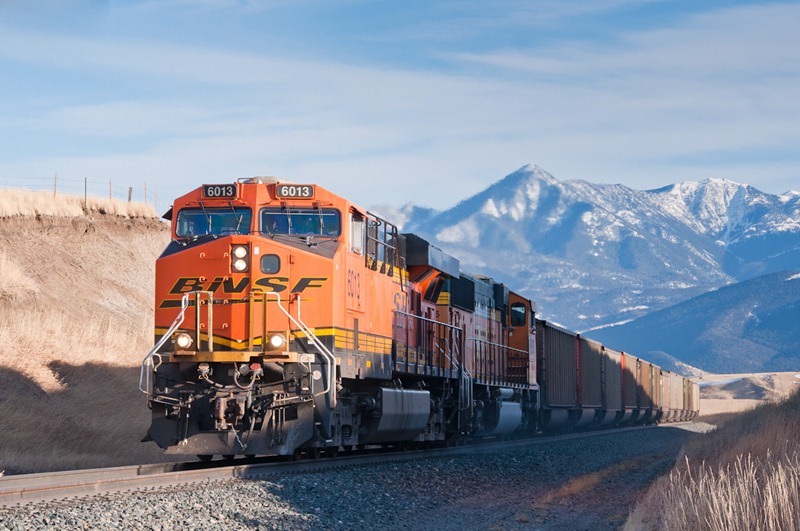 The noise was absolutely phenomenal and I could feel the power physically rattling me. The know how to do railroading up here!!
He crawled across the crossing and off around the curve.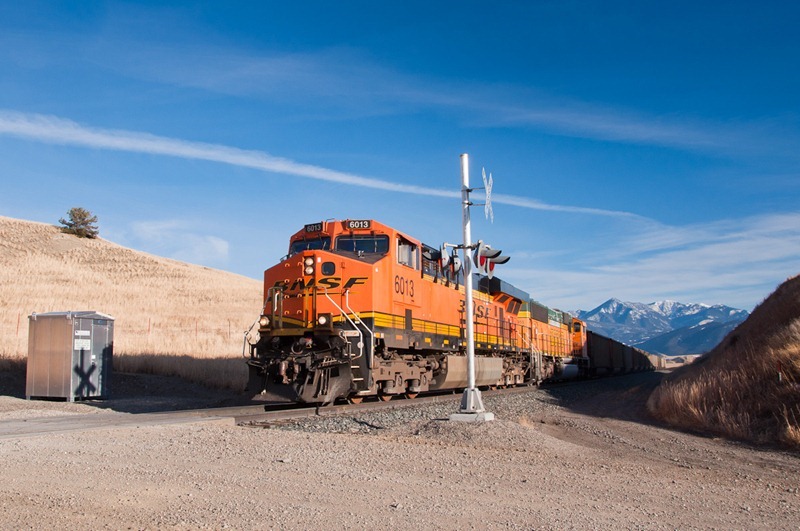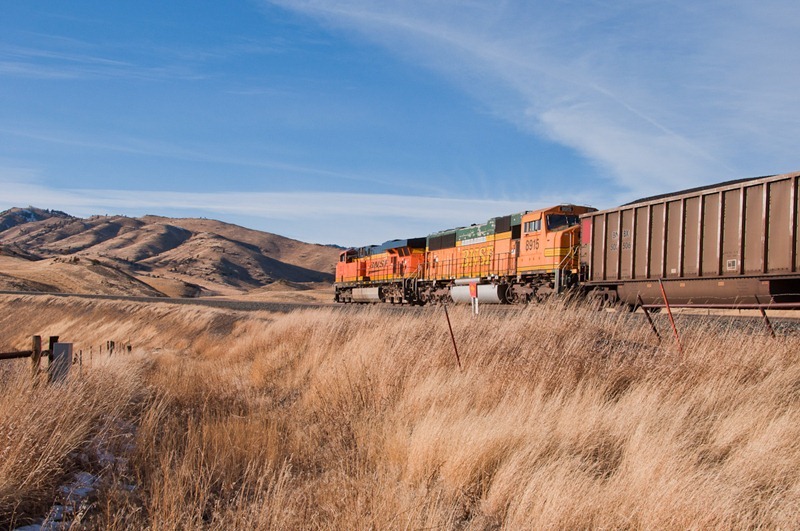 It was now late afternoon and the lighting was spectacular. I zoomed up to Orea Creek Road and found a convenient hill. I had plenty of time to clamber up and get into position. 20 minutes later he came crawling past.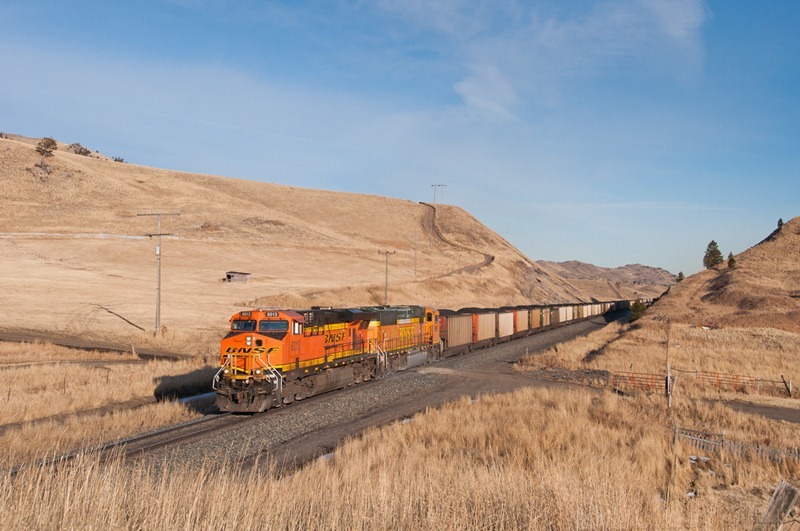 With the elevation here the sound was even more incredible. Four minutes later the helpers arrived…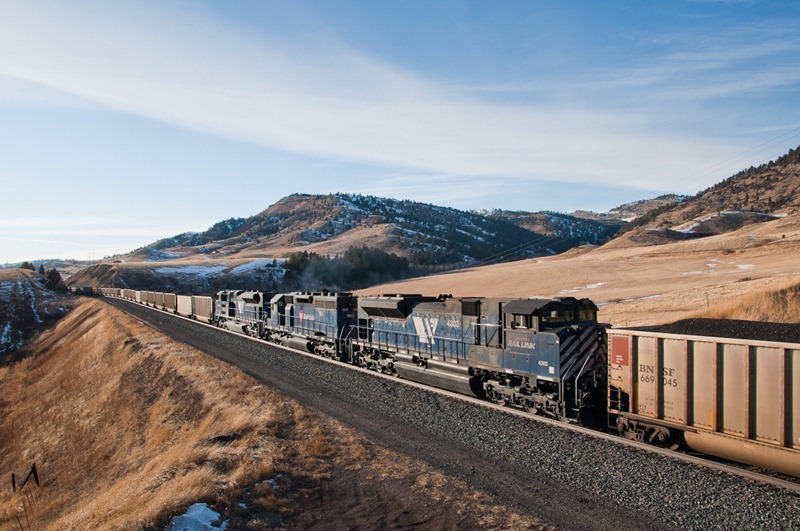 And another 4 minutes later the DPUs on the rear.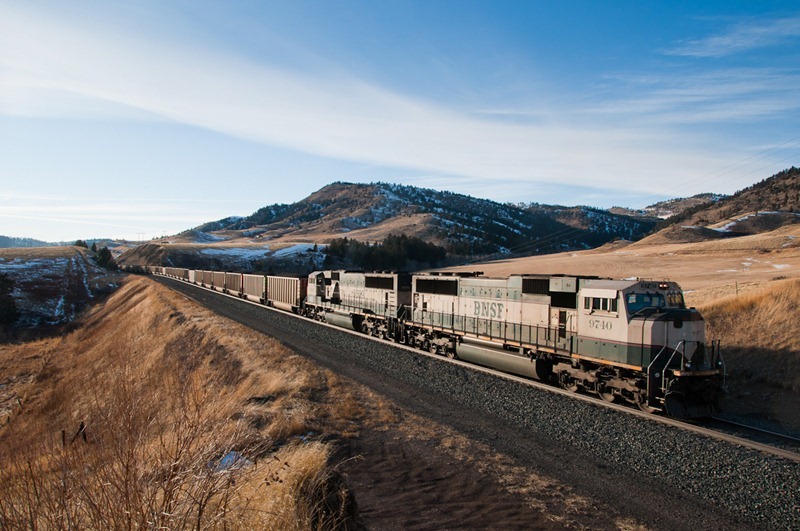 58 minutes after I had first caught him, he crested Bozeman Pass and started down the other side. Incredible!!! The same route is a 12 minute drive!
On the downhill side I grumpily missed a beautiful nose shot after a truck and toy SUV couldn't make up their mind on who was going to pass who and blocked both lanes, doing well under the speed limit! Grrr! Had to settle for a shot of the DPUs instead.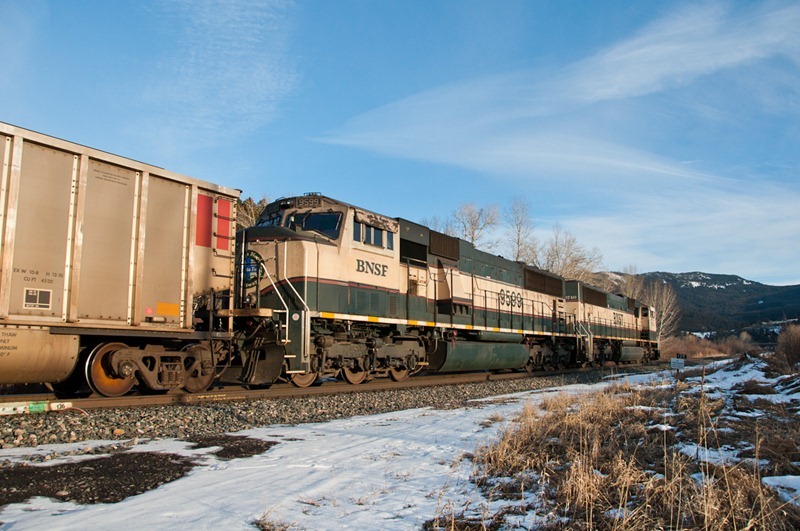 Went back to my lookout point and waited for trains but nothing was coming and it was getting dark.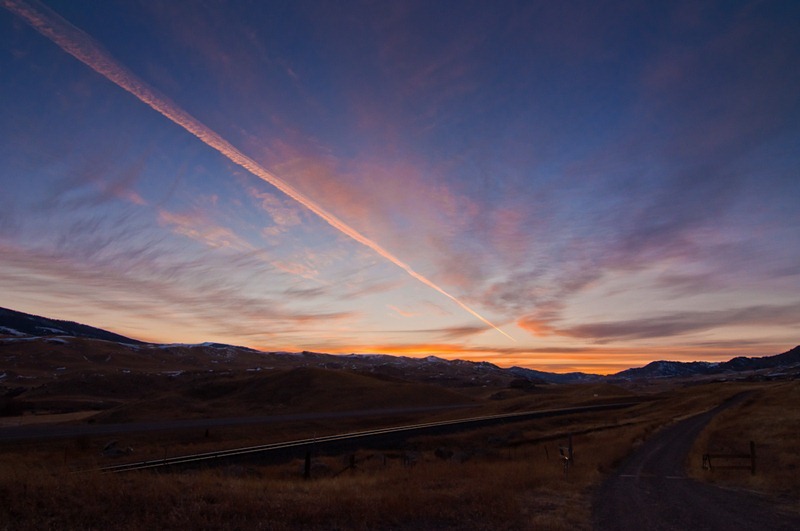 Drove into town and checked into my regular motel here. Not the cheapest, but when I told the guy I was here for the trains he upgraded me to a room with a perfect view over to the railway yards! I can now see every train that comes and goes from the yards, and what the helpers are up to.
It was Super Bowl night here in the US so I tuned in and promptly retuned to the Puppy Bowl, and on the way discovered a documentary on NZ railways which then proceeded to interview a friend of mine at the Weka Pass Railway. Small world!
Mexican for dinner, I ordered something small and cheap and what arrived was utterly massive and delicious, however I swear it was longer than I am wide! Went to sleep a bit late to the distant sounsd of the MRL helpers idling opposite.