Day 34 - Railfanning the Feather River Canyon
And so I wake on my last full day in the US, and what better place for it than in the heart of the Feather River Canyon. The FRC is one of only three routes in California to cross the Sierra Nevadas, the others being Donner Pass, and Cajon Pass to the south. Donner Pass and the FRC parallel each other and start and end nearby each other, however only the FRC provides access to Oregon and Washington from California. The two routes are quite different; Donner Pass is steep, mountainous, and extremely challenging, while the FRC is considerably longer, albeit with a much gentler (comparatively) ruling grades. The FRC is also the junction point for access into Oregon and Washington through the BNSF High Line, a rather remote and relatively quiet line that runs into Klamath Falls, OR.
But enough of the background; first item on my action list today was famous wye at Keddie. I jumped in the car and headed off, cleverly forgetting my camera. A quick U-turn to retrieve it form the motel and I was back on my way. I found my spot and hiked up the hillside a bit, easier said than done; the terrain is rather rough here…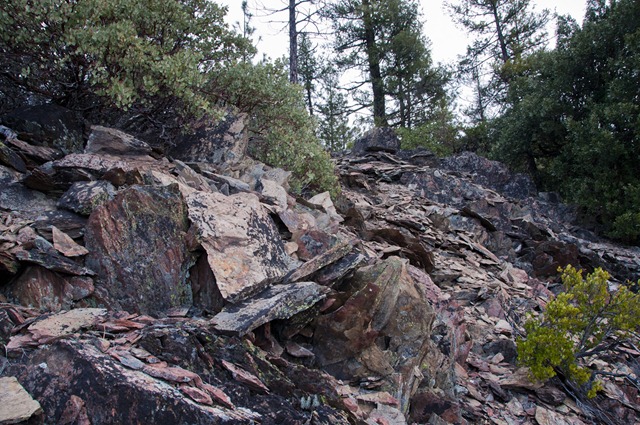 Climb was worth though, and here is the Keddie Wye, a rather famous railway formation. (A wye is a track formation three lines come together in a Y type shape.) What makes the Keddie Wye so famous is that two of the legs are built on viaducts, and the third is a tunnel through the hillside; no model railroader would ever get away with such an unrealistic track formation!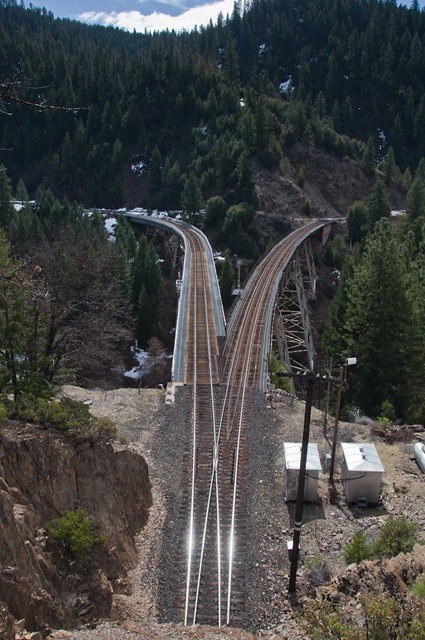 I hiked up a way and found a wonderful spot for a photo and proceeded to set up the scanner and Kindle.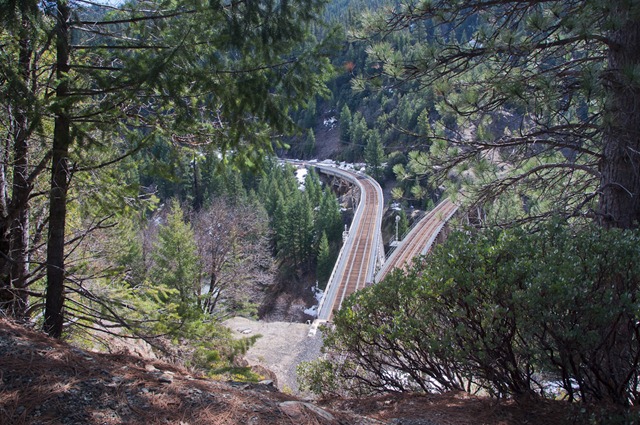 However as is often the case I got bored and went for a wander. And look what I found over the other side of the hill!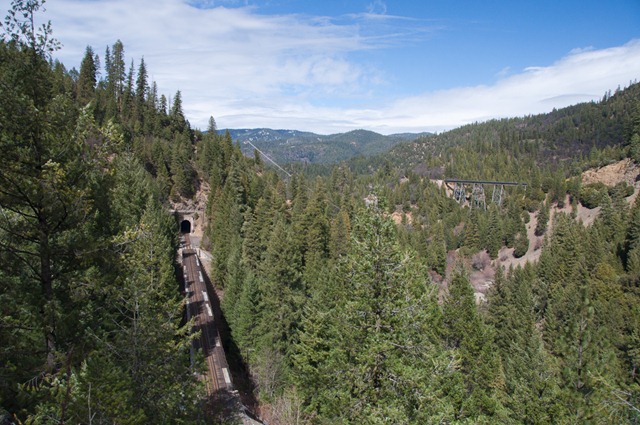 Here we see the line from Sacremento on the left, and the start of the BNSF Hi-Line (spelling varies) on the right, with the wye behind me. Presumably if you were lucky one might catch a train on each track, however not today, things were pretty quiet. But look at that scenery!
As you can see takes pretty sure feet here to clamber around! As you can also see… no trains.
I decided that if I wanted to chase trains, it would be better to start at the other end, for various geographical reasons. And so I was back on the road. The geography here changes rapidly, aso one minute it was dense conifer forests, next minute it was large open valleys and meandering rivers.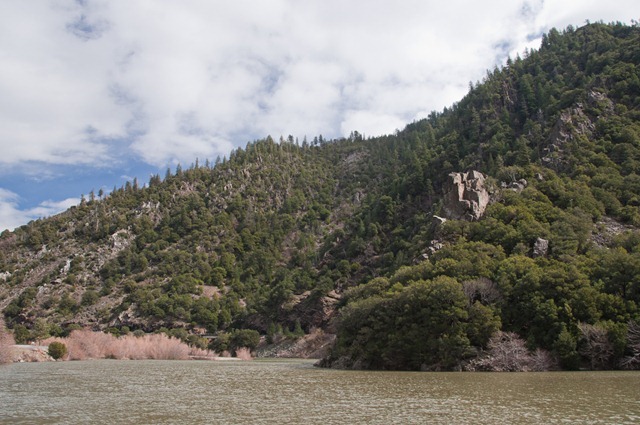 You can imagine the challenges the workers faced building a line through here.
And then I heard something on the scanner; a track worker radioing in and getting news of a couple of west-bound freights. Let the games begin! I found a good sniper spot and bunkered down. Soon enough a UP manifest came snaking out, complete with an SD90-43 leader! The sun had gone off for lunch however so photos were a bit dull.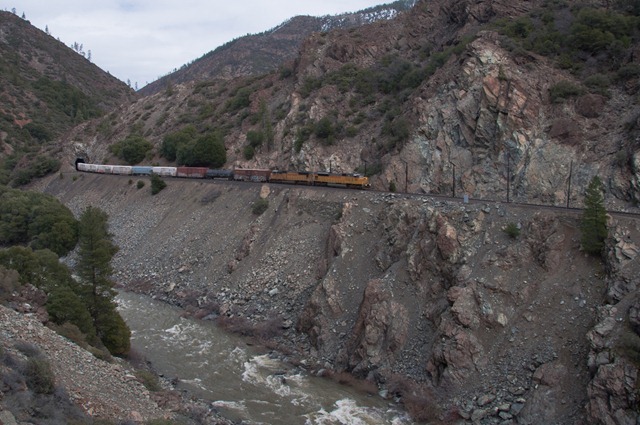 I chased him down the road and found a rather impressive spot that had it all; water, trees, scree, rocks, and a tunnel. Perfect modelling material!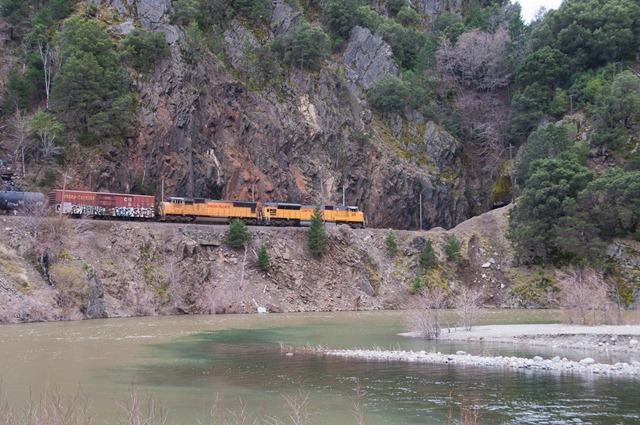 I followed him on a bit further where he got put into the loop waiting for a crossing. While waiting I noticed some funny little fellas splashing around in the river…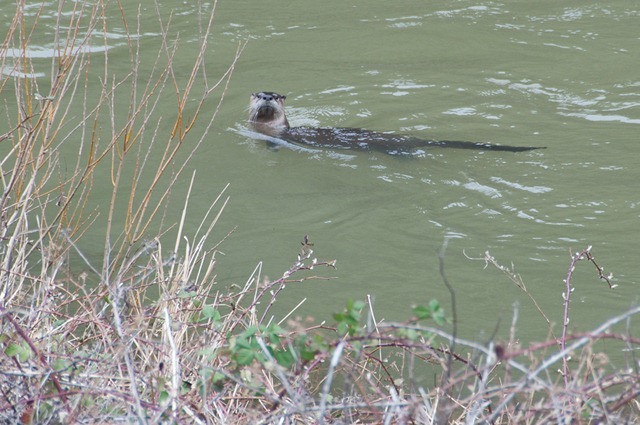 … what are they?! I had no idea. Beavers? No… no dams around, no aspens either. After much deliberation and consultation I've decided that they're Otters. There were three of them swimming along; every so often one would dive down, and a minute later appear back again. They were rather noisy little critters, huffing and wheezing away, and were quite curious about the man with questionable-sanity standing in the rain taking photos of idle trains.
Eventually however a C45ACCTE (ES44AC to the rest of us) roared out of the tunnel and into the scene and soon things were back on the move agian: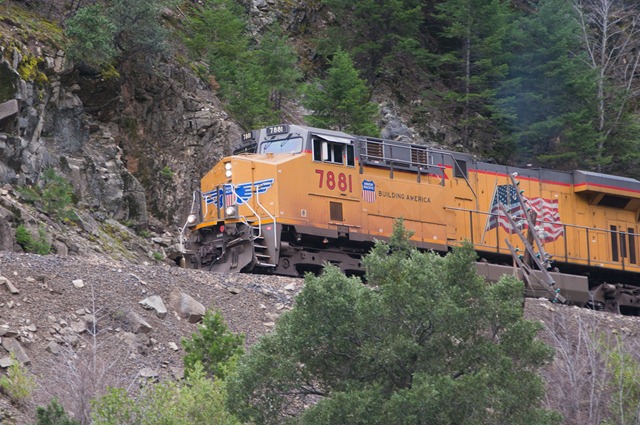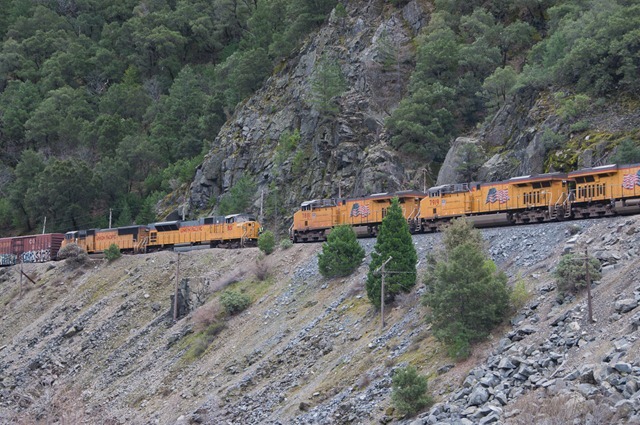 … and so I said goodbye to the SD90/SD70 combo that had lead me here, and hello to the 3-pack of mighty GEVOs that would lead me onwards. As we raced off we soon rejoined the sunshine from earlier, and boy did it take things up a notch.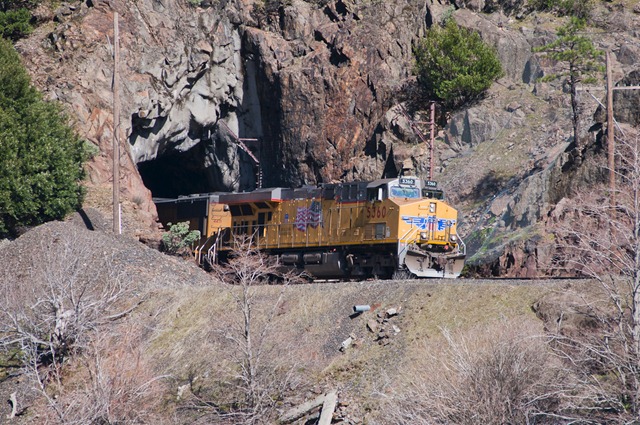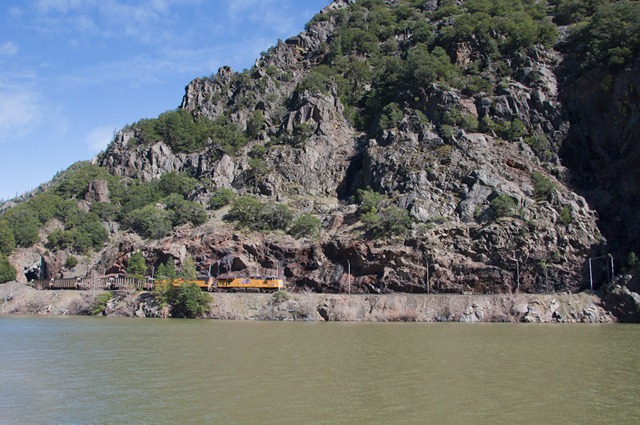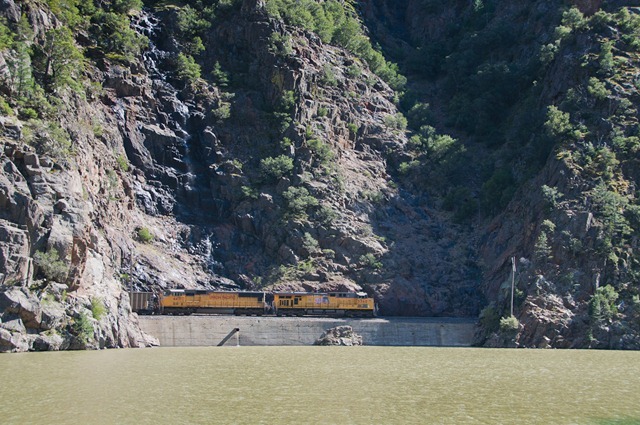 As much as I like Donner Pass, the FRC has a magic all of its own. Mile after mile of beautiful across-river shots. The downside is that the highway is only a single lane in each direction, which usually means some hot pickup truck stuck up your back bumper and nowhere to pull over.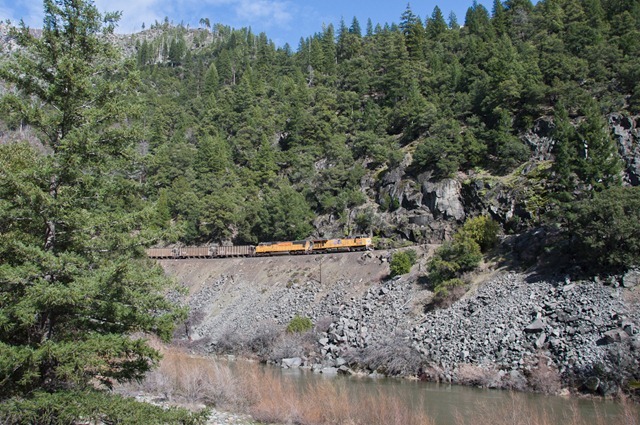 Further up the road is Rock Creek Dam, a small hydro station that I can't find any figures on. It does however make for some great photos: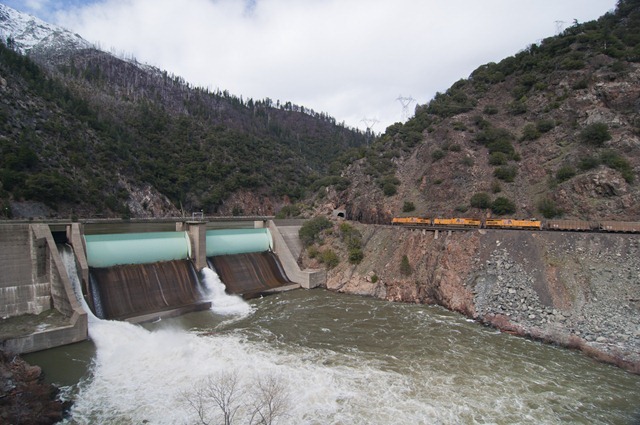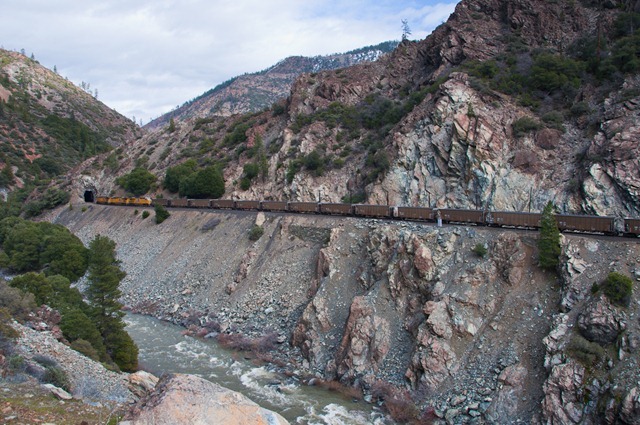 Intersting construction details too: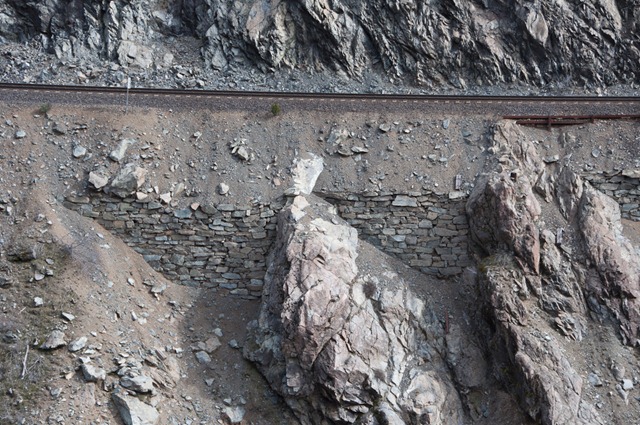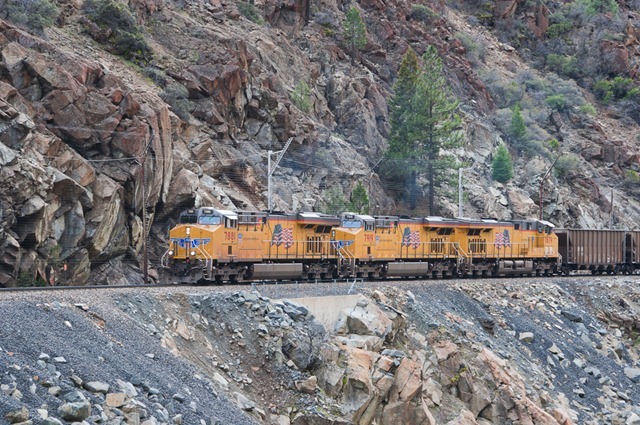 … note the rockfall fence. Hardly surprising given the surrounds.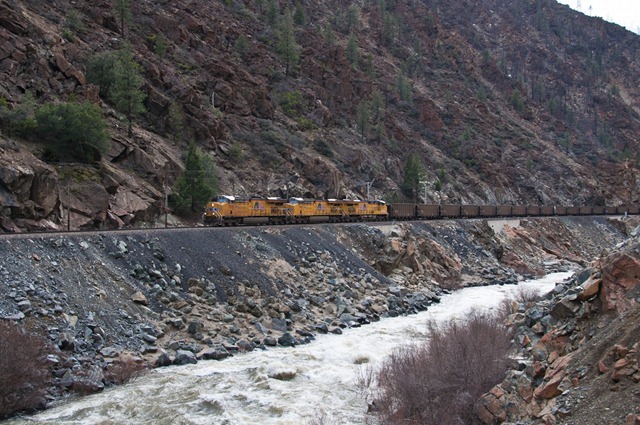 One of my favourite shots of the day has several of my friends claiming that it isn't real :-)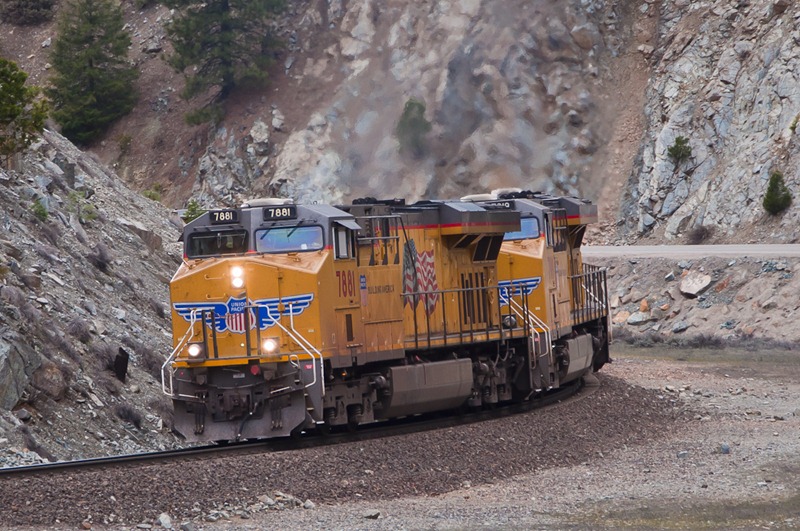 Towards Quincy the line starts to climb above the road a lot.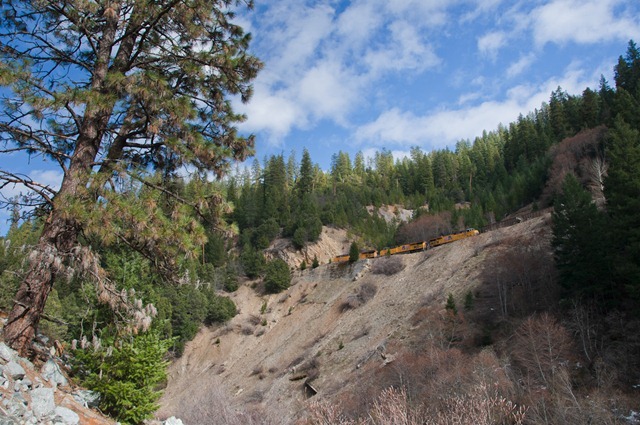 I raced ahead to try and capture a great overhead shot of the three GEVOs roaring toward me on the other side from the wye, however some very clever miscalculations put me on the wrong side of a 10ft drop! I could hardly even see the line from where I was. Well… next time.
Quincy then slowed me down further, and I drove on towards Portola. The line deviates from the highway a lot here so I had a lot of waiting when I did finally fine a photo spot. However I think it was worth the wait: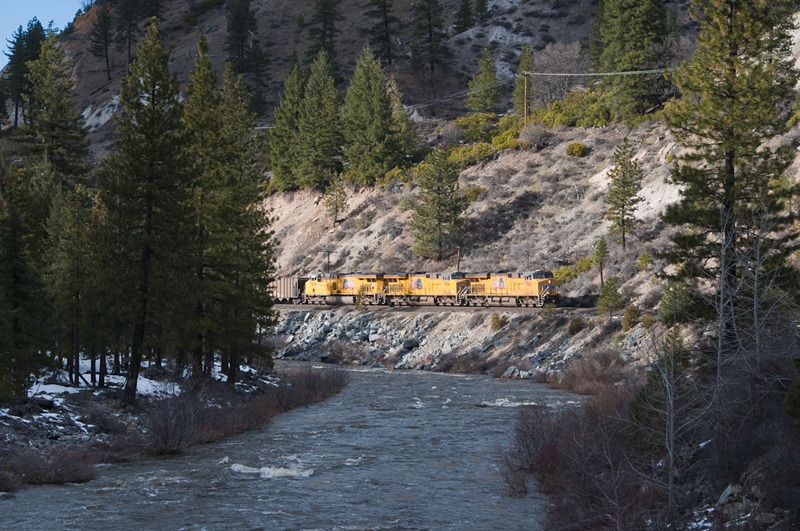 … quick dash from the bridge to the crossing…
Boom!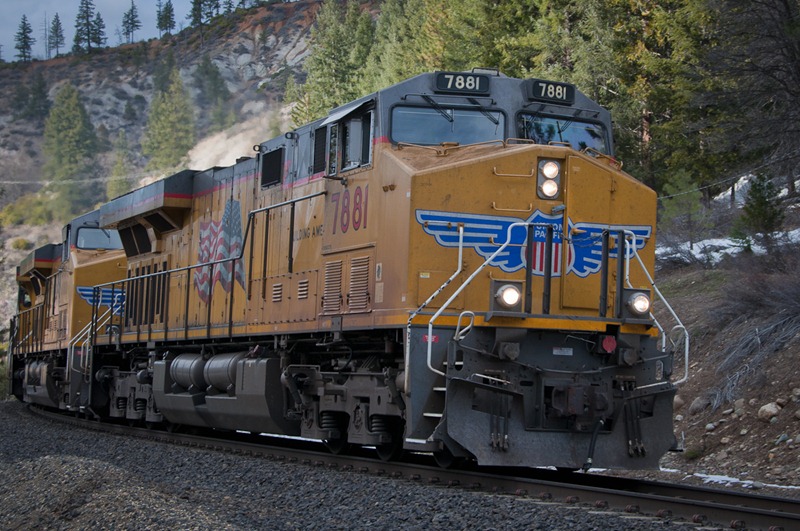 These machines are big! But there is nothing quite like standing at the level crossing as one (or three!) of these thunder by. I continued on to Portola where I had heard there was a good railroad museum. I found the yards and musuem ok, but it was closed for the winter.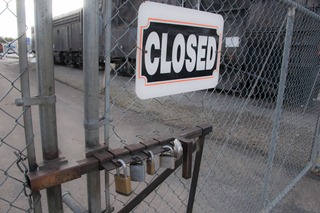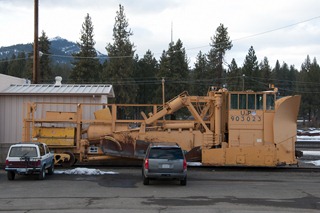 "Closed", in case the five padlocks hadn't made that clear. Irony being that a single hacksaw would defeat all of those in only a few minutes.
Snow removal is fairly serious business here, as on Donner Pass. The UP yard had a rather large Jordan spreader; the parked SUVs give some sense of the scale of these things. The Western Pacific railroad museum also had their own snow eating monster; note how it towers over the fence.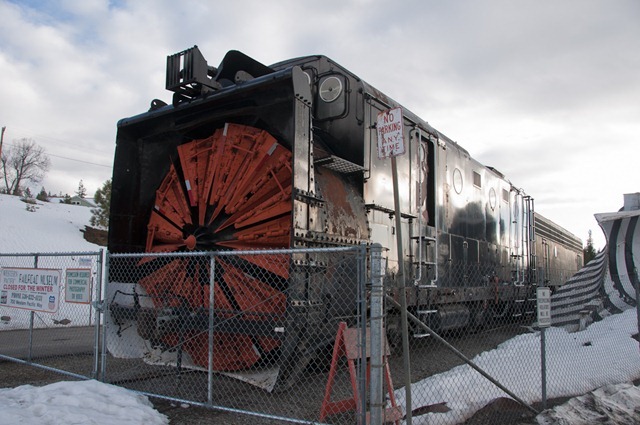 (Turns out I missed the first rotary plow run on Donner in years by mere days; less than a week after I returned to NZ there was a massive dump on Donner and UP put one of their rotary plows to work!)
I was now on the wrong side of the Sierra's for my flight the next day, so I opted to drive back and find a generic motel in a generic town on the right side of the range, rather than driving to Lake Tahoe. There was another reason for taking the longer route home: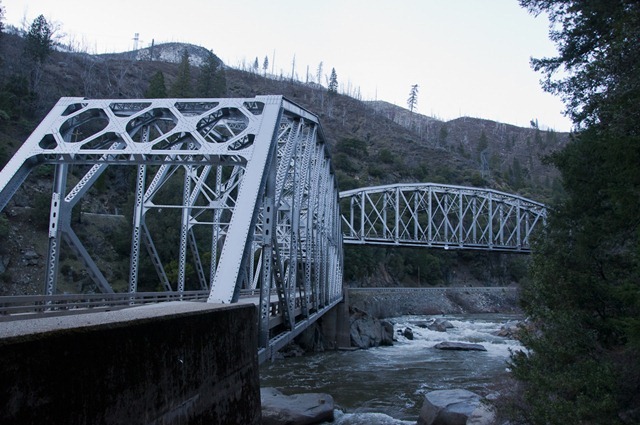 The twin bridges near Tobin. Railroad over the top, and highway underneith, each with their own near-identical bridge.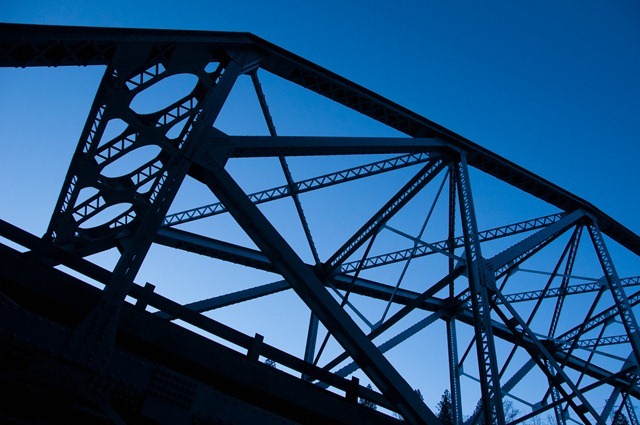 Further down the road the highway cuts though this impressive wall of rock: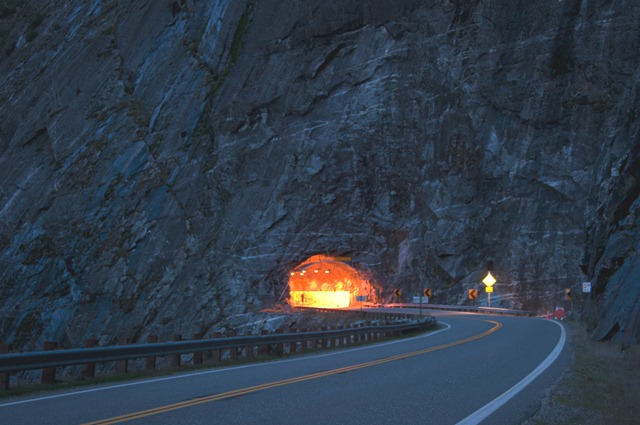 I drove on completely engulfed in the inky darkness. FRC is a lonely place at night time, with very little light. I followed the signs for Paradise, but ended up in Chico instead, an 87,000 person city in Butte County, CA and only a couple of hours drive from Dunsmuir where I had visited the day before. Dinner at Arbys and check in late to a very rough Super 8 motels romantically placed right next to the highway onramp. Zoom zoom zoom all night long. No lift either, so I had to lug 5 weeks worth of gear up to the third floor where I spent much of the night working out how to pack everything in to my one suitcase.
Very quickly decided that this was not going to happen, ever , so quick trip to Walmart and I had a rather neat sports bad that zips up into a book-sized bundle. No, I know what you're thinking, this is actually a useful feature! I discovered in the process that Walmart is the preferred late night hangout spot for locals of Chico. In true California fashion I spied several teenage girls with tans darker than their bleached hair. Always a good look!
My bags packed it was time for a quick sleep ready for my final day in the US. Will I be back to the Feather River Canyon? By crickey will I ever! The amazing scenery, coupled with the beautiful river and relatively easy vehicle access make it a great route to railfan. The low traffic levels are a downside, however it is a very paceable route, with some very unique scenes and structures. Yep, I will be visiting the FRC again!