Michael Adams and the Land of the Long White Train
As the doors opened on a rush hour Yamanote line commuter train I wondered just what on earth I was doing. Obediently the queue of people waiting to board parted and a sea of commuters excited the train. Those who were in the way held on tight and appeared to almost flap in the current, images of sea weed came to mind. Then it was our turn to board, only there was no room left. Never mind, everyone just poured in anyway and somehow miraculously there was room. The guys nearest the door braced themselves on the roof and pushed back so the doors would actually close.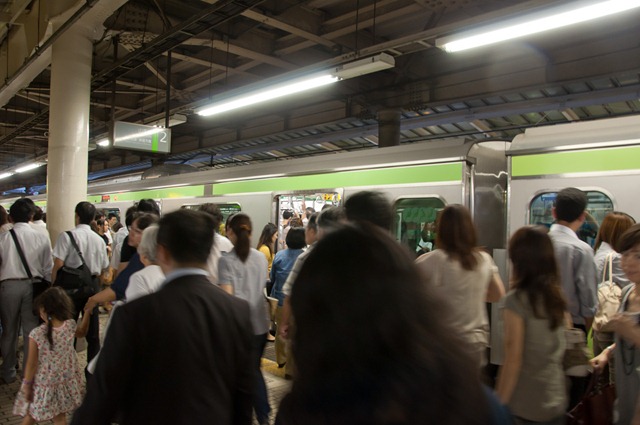 So here I am, Michael Adams, in the most populated city in the world. Amazing. Michael Adams in the middle of a foreign country that speaks a completely different language! In a country where trains run on time, to the second.
My journey started several weeks ago when I fairly impulsively purchased a $900 return airfare to Japan, with the intention of meeting several friends already there, having an amazing experience, and naturally going a little bit crazy over all the trains here. And, to be perfectly honest, seeing if I could survive in a non-English country. The intervening three weeks felt like 3 months, with a rediculous amount of work to be done, last minute complications with my JR Pass, and even a last minute server failure to stress over.
But at long last 5am on the 5th of August rolled around and I was on my way to Japan. Checked luggage consisted of a razor and a 120ml bottle of contact lens solution. It turns are there are minimum sizes for luggage too! The flights were fairly unremarkable, I picked up my JR Pass in Auckland and I even managed to sleep for the bulk of the 10 hour flight to Narita. I touched down at Narita and thought: what was I doing?!
I cleared customs, declared my stash of not-available-in-Japan chocolate to customs (the guy laughed), collected my bulked up checked luggage, and went to convert my JR Pass to the real thing. That done I was informed I had 3 minutes to catch the NEX (Narita Express to Tokyo) and, amazingly, the guy at the JR shop shot off across the station to make sure I got to the right place!
Sure enough 3 minutes later an amazing gleaming white and red NEX train sailed into the station and stopped in exactly the right spot. The 11 on the platform lined up perfectly with the doors for carriage #11.
Soon we were off and wow can this thing move! Several times we were overtaking other trains (yup enough lines to have multiple trains in the same direction), othertimes we had trains on both sides of us. The ride was amazingly smooth, with very nice seats and acres of legroom. I would quite like to bring one of these home with me…
An hour later I arrived at Tokyo Station which wasn't anything like what I was expecting. I imagined a grand big structure with hundreds of platforms; this however was more of a warren of tunnels and signs, elevators and people . So so many people!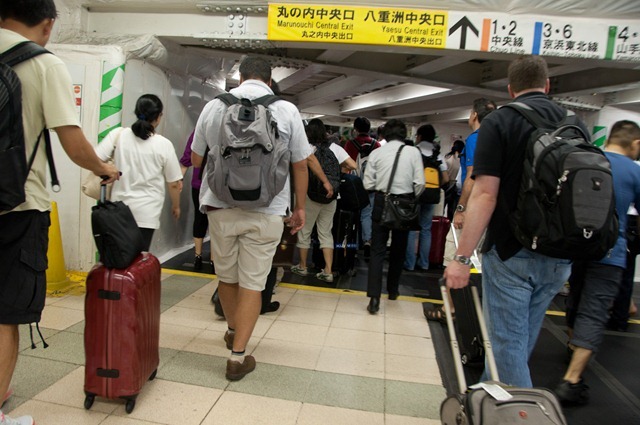 I was soon on the platform ready to board the Yamanote Loop Line train to Ueno. 6:26pm on a Friday is probably not the best time to catch a train on the busiest railway line in the world (Ridership of 3.5M people a day, that's NZ's population, every day! )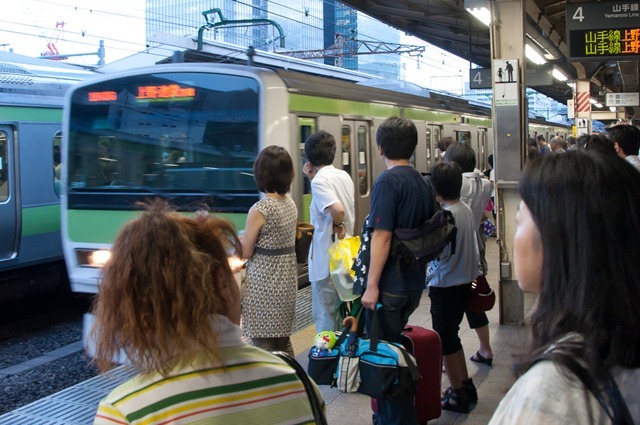 Curiously, I have a model of this series train at home.
And so it was time to squash on and endure 4 stops to Ueno. On the plus side, all announcements here are dual language, as are most signs. Certainly helps!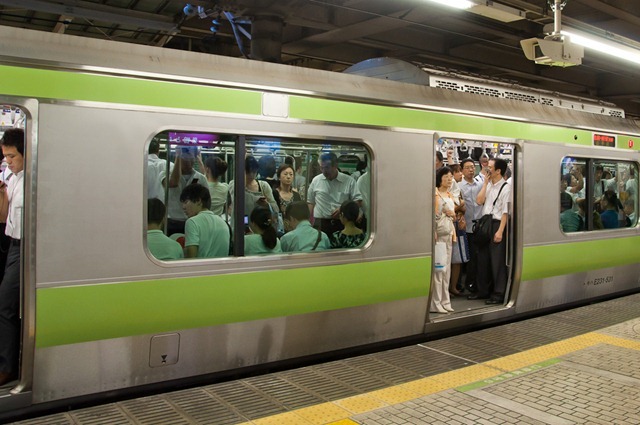 A relatively empty Yamanote line train.
Then it was onto a Ginzu line subway train, which cost me 160 Yen for 2 stations, about $NZ2.50. JR Pass not valid here because this isn't a JR line. Here there was actually sitting room! Off that train and time to follow some fairly detailed instructions to get to my accomodation. Lots of head scratching and searching for any kind of readable sign. In actual fact it's only about 2 blocks from the station but it took me a while to find it.
The ryokan itself is very pleasant, off the main roads and quite quiet. Also very affordable at 3000 Yen a night, about $NZ45.
My accomodation
The host showed me around and explained how to use the digital shower and which side of the toilet is for men. He also explained that the hotel over the road has good free wireless if you need internet and don't want to pay for his!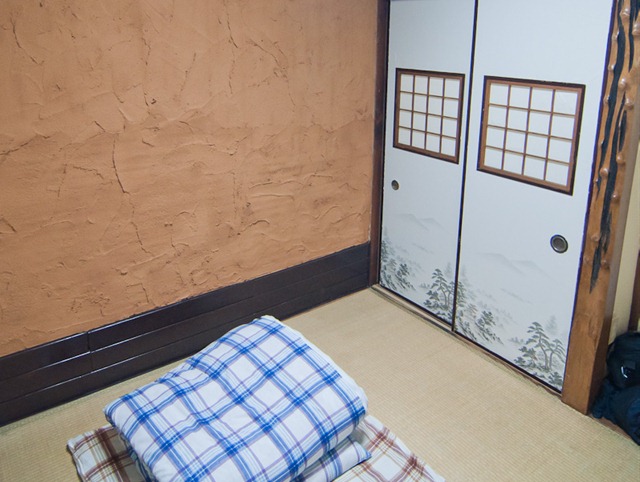 My room is a pretty simple affair. Woven bamboo matting for flooring (nice and soft), rendered walls, sliding doors with scenes painted on them, and a elaborate dark wood ceiling. A pillow that feels like it is stuffed with rice, and a roll out matress/quilt for bedding. An extra matress in case you're feeling the cold…
Which is another point. It's 30°C here at the moment, and 80% humidity ! Given that there is something of a power shortage here, air conditioning is a bit of a rarity. That wall of heat is quite something! And not the good kind of something either.
Having landed, navigated crush hour Tokyo, and found my accomodation, it was time for another challenge; time to eat. The host suggested a place but when I got there it looked quite intimidating… not a single word of english, and bustling with people. With my three words of Japanese I wasn't sure how much luck I'd have there. I walked around for a while and eventually found a street vendor, it was easy enough to point and indicate "2", because I was hungry. I had no idea what I'd just ordered, other than it was something fishy and fried. It was actually very nice!
Have conquored that, I wandered around trying not to get too lost. The little side streets here are fascinating…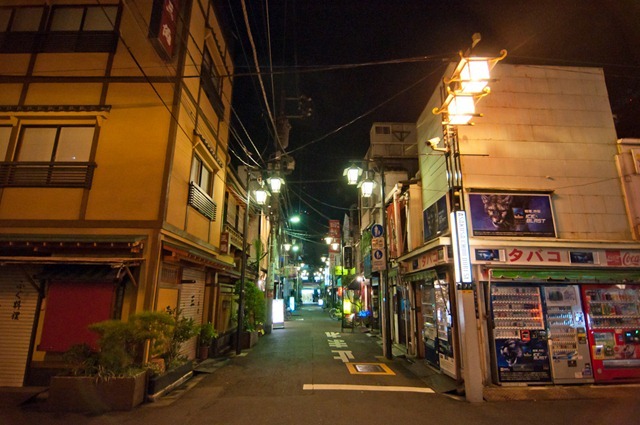 Bicycles everywhere, lots of potted plants, and lots of (I assume) stray cats.
Bicycles, bicycles and cats.
It appears no one bothers to lock their bikes here. Also lots of quirky buildings and funny sidestreets that seem far too small for a car to navigate.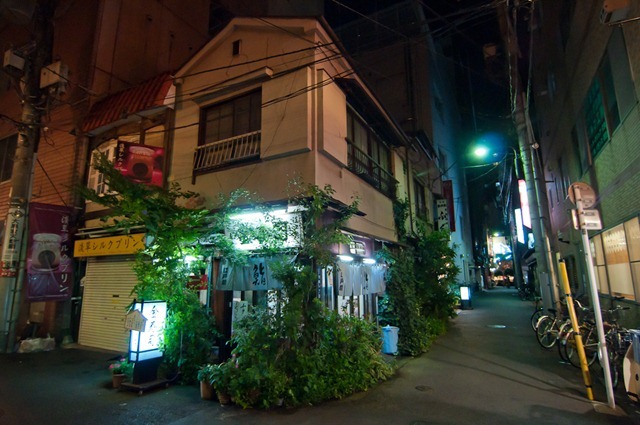 More bikes, more pot plants, more cats, sometimes all in one photo.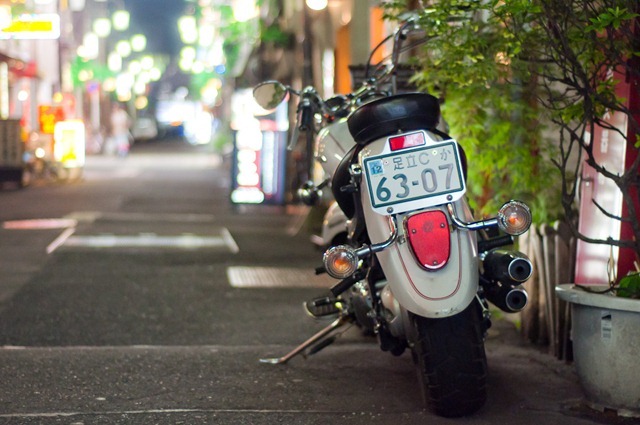 Tomorrow I plan to explore more. I know how to get to Akihabara now, the home of discount electronics and flashy gizmos; I think there may be some sights worthy of exploring there.