Day 12 - Tokushima to Mt Fuji
At 5;30am we were jogging down the road as an impossibly large and orange sun emerged through the distant fog. We had all had between 30 minutes and a couple of hours of sleep and no we were on our way to climb the tallest mountain in Japan! Were we mad? Yes, most likely. First we had to catch a train and this was about 2km from Anna's apartment, and I am definitely not used to that much exercise, that early in the morning!
We caught our train though, a real bucket of bolts and seemed to take forever to get moving after each stop. At Tokushima we quickly transferred to a rapid express made up of fancy new green "Eco" DMUs. The different was amazing and after each stop we flew up to line speed in no time at all. Sometimes we would pass through a station on a curve and the tilting effect was amazing; it didn't feel like a sharp corner, but you could clearly see the difference in height from one side of the train to the other.
At Takumatsu we transferred again to a "marine liner" train that took us across the bridge to Honshu. Here at Takumatsu the lines had been electrified and we said goodbye to our tilting train.
At Okayama we transferred again to a Shinkanse; Anna's first and her reaction upon seeing the acres of leg room between seats was quite cute. After spending so much time speeding round the country on flashy new trains I'd grown to accept this as "standard" and thought I'd somehow got on the wrong plane when I went to come home because the seats were so close together!
We sped off in the Shinkansen and Anna couldn't believe we were really doing 270kmh. I had to show her on my phone that we really were doing 271.6kmh! In the odd place where we paralleled a highway it looked like the cars were standing still.
A few stops before Shin-Fuji we transferred to a "local" Shinkansen that stopped at the smaller stations. The girls seemed impressed by my mastery of the Japanese railway system. Anna was rather jealous of our JR Passes and was working out how she could steal one of ours.
Eventually we arrived at Shin-Fuji, the closest station to Mt Fuji. Here we offloaded all our heavy stuff into some coin lockers (not much need to take a laptop to the top of a mountain after all) and my bag was suddenly a lot lighter. We went hunting for a convenience store and found nothing but intense heat. Eventually we got directions to one that was not very conveniently placed at all. We loaded up on supplies ("Soyjoy" bars, rice balls, chocolate and water) and headed back to catch our bus.
I had a lot less trouble with this bus but made sure I knew exactly where my ticket was! After a small eternity (2 hours) we arrived at the south-side 5th station of Mt Fuji. Mt Fuji has a network of statins and four different routes to the summit. The 1st stations are at the bottom of the hill, and roads go up to the 5th stations on each aspect. Beyond there the forest clears and it's just moon rocks to the summit.
We were advised to wait an hour or two at the 5th station to condition our bodies ot the altitude (2400m / 7500ft). Here the girls stocked up on gloves, headlamps, etc and got changed into warmer clothes. I couldn't be bothered changing so stayed in shorts and tee shirt and put on a jersey as a concession. The toilets here were Japanese style which aren't my favourite so I decided I wasn't that desperate.
We watched the sun set and decided what sort of time we should head off.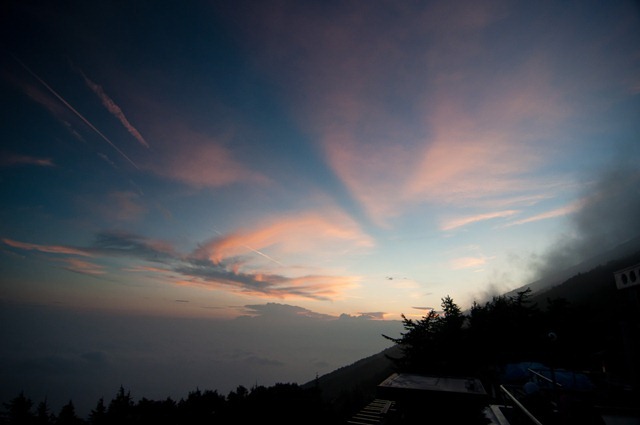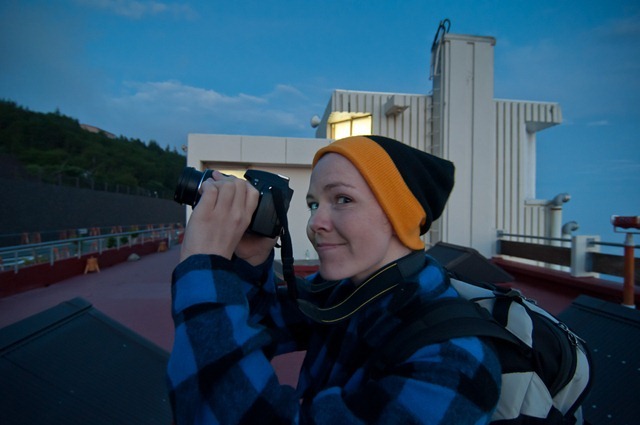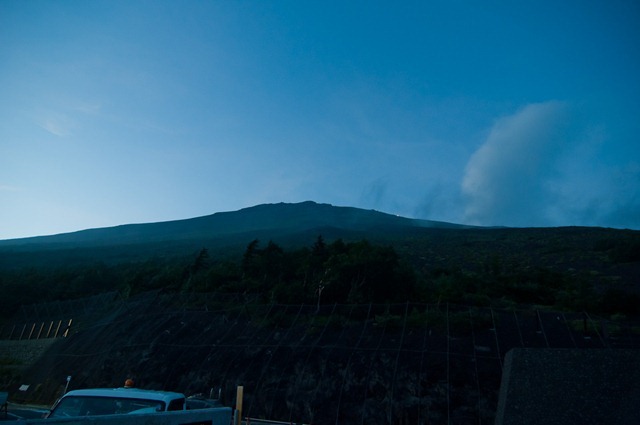 Out destination (too tired to realise this at the time!)
We figured we'd need a lot of time so after about an hour and several hours earlier than the suggested times suggested we put on our packs and headed off.
Here we are posing at the start, peace signs at the ready.
At 8:15pm we headed off. I don't remember very much of it, something to do with a lot of missing sleep I imagine! I will note the things I do remember:
30 minutes later: We stopped at the 6th station and took some photos. The sky was amazing.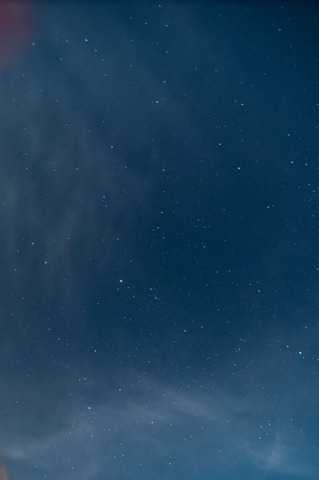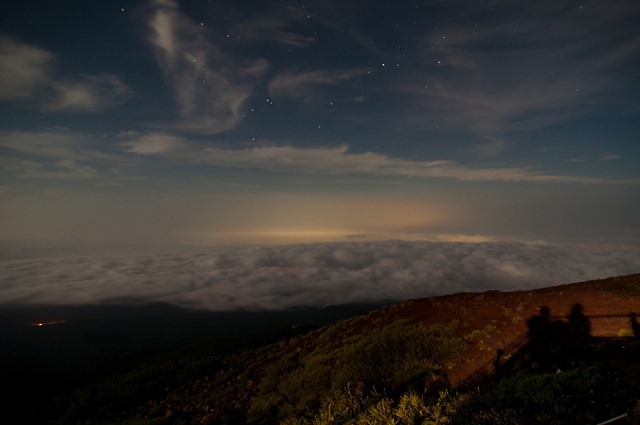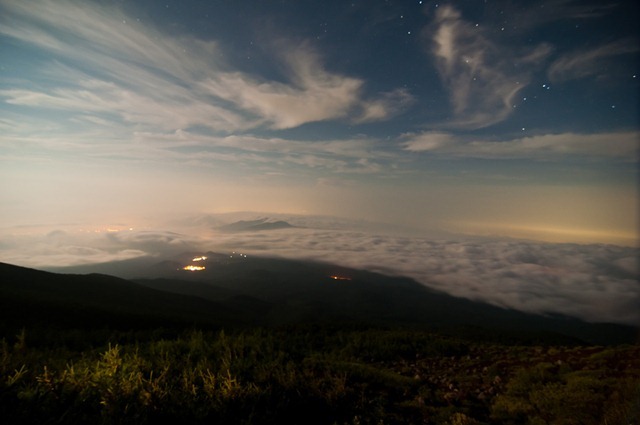 Somewhere around station 7: starting to get a headache, one of the signs of altitude sickness. I drink more water and concentrate on deep breathing. I comment to the girls that the mind is keen to press on, but the body isn't so willing. I think this made more sense at the time. We take regular breaks at each station.
Somewhere around 9:30pm: we start hearing massive booming noises, like gun shots or fireworks. We never did work out what they were, but down in the distance at the bottom of Fuji we suddenly saw massive brilliant glows and smokey trails. Too tired to work it out exactly but it looked like either missiles coming towards us, or giant fires. Anna thought maybe it was a Buddhist celebration type thing. Whatever it was it was amazing and utterly difficult to capture on camera. The best i got was out of focus.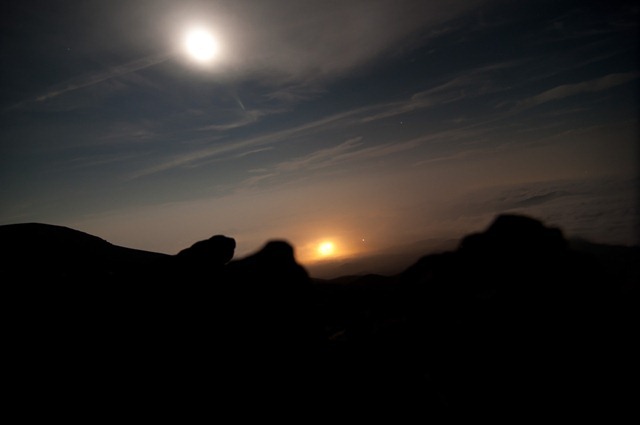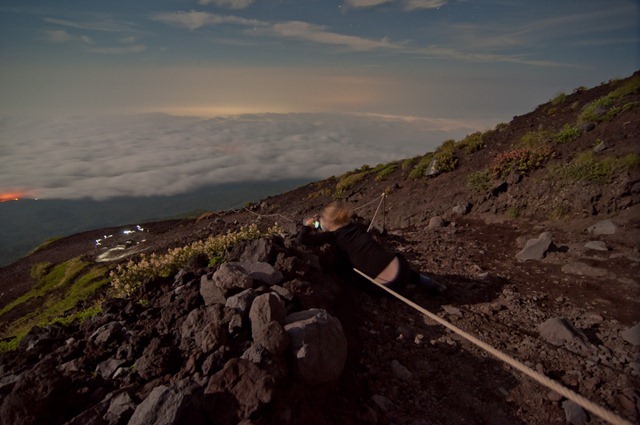 A while later: I was feeling better now. We plodded on.
10:16pm: last photo for the night; we were starting to get behind and so had to up the pace a bit. You can see the glow of other people's headlamps coming up the mountain. We had decided a while ago that it was easier without any lights as there was a full moon and your eyes didn't have to continually adjust.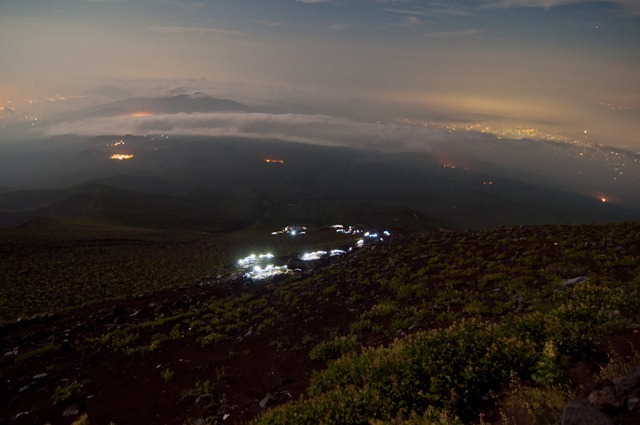 Around midnight: I think some of the street-vendor fried chicken from the night before was starting to disagree with me; I paid the 200 yen to use the mountain toilets. These were surprisingly nicer than the ones at the bottom of the hill.
This is the end of part one…