Day 11 - Tokushima and Awa Odori
My hopes of a nice long sleep were cut short as we had to make it to the train station in Tokushima by 9:30am. This meant an hour drive, plus breakfast time, and Anna had to iron her komono. Anna's apartment is in a pretty quiet little town called Anan. Here is her somewhat imfamous garden and the neighbour's rice field.
Turns out ironing a komono for the first time is fairly involved and we were a bit late making it to the train station. Already Tokushima was bustling and there was no sign of Teri, another friend from Christchurch who had ventured over to Japan to volunteer around the Fukushima area, specifically looking after children who had been living within the evacuation zone.
We eventually found Teri, or rather she found us, and we set off to do some sight seeing in the tiny amount of time we had. The only thing that we could really fit in was a trip to the whirl pools that inhabit the straight between Honshu and Shikoku. For some reason that I still don't understand, Anna decided that I should be chief navigator and map reader! Normally that would be fine, except the maps were all in Japanese and I had no idea where we were. However I somehow managed to get us there via the scenic (and according to the road signs, "romantic") route.
As we drove along and I wondered just how lost we were, we crossed a gigantic viaduct and suddenly we could see water and islands all around us! I naturally boasted that this was where I'd always planned to end up.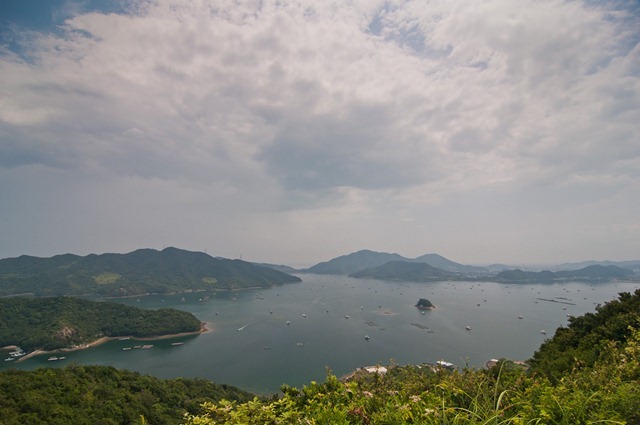 We were now almost exactly where we needed to be and a few minutes later we were hiking up stairs and paths to view the whirlpools.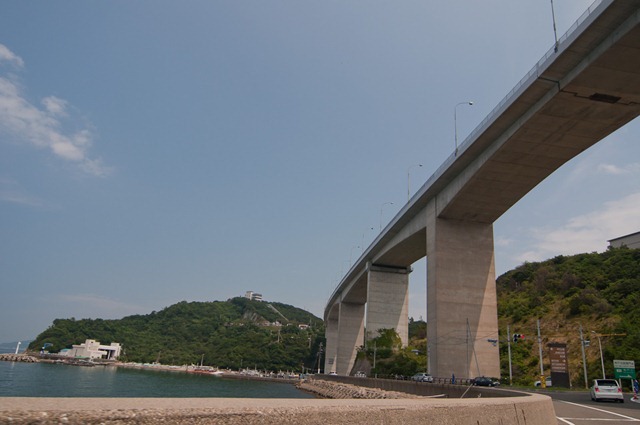 On our way to where we wanted to be.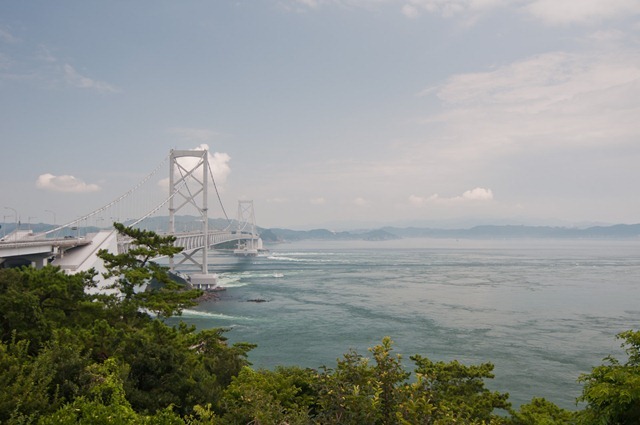 Nearly there!
The whirlpools are a naturally occuring phenomenom due to the large land masses and narrow waterways; during the period between tides when the tidal flow is at its maximum, that sheer torrent of water sets up eddies, and in extreme cases, whirlpools end up forming.
We paid our entrance fee (yes, it was a vending machine that took our money) and walked out under the bridge. Sometimes they had big windows in the floor and you could see the water churning away underneith. Looking out over the sea you could see how it was all boiling away, sometimes looking deceptively calm, if anything too calm.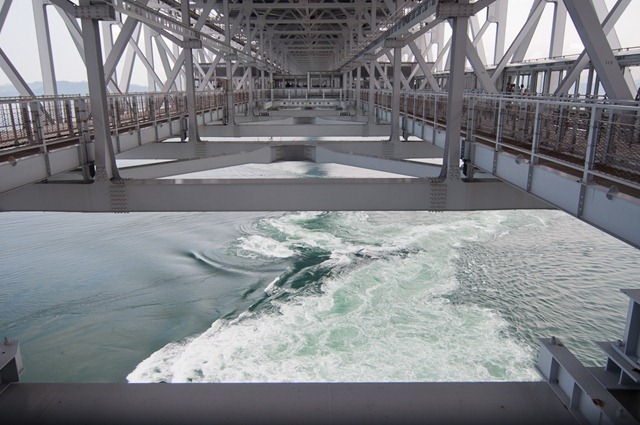 Anna has embraced the Japanese culture and now wears a paid of rather fetching anti-tanning-arm-stockings while driving. To be fair, given how slow the drive to Tokushima is, and how intense the sun is, I can almost understand. And she does rather suit them.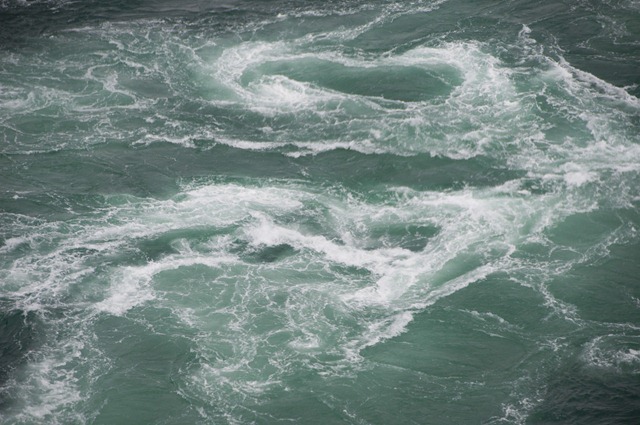 We wandered out and jostled for photo spots and sure enough we saw whirlpools. What I found more impressive though is that a) tour boats would park right on the edge of these black holes and everyone would snap away, and b) that massive container boats were happily sailing through with seemingly no worries.
By now we were running out of time and headed back to Tokushima so Anna could start getting changed. Teri and I wandered around. We visited the gardens, bought ice creams from a vending machine (someone was asleep when they packed them because my cookies and cream ice cream had no cookies and no cream!) and watched the various Awa Odori groups warming up. It was nice just putting my feet up for a few minutes and watching the world go by. The road signs driving into town had been boasting that it was "only" 31°C today.
As it got darker we headed off to watch the groups that were starting to perform. Here is a rather poor photo of one of the JR Shikoku DMUs rattling away.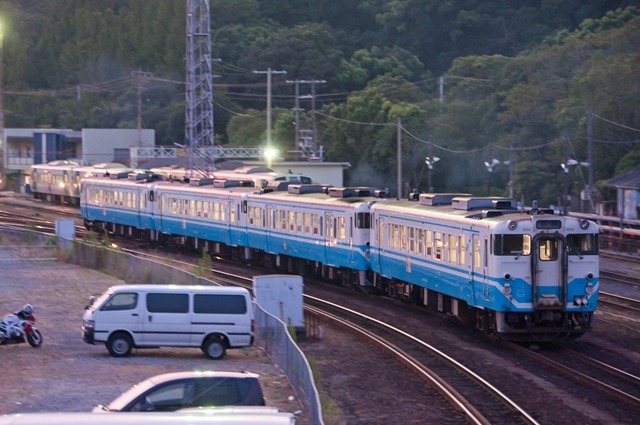 By evening the place was starting to fill up and soon it was hard to move without bumping into various groups performing. Every group was slightly different, but they all were variations upon a theme. The music is especially catchy and quite pleasant to listen to.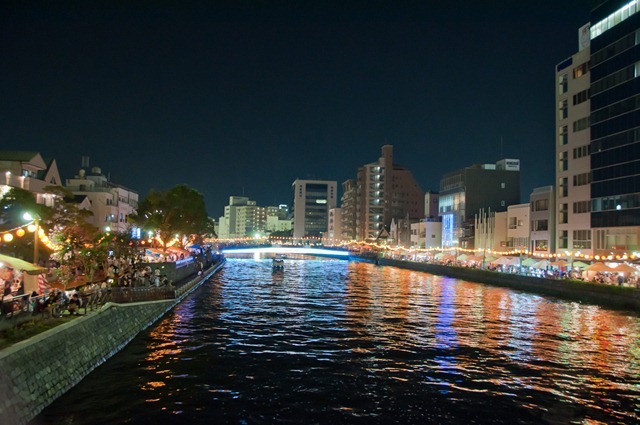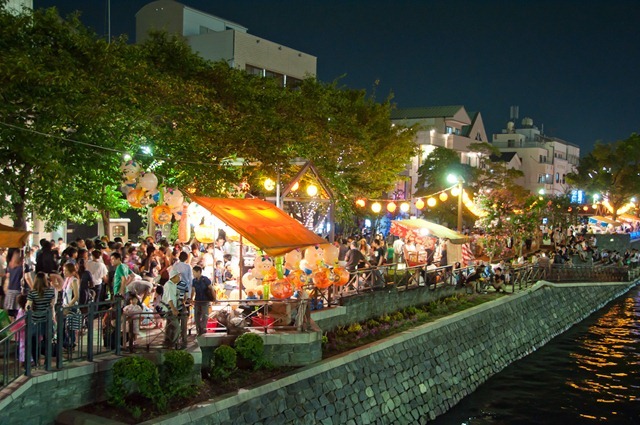 If you could cook it, there was probably a stall selling it here. There were kebabs that were as big as cats (this isn't China so presumably they weren't actually cats), and grilled corn cobs, rice, noodles, and many many other concoctions. I had some fried chicken and shaved ice, this time with condensed milk drizzled over the top which makes it even yummier.
Walking along we spotted a hair salon called Barbie Hair. I'd seen it earlier and assumed it was an unfortunate Englishification, however as we walked past this time two customers emerged and no , it was an entirely accurate name for the shop! Here they are posing with Teri, who had changed into something more fitting for Awa Odori.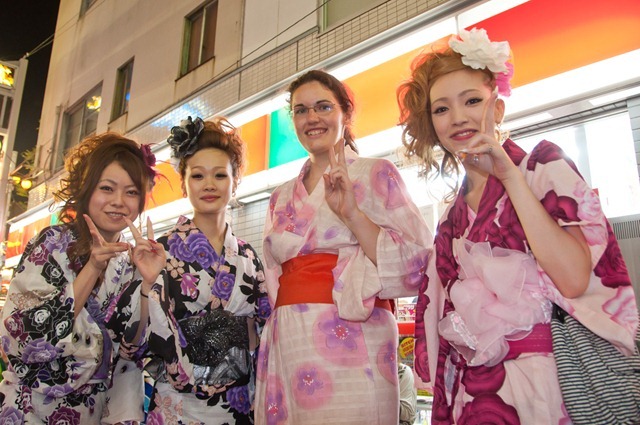 I took lots of video this night, figuring I did not need another 240 photos to weed through! Towards the end of the night we managed to find Anna's group, however soon lost them in the crowds again. As the final night of Awa Odori started to wind up we bumped into various groups who were playing in the side streets; not to anyone in particular, but just for the fun of it. It was amazing to watch!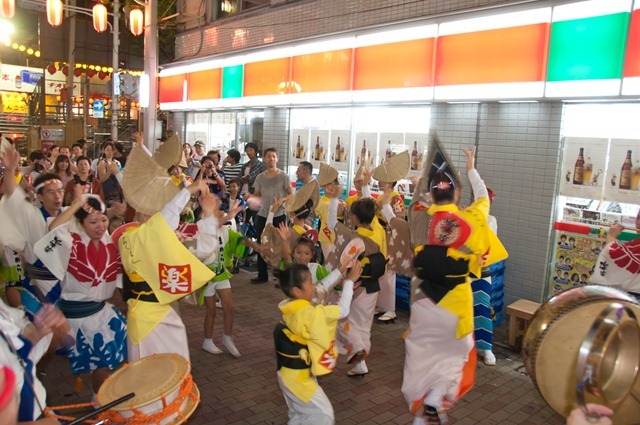 Everyone would take turns dancing in the middle, then all the women would come on, or people would take turns at drumming, or the dummists would do elaborate solos. The energy and joy here was easy to see!
We headed back to the club houses, thankfully my phone remembered where we had been because at night every back road in Tokushima looks the same! We sat on the steps in the cool(ish) night air for a bit before someone saw us and eagerly invited us in. Within seconds there was food and an endless supply of beer in my hands! Somehow despite the endless beer I managed to change lenses and snap some nice photos of Miranda and Anna afterwards.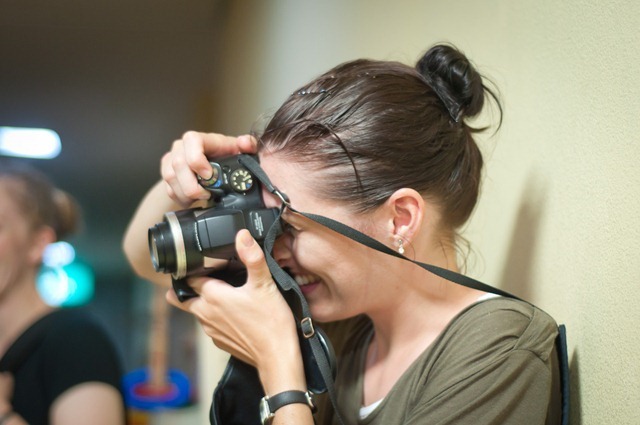 We headed back to Anan and bought more milk for our cornies on the way. Back at the apartment we started making plans for tomorrow, which involved a rather early start, many trains, and climbing a rather big mountain. About 2:30am we headed off to sleep, unfortunately I woke after an hour and was too hot to do anything more than just doze, despite being utterly tired!