Day 23: Missoula MT railfanning
Woke up to a thin layer of snow all over Missoula, about a couple of inches. Brushed off the car and went off to see what there was to see in Missoula. Unfortunately the temperature had already climbed above freezing so Missoula was very soggy and the snow was rapidly melting.
Had a cruise around and found, surprise surprise…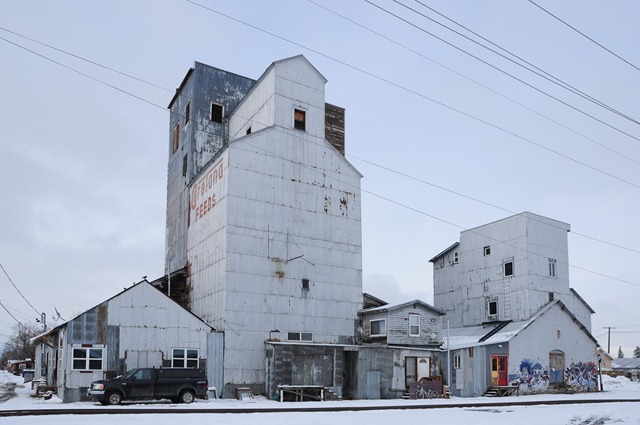 … although this one was a bit different as in addition to the usual pigeon wildlife, people live here! It appears to have been turned into a gallery / studio / apartments type affair, and looks pretty interesting.
I drove on a bit and found the railway yards, but there was a whole lot of nothing happening. I spied some amazing birds nests in the lighting tower though, and about a million birds lined up on a power line; I guess they know where the best train watching spots are.
Found a few locos, including some out-of-towners, but they all looked very sleepy.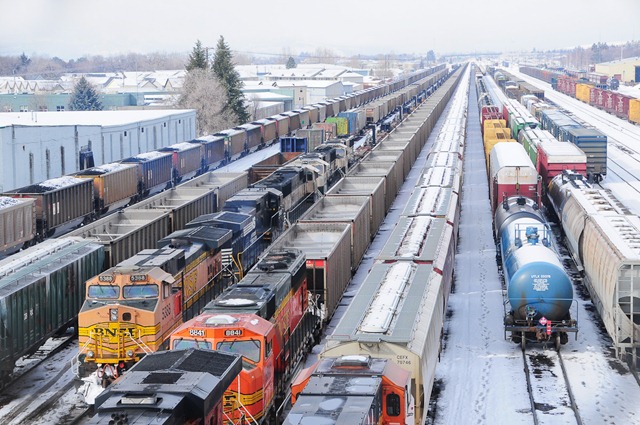 Since nothing was happening I decided to be adventurous and try and find my way to Paradise, MT. Was a bit of a battle as my GPS doesn't have many of the really small towns in it's database, and it can be a bit of a pig to scroll around in. But after a while I was passing through a very picturesque valley with no trains at all in sight. The lighting was pretty bleak and the weather was continually threatening to snow on me, but just couldn't quite muster it.
However the bleak lighting rather suited the amazing rock formations I think…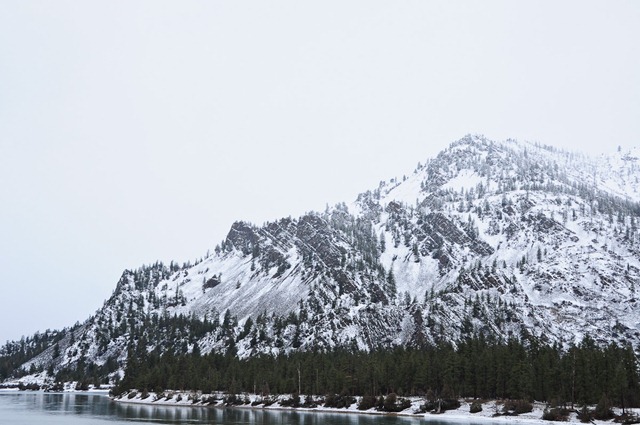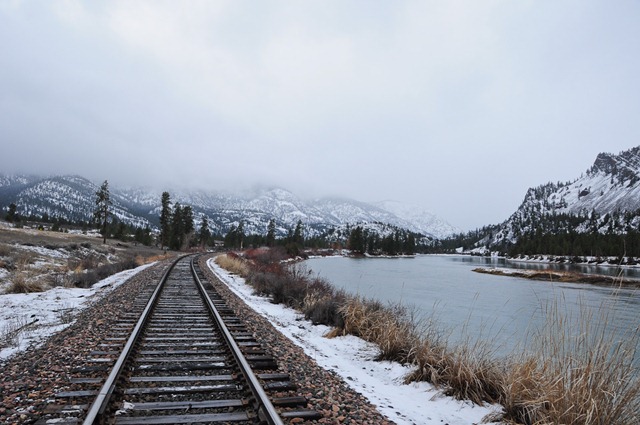 Waiting… waiting…
As far as I could tell from the radio, there was a train somewhere on this stretch of track, but I'll be damned if I could see any sign of him! To make matters worse, this patch of track only gets a couple of trains a day.
Across the highway was an amazing patch of ice that was many times higher than me and rock solid. Can only imagine how cold it must get to form something like this!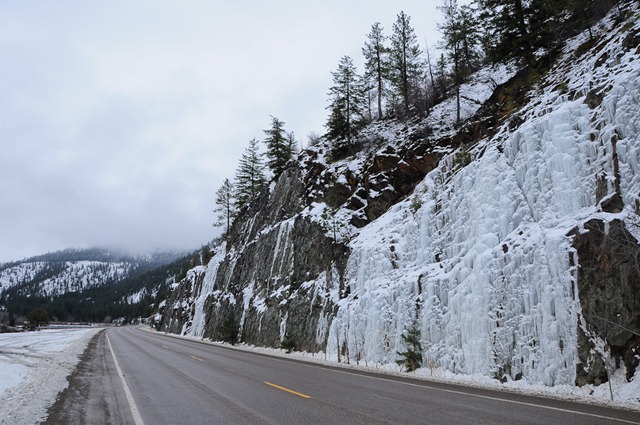 Just then I head on the radio that the train I was chasing had released his warrant for the Paradise sub and was headed up to Polson. I looked at the map… &#$* that's an hour back down the road! I jumped back in the car and headed off to try and find him. Snapped this as I roared off…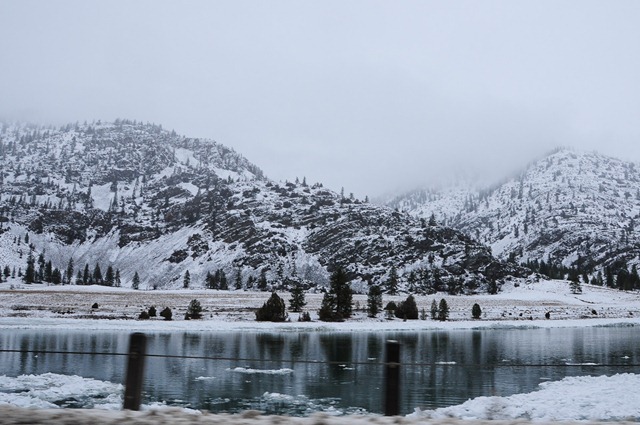 Somewhere down the road I found, well you can guess…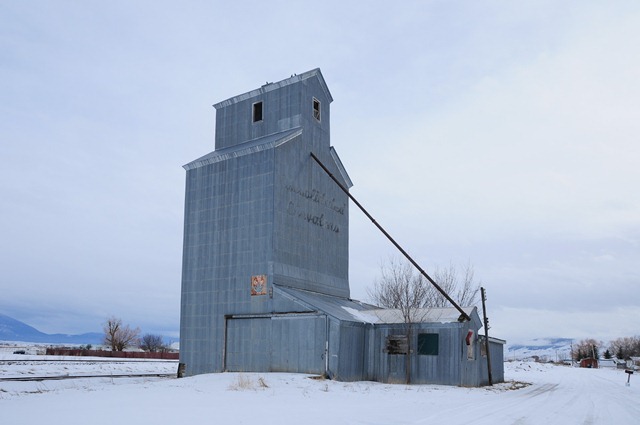 … at least grain elevators stay where you put them and are easy to find!
I eventually ended up in Polson and because I didn't have a good map spent a long time trying to find the tracks, turned out I was searching the wrong end of town. Polson is a lot bigger than I was expecting and it was proving frustrating.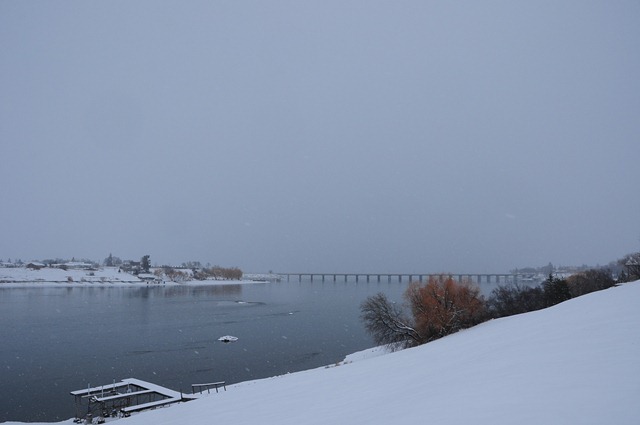 Bridge at Polson
I eventually found the tracks and there was snow across the rails, so no train had been up here today.
Feeling a bit dejected I started heading back to Missoula. Somewhere along the way I found another grain elevator: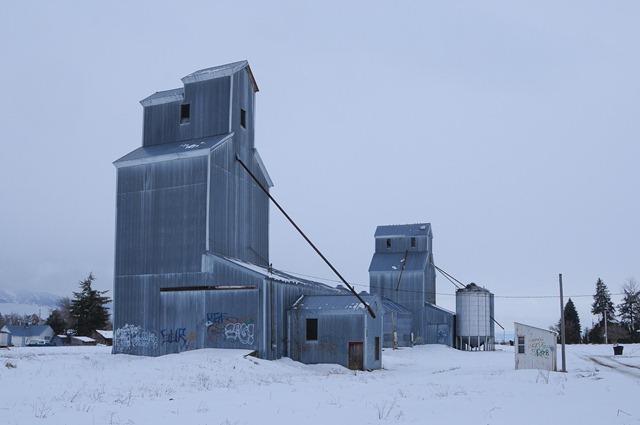 and then realised that I'd driven right past my turn off, and after spending all day driving round in circles chasing imaginary trains, I didn't feel like doubling back again! So I looked at the map and decided I'd take a short cut.
Well technically, in absolute distance terms, yes it probably was a short cut. But by George was it bumpy!!! And muddy and full of put holes and by the end of it the car was a uniform brown colour with little clearish patches where the wipers are. I did catch a nice sunset though…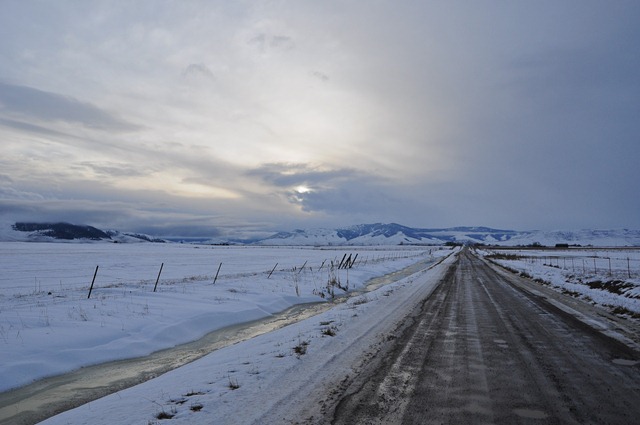 Somewhere in the middle I found a weird windmill house thing. It looked like a Hundertwasser creation, just without the colours.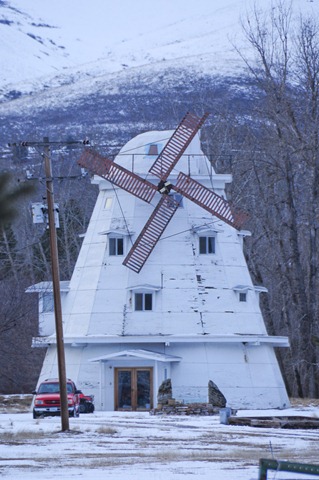 I finally arrived in Missoula hungry and tired and feeling like I'd wasted half a tank on a train that I never even got to see. First pangs of home sickness set in as I tried to find somewhere to stay that was cheaper than the Thunderbird Motel. I wound up at the EconoLodge and the girl at the front desk must've taken pity on me cos as soon as I walked in she said "I'm not letting you leave here" and proceeded to give me a senior citizens web military AAA rewards discount or something, which made the price very reasonable. She then threw in enough washing powder and drier flavour sachets to last a lifetime, and even came and showed me how to work the heater. Seems if you threw a four darts at a world map that's where her ancestors all came from. So we had a good chat about metric and imperial, since she is part Canadian, but I have to say I'm getting pretty good at Fahrenheit now, having experienced everything from 0 up to 50, which in Chch would rate as unprintably-cold, to continually-complaining-cold, but over here rates as nippy to very comfortable. I think it's because the humidity here is so reasonable, so even very cold days just don't sap the heat out of you. In fact, I like the cold over here, and start complaining when it gets above freezing point! Good luck finding anyone in Chch who feels that way!
Walked across the parking lot and had a pork mushroom risotto at the Irish place next door, which was way too filling, but was tasty and good comfort food. Then had fun doing the washing and downloading photos. Currently at about 4000 photos for this trip.