Day 1 - Christchurch to Lake Tahoe
Well I'm back in the USA! My journey started with a couple of days in Auckland under the careful eye of my girlfriend, Rachel, before a big goodbye and a careful squeak through the scales (.1kgs over the limit for both carry on and checked bags). Fairly uneventful flight on a massive 747-400. I had a window seat and a spare seat next to me so could try a few different sleeping positons. 12 or 13 hours later we touched down and I went through customs. The lady I got was very cold and she didn't seem to like my idea of a road trip and referred me to "secondary screening". There a young guy had a chat with me and loved my idea of a road trip, in fact in his previous life he was a biker and he started writing down a bunch of "must visit" places. He wished me luck and that was that. I collected my bag and was on my way to the rental centre.
Rental guy took a liking to me and (for a small extra fee) rustled up a true 4wd Jeep Grand Cherokee, the only one the had left. Michigan plates this time!? Bit of a monster, we'll see how it handles when conditions deteriorate, but it is nice and quiet and has satelite radio which is nice and ad-free.
Hit the highway and headed for I80, then to Auburn. Decided not to stay there for the night and instead did some food shopping, and then on to Emigrant Gap. Whole lot of nothing happening up there, and only the tiniest amount of snow, bare ground in places. Not at all like Donner Pass!
I pressed on and arrived in Truckee, CA. As I came off the highway I saw the telltale glow of headlights and screeched to a halt. Could it be?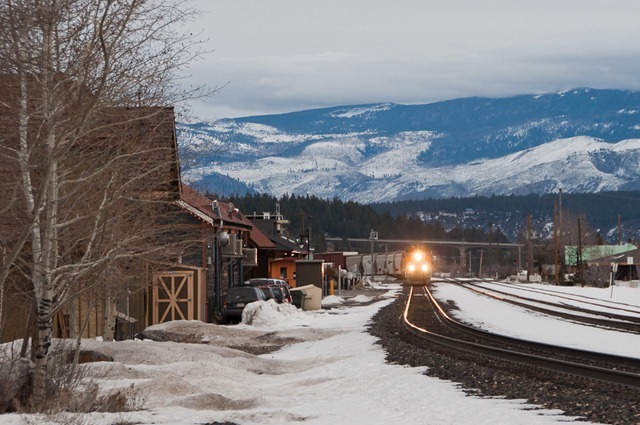 Yes! A 5 loco set of "winged" UP locos were busy dismantling and reassembling their train. I watched as they shuffled around a bit.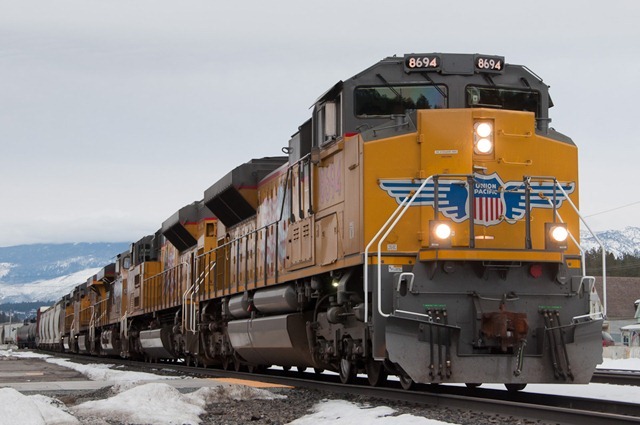 These locos can't have been very old, they were all very clean and well presented. A pair of SD70ACes, and a trio of ES44s.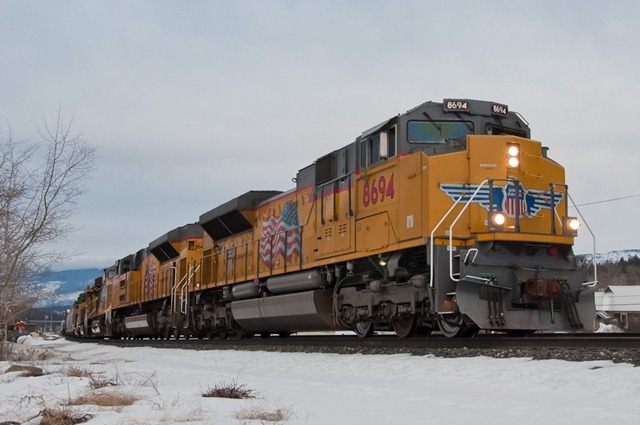 By now it was getting dark so I headed off to my regular "not quite Truckee" hotel on Lake Tahoe. Checked in fine and had a chat about the lack of snow to the receptionist; she agreed and said the ski fields were really hurting.
For dinner I wandered down the road to Nevada and lucked out with their Prime Rib Tuesdays Special for only $10. It was cooked beautifully and was very tender, and just what I needed. The waitress there was also complaining about the lack of snow; good to see I'm not alone here!
Plan for tomorrow is to head back to Donner Pass and catch some action there, before spending the night here at Tahoe again. From there I will trek up to Montana and spend a good chunk of time hopefully good and snowy north, before heading through some more of my regular haunts. The plan is pretty loose at this stage.