Back to the States – Day 1, NZ to Colfax
Well here I am in Colfax, California! And what a journey it has been. Three weeks ago I booked my tickets and I was excited as. Then those 3 weeks stretched out and it's felt more like 3 months. And to top it all off, Friday morning, just 2 days before I was due to fly out, I got a very nasty surprise regarding my terminal and provisional tax payments – so much of a surprise that cancelling the trip entirely was looking quite likely. Luckily about 3:30pm on Saturday afternoon the revised numbers came through and I decided I could afford my trip after all. Wow! Uncertainty at that hour of the game is really nerve wracking!
But it all worked out and so with just 24 hours till lift off I managed to get my suitcase all packed and down to the airport in time. Flights over were very straightforward, even with all the extra security screening (although watching Aliens and Planet of the Apes on the plane led to some interesting dreams). Breezed through San Fran no problems at all. Suitcase sustained more damage from overzealous baggage handlers, it is now missing a handle! But everything inside is still in perfect condition, which says something for my packing.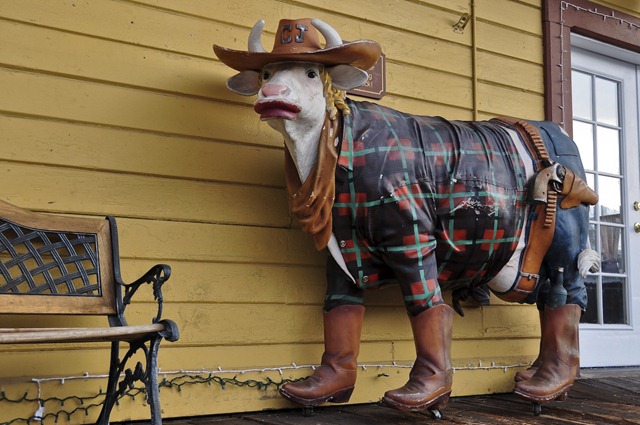 Welcome to America – A cow girl in every sense of the word, complete with pig tails. Colfax, CA.
Landed in San Fran, chose a car (grrr rental company doesn't "do" winterized cars, lady didn't even know what I was on about) – I was tempted by a very yellow Jeep Wrangler but it had no luggage space, so went for a Ford Explorer XLT which is quite nice, albeit a bit greedy on the gas. I had to laugh though: the Jeep + me in my red tartan Swandri shirt would've made the ultimate MacGyver tribute!
Jumped in the car and was soon on a seven lane freeway heading for Sacramento. Paid my first road toll ever, $4 for a tiny little bridge. Hmm. No problems driving this time, seems I remember how to drive American, although I did make a big insulation tape arrow on the dash pointing to what side of the road to drive on :-) Of course now that I have an SUV with a healthy roar I can drive like a real America, in other words get out of my way of I'll squash you like a bug! Only when I turned onto the I80, my old familiar hunting ground from first time around, did it feel like I was actually back again.
Stopped in… Vacaville? Or was it Dixon? Or Sacramento? Or… Swingle? They're all the same out there. Went to the American Store, Wal*Mart, and stocked up on essential supplies like Oreos. Went to a sports shop and got some ski pants (I'm size 16 apparently… guess I wouldn't make much of a girl) which are nice and warm looking, some $30 insulated boots that look great; rubbery with SUV sized tread on the bottom, and a thick lining of felt or fleece or something. And to top it all off, I bought some snow shoes which will let me walk on anything, anywhere.
Stopped at Davis of UC Davis fame, although I didn't actually see any university buildings, just their cycle riding, barefooted hippy students. Not often that bicycles with bells outnumber pickup trucks over here!
Then it was off up the hill to Colfax, a delightfully hillbilly town. If they aren't driving a lowered merc or beamer, it's a raised pickup with tractor sized tires. In both cases it'll have some punk driving, listening to "cool" and "edgy" street beats, blasting out for all the neighbourhood to enjoy, if they can hear it over the exhaust that is. There is something weird about hearing a bogan car blasting out Spanish rap though.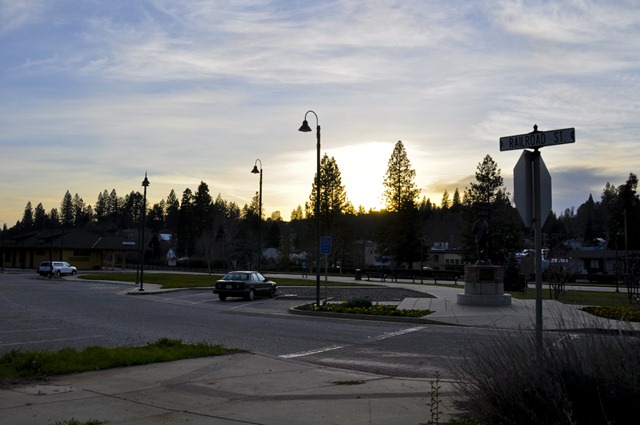 Suspiciously named Railroad St in Colfax as the sun sets.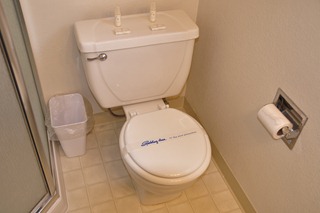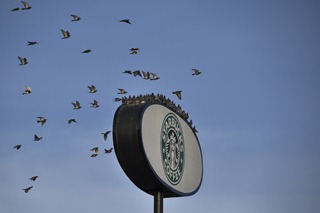 Toilet prior to the ribbon cutting ceremony: "I hereby declare this toilet officially open!" / Bird gang staking out the Starbucks sign.
Not many photos today, and only saw a couple of trains in passing. Weather arguably nicer than in Chch; a comfortably warm temp with wonderfully warm sun. Went for a walk around Colfax, wow they have loud frogs, and lots of them! The smell of wood smoke lingered on the air, and there was a wonderful crispness to everything. Winter is nice here.
Pizza for dinner, then back to the motel to chart out tomorrow's adventures. Only 9:30 here and I'm exhausted already!