Day 7: Sapporo to Otaru
A fairly slow start to the day, followed by a visit to the internet cafe to reserve a room for the night as the hotel had said they were full. However I reserved a room back there for that night, so they can't have been full. I don't understand either. My hour of wifi usage cost me 400 yen, ($6) a rediculous amount considering I wasn't even using one of their computers! Never mind, it was a beautiful sunny day and I hopped on a local train to Otaru and zipped off. Here is the only map of Hokkaido I have. Sapporo is the big 01 . Asahikawa where I've been on a few trips is in the middle of the island, and Biei and Furano are below that. Otaru is the complete opposite direction and lies along the coast.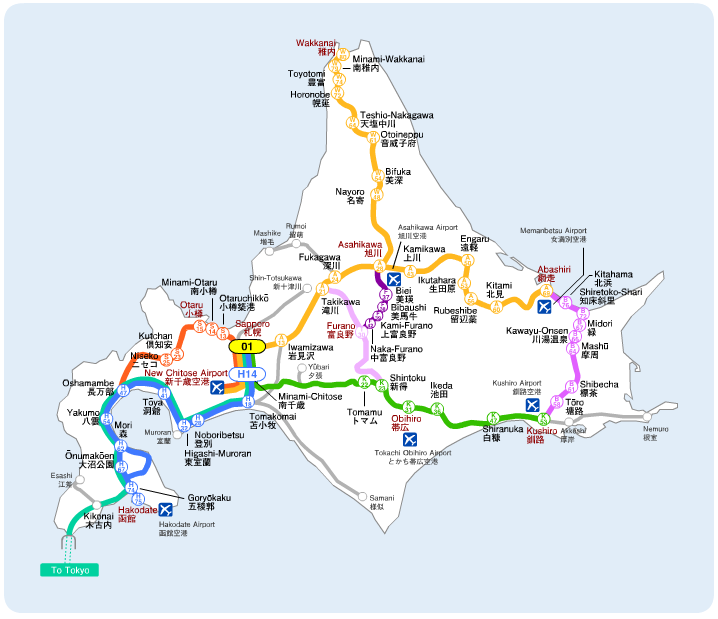 It's only a short 30 minute journey there. We zipped along and I saw some of the sleeper trains waiting to be cleaned, and a big JR yard with lots of different colourful trains out sunbathing. Then we rounded a corner and there was the sea! Everyone was very excited and out came all the camera phones to snap some photos. The train zoomed along between the sea and the hills, very much like NZ, except there were no waves here. In many places it seemed there was only room for one road between the sea and railway, and the houses looked pretty squahed up.
We arrived at Otaru and I took a photo of our rather ugly train (they're nicer inside).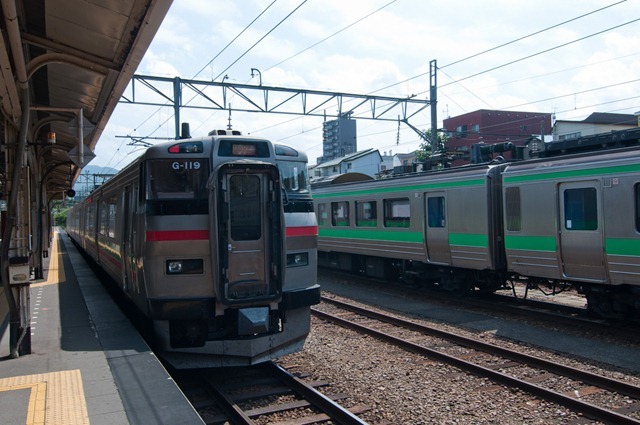 I went for a wander down to the canal which was pretty and an obvious tourist hotspot, with lots of street vendors trying to sell their wares along the walkway.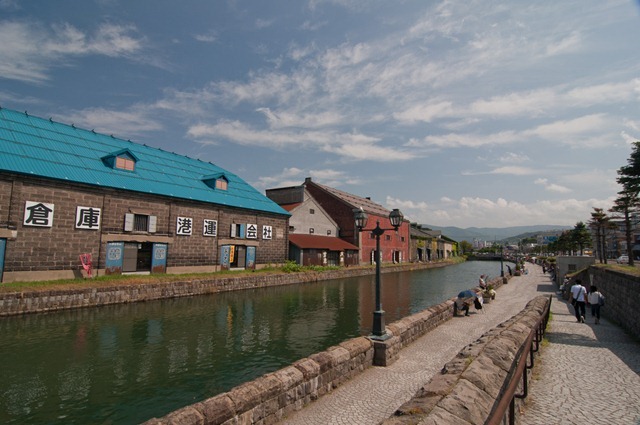 I got to the "end" and looked at a map and yeah it seems to be an isolated canal in the middle of nowhere. Very odd. I couldn't understand why a seaside town didn't have any kind of interest in the sea?!
Walking back I passed a railway line that, if I'm to believe my interpretations, was in use till the 90s.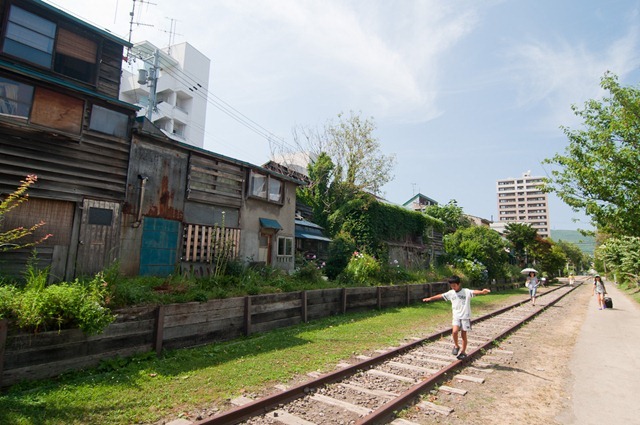 I went back to the station, passing the "Dramatic Communication Network" offices, and the "Happy Science" building on the way. Then after buying another drink from the platform vending machine (I've fed thousands and thousands of yen to vending machines this trip) it was back on the train and back up the line towards Sapporo.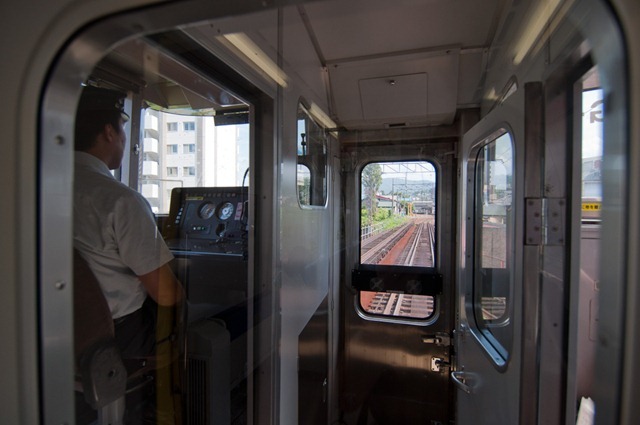 I didn't actually intend to go back just yet though and got off at one of the seaside stations.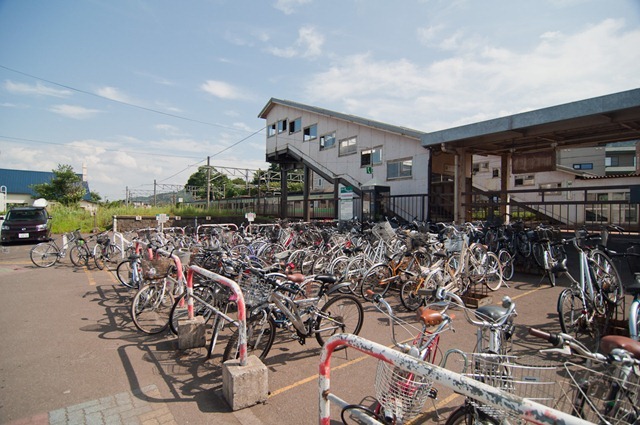 Went for a walk and tried to find a way down to the sea. This appeared to be the "easiest" way down to the beach, a nice little walkway besides the trains that romp through at full speed. Hmm!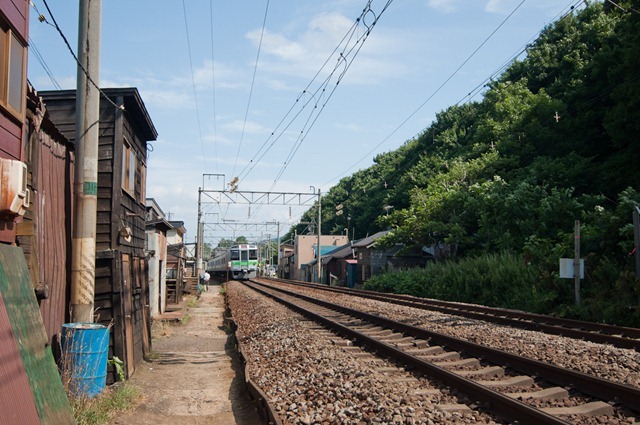 However a policeman was walking ahead of me and he even said hi to me, so it all appeared perfectly legit. Another man stopped me on the way and we had a short but enthusiastic conversation in broken English / non-existant-Japanese. The whole place was very rustic.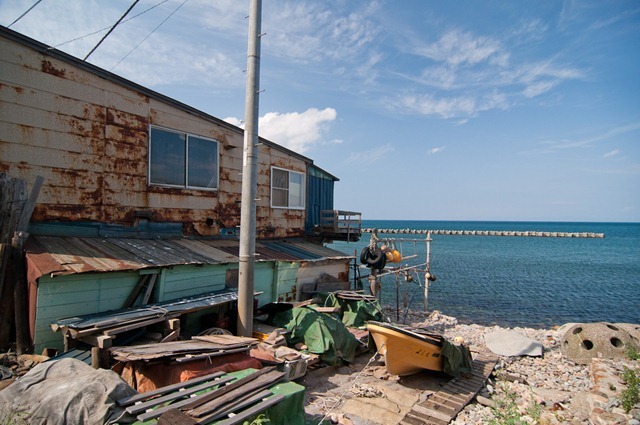 I walked down a short gravel path to the sea, and wow, what a location!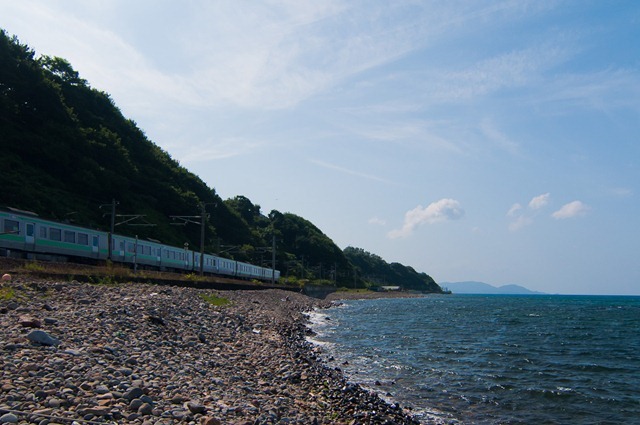 As I was taking photos another man came up to me and we had a good chat; his English was very good. He appeared to know a nice camera when he saw one and seemed to savour the sound of "deee niiiine zeeeero" as he read the model of my camera. I clambered out onto the break water and said konnichiwa to the local kids, who appeared to get a bit of a kick out of that! Some of them were diving for shellfish and later they had a bit of a fire on the beach with their findings.
Meanwhile every 5-10 minutes a train would zoom past.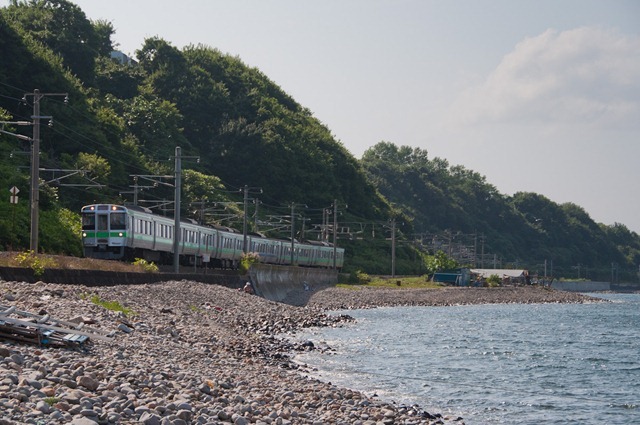 Here are the kids cooking their catch.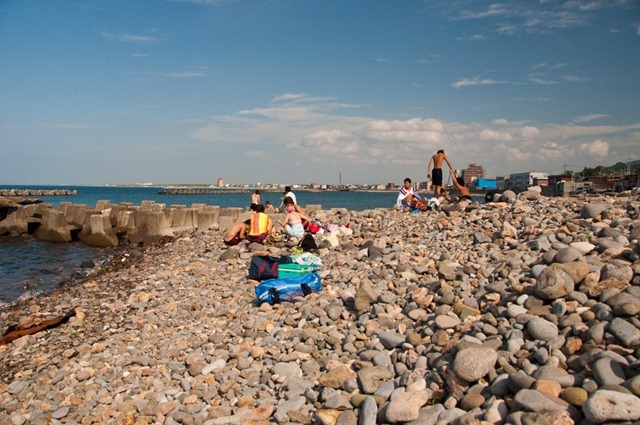 I strolled back to the station and caught the train back to Otaru. Here is a typical Japanese crossing: this is how they ensure you don't snag the overhead…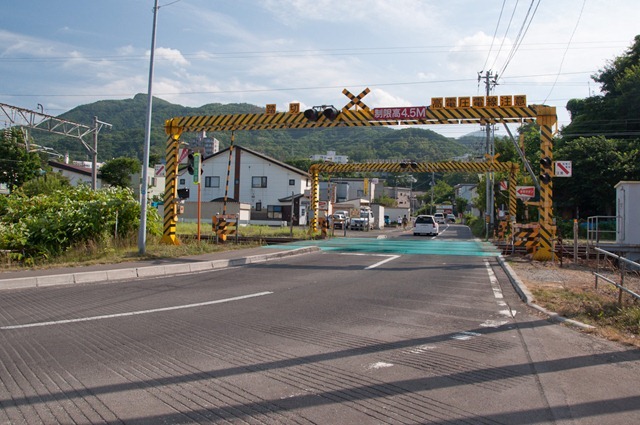 But when your average car looks like this:
… you would have to stack about 3 of them on top of each other before there is any risk of hitting the overheads. Back at the station: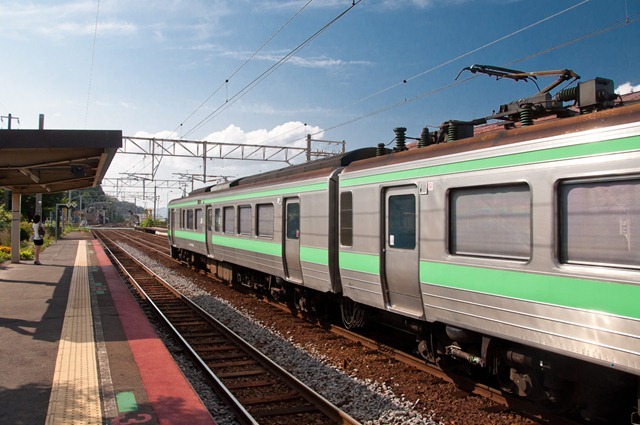 I went a stop up the line and explored some more. This town was even smaller, in fact the station wasn't even manned; a first for me so far. I bid the train farewell and went to try and find the beach.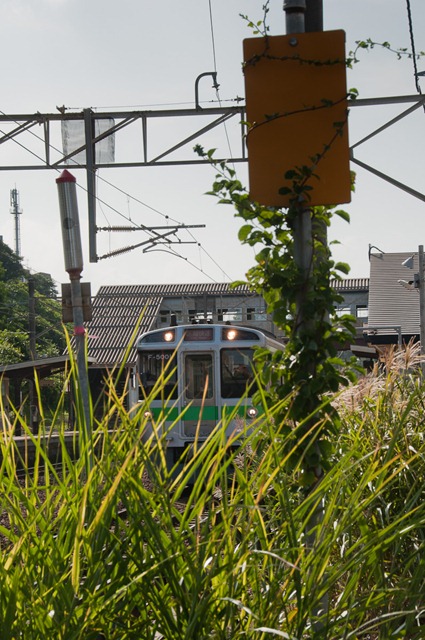 I had to cross the tracks and weave my way down through some nice rusty boat anchors and buoys, but found my beach in the end. I tested the water and it was incredibly warm.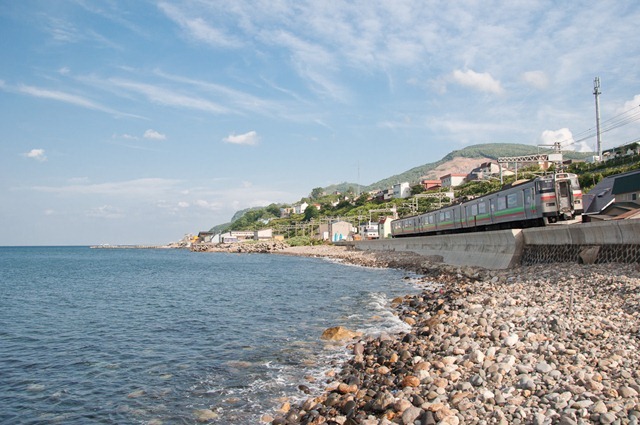 I figured I might as well go for a swim, after all how many people can say they've swum in the Sea of Japan?! So I slowly got in, the boulders were pretty big and slippery and it shelved very slowly, but soon I was up to my head and I had a good paddle around. Sufficiently cooled down I dried out on a rock and had my Mr Donut breakfast. Some local boys who had been snorkelling at the other end of the beach came over and said "hello" and "this is SEA!" and asked where I was from. Everyone here seems very keen to practice their English on me, must be the salt in the air or something!
By now it was late afternoon so I wandered back to the station.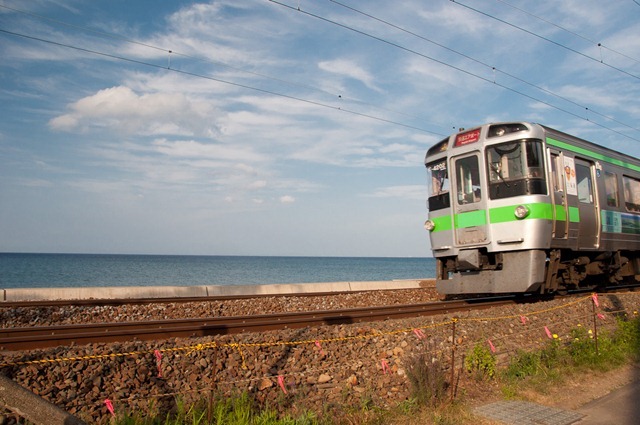 I fell asleep on the train and woke up at a station; I had no idea where I was so I jumped off the train very quickly. When I finished waking up I could hardly even remember getting off the train! I think all that sun and sea side air had made me more than a little sleepy. Turns out I probably would've got back to Sapporo just fine, but I caught the next train anyway.
Back at Sapporo I leant on the camera and got a rather interesting effect.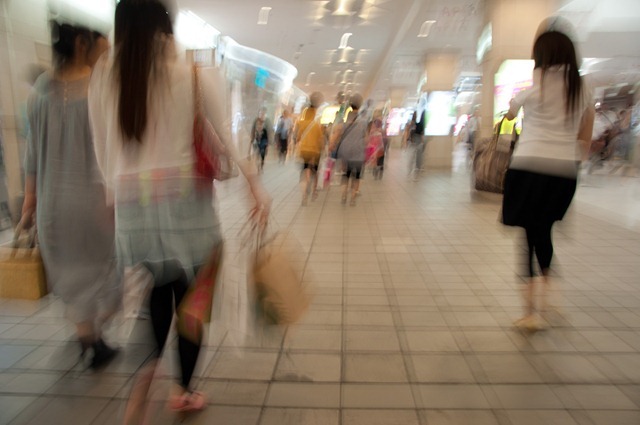 I walked my familiar route back to the hotel and took this photo of Sapporo in the sunset. You can see the "Hotel LaMer" which is interesting capitalisation.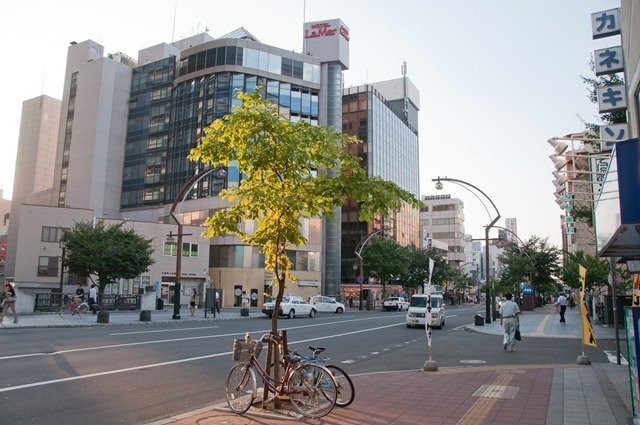 As soon as I got into the hotel I had an excellent shower to wash off all the salt and sweat, ulgh!! Planned my next adventure and then hit the hay.