Day 1: Back again! Christchurch to California
Guess what, I'm back in America! After what seemed an impossibly long 3 weeks I'm back in California, almost exactly a year on from last time, and so far it couldn't possibly have gone any better!
Woke up very early on Monday and finished off some last minute jobs. After some frantic last minute packing, a call to Fedex (sevens and zeros don't survive the accent barrier well; my tracking number was something like 1707707777077!) and several "oh no I forgot my… actually I packed it" moments I was at the airport. I was surprised, shocked even, to find my suitcase was under weight, and that's including all my tech gear, snow shoes, winter clothes, etc. Miracle!
Flight to Auckland was stunning, got to see Egmont sticking up through the clouds, and just generally a lot of clouds. They even served half decent snacks and free booze.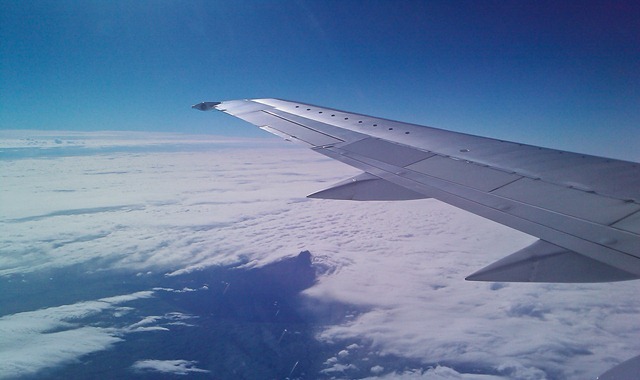 Mt Egmont
Arrived late into Auckland and walked out of Domestic Arrivals to find a friend waiting for me, which was a fantastic surprise. We chatted and filled in my customs form and all too soon it was time to say goodbye, so few more hugs and I was on my way.
No special screening, no taking off of shoes, no disassembly of bags; in a couple of minutes I was all done and waiting at the gate with several hundred other souls. For some dumb reason NZ6 for LAX was departing from gate 8, and NZ8 for SFO was departing from gate 6, and both at the same time. Much confusion ensued.
Met a guy while boarding from Connecticut who had been living for 6 months in Matamata, of all places. I forgot to ask if he'd read about my friend Ruth in the Matamata Chronicle. Ended up sitting next to the window and a sculptor from Berkeley who had been over in Melbourne setting up a giant interactive sculpture for a dance group. He was with his wife and baby and about 15 minutes into the flight the air hostess very politely asked if I would mind moving further up the plane (= quieter) to an almost empty row to give the family a bit more room. Sure! Then she whispered that she'd give me a pair of business class headphones to sweeten the deal, not that I needed any convincing.
Turns out business class get noise cancelling headphones! So the rest of the journey was in total bliss, I even managed something almost resembling sleep for most of the night.
Some cellphone photos from before I moved:

Cloud textures as the sun set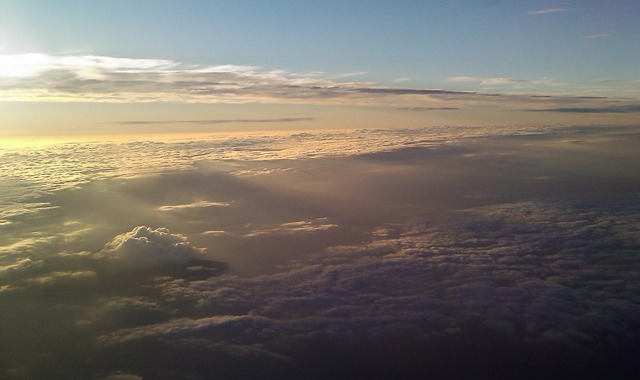 Wow!
Arrived in SFO and was soon in the customs line. Turns out I filled in an extra form (one form just didn't seem like enough paper work) but was no big deal. Customs lady seemed suspicious that I was back at the same time as last year… ok…
Collected my suitcase (all in tact, no missing handles this time, and my last minute repairs worked perfectly) and got pointed straight to the exit. 5 minutes later I was on the Air Train heading for the rental counter. I know the robotic voice of this thing off by heart now. Mr Alamo was pleased to hear that NZ wasn't flooded like Australia is. 5 minutes later I was peering underneath a line of very nice looking four wheel drives, checking which ones were actually four wheel drive.
Very quickly settled on a Dodge Journey SXT, 3.5L v6 petrol SUV, with electric everything, mud & snow tires, all wheel drive, cruise control, tip-tronic transmission, electronic keys; even has a digital fuel efficiency readout. And woof does it have torque!
Quickly set up my GPS and "drive on this side of the road" reminder arrow, and 10 minutes later I was out on the highway again. Highway driving is so easy in the states. I counted 7 lanes at one point. I let out a little whoop as I entered "the 80", or I80 East for non-locals (I've been getting lessons from Liz). I80 is the freeway over Donner Pass, through Nevada, around The Great Salt Lake, through Glenwood Canyon and Winter Park; it's sort of the railfan super highway.
Stopped at a Walmart and got fresh food, toothpaste, tank of water, fruit, oreos, "monster chips" chocolate chip cookies, donut holes, and even some new PJs.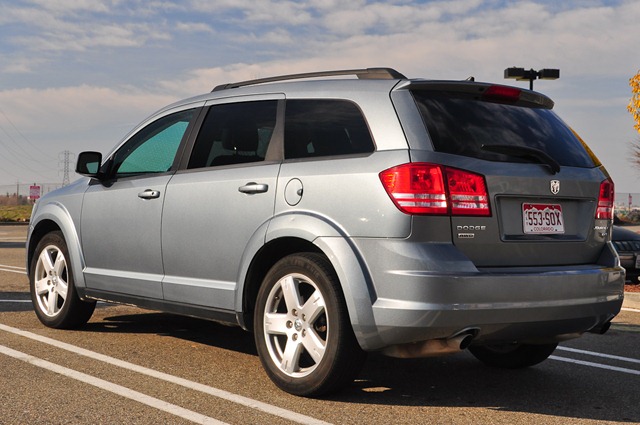 My Monster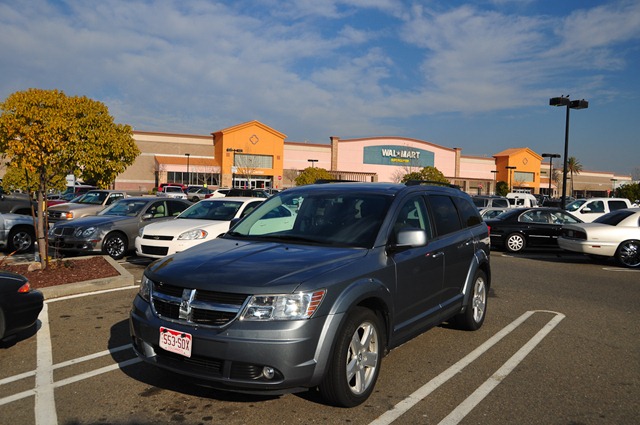 Dodge Journey SXT in front of the famous Walmart.
Then it was off to the Rocklin, CA Fedex. After much hunting the Fedex lady found my Amazon box and I was off to Auburn. Checked into my motel around 4pm and proceeded to unwrap my latest gadget, an Amazon Kindle. Very very cool little device, it is an ebook reader about the size of a paper back, and thickness of a pencil. It has an "electronic ink" display which is amazing, looks just like paper (it doesn't emit light for example). It also has wifi and a 3G cellphone link, so I can surf the internet anywhere in America for free! Technology huh :-)
Grabbed a pizza for dinner and went down to the railway station to try and catch the Capital Corridor commuter service. Got very lost, but arrived just as it pulled in. Looks very nice, with a huge EMD F59PHI on the front.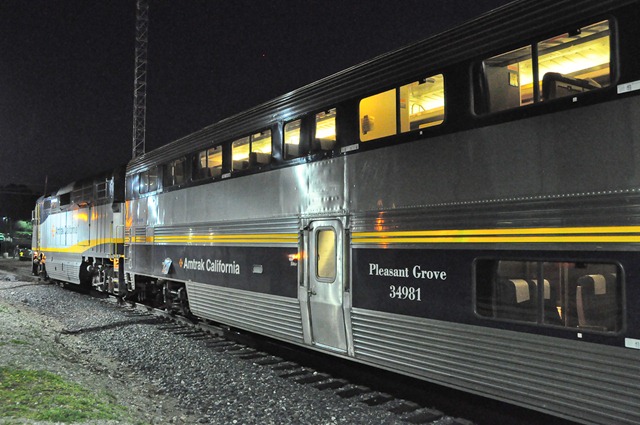 My first US train for 2011
By now it was completely dark, despite being only 6:30pm. Still a very pleasant temperature outside though.
So conclusion for the first day:
Great flights
Painless customs process
Excellent vehicle (can't wait to see where we end up!)
Lovely weather
New gadgets
Even saw a train
… couldn't really ask for more.
Tomorrow it's off up the mountain for some Donner Pass railfanning; Look out I80E, the Dodge and I are on our way!