Day 4 - Wells, NV to West Yellowstone, MT
Pewwww smelly motels. There used to be a time where I could tolerate them, but my patience has worn thin and now I die a little inside each time I spend a night in a smelly motel. This one was ok, however the bedding smelled musty and the pillows were positively gruesome, all limp and floppy and musty. Yum yum. So that coupled with the local that decided to warm up his pickup at 6am by revving it repeatedly for 5 minutes, meant I was up pretty early and on the road unfashionably early.
I had a quick snoop around some of my previous hunting spots but no trains were to be seen, which is a shame as the scenery was looking stunning!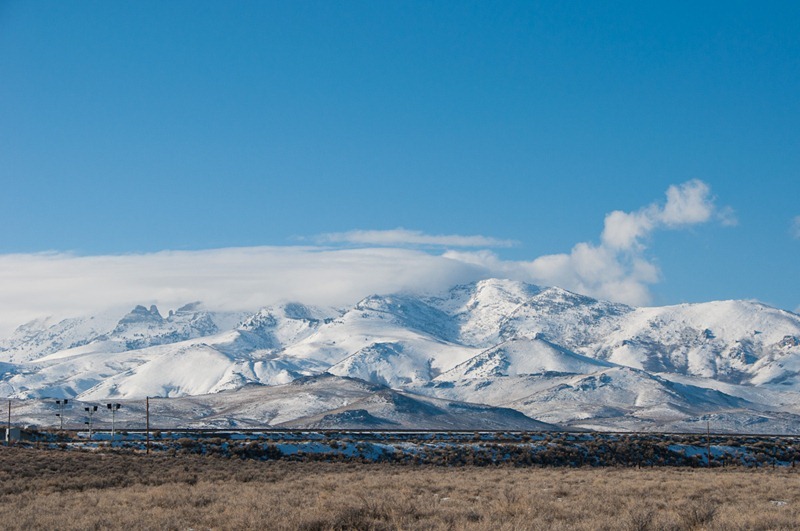 I hopped on the road and was soon driving along an endless road towards the Idaho border. I passed some weird rocks there were big and round and just piled up all over the land scape. Looking back there were some stunning views of the ranges.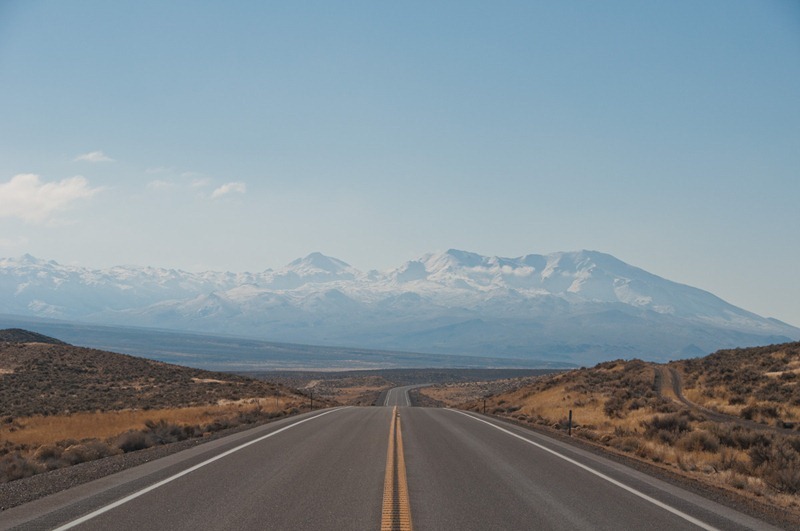 I stopped at a rest area and checked out the stream. It was so cold that chunks of ice were slushing down the stream and parts of it had frozen solid. Mmmmm.
I pressed on and passed the blatantly named town of Jackpot, Nevada, which is mere metres from the Idaho border, so no prizes for guessing it's reason to exist. There were hundreds of cars parked outside the windowless casinos, while outside a stunning landscape stood quietly ignored. A great shame I felt.
Idaho, the great potato capital of the world, greated me with empty spaces that made Nevada look cramped!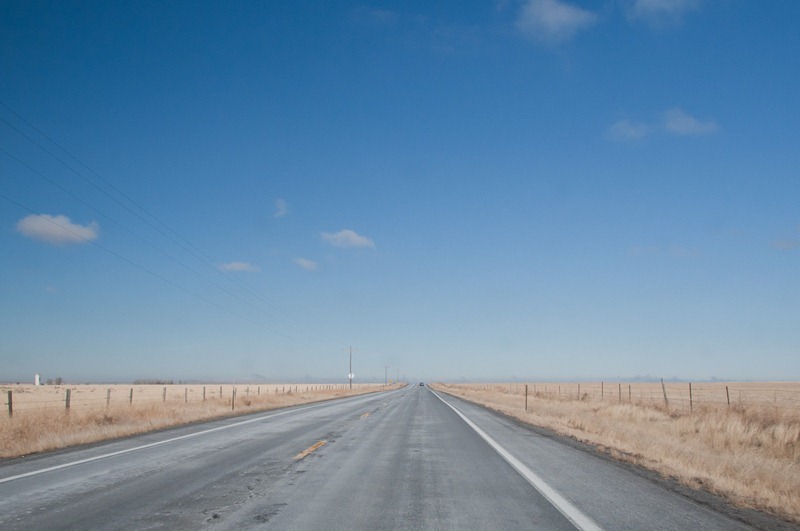 After a few misturns I entered the city of Twin Falls, and crossed over their canyon.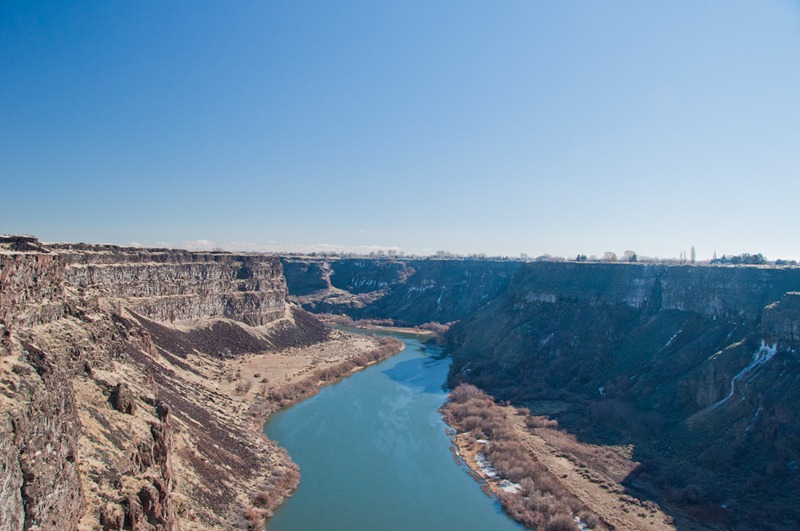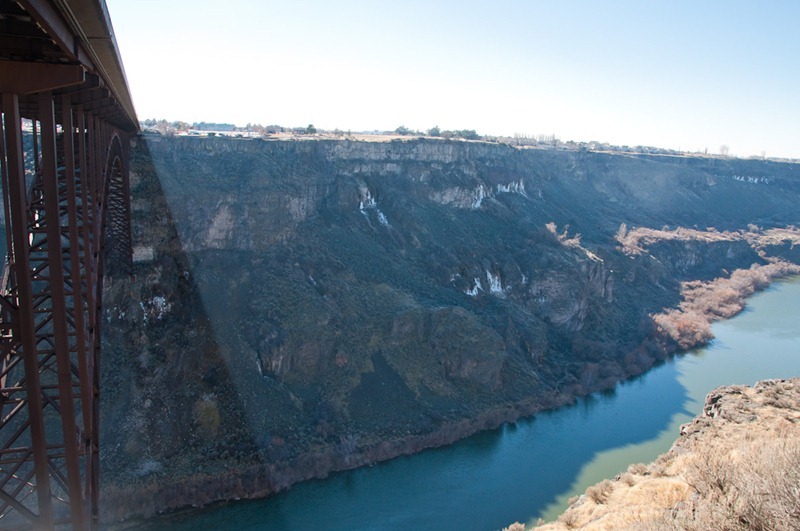 In the shadow of the bridge it was very very cold. I pressed on feeling very fresh.
Along the road a way I encountered another Union Pacific mainline and before long had caught up a massive container train that soon passed another.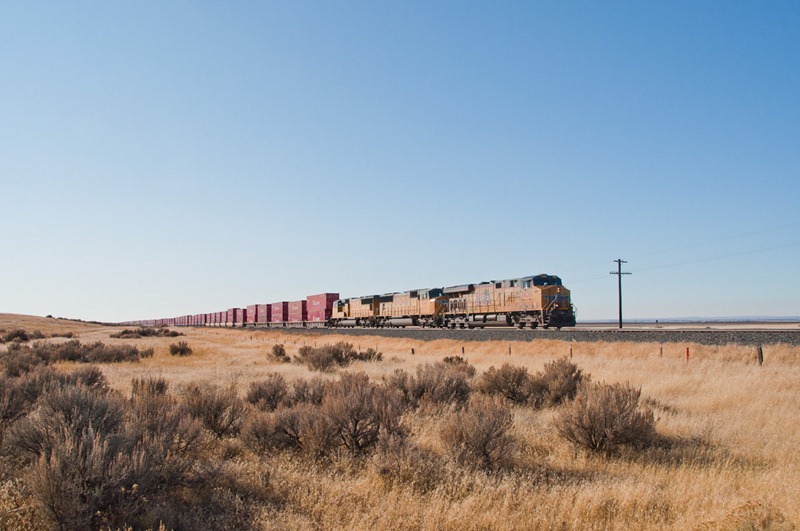 The train was pulling an almost perfectly matched consist of "K" Line containers.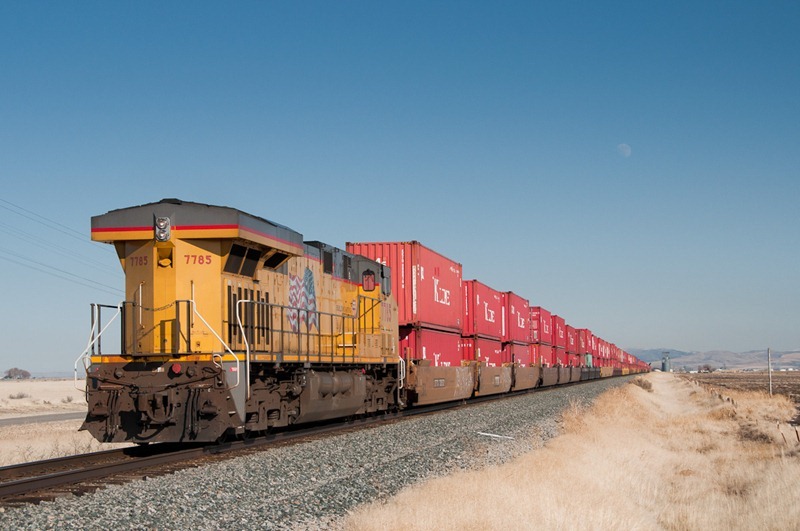 I soon lost it when I entered Pocatello though and then I turned onto a diverging highway anyway. I headed down increasingly smaller roads…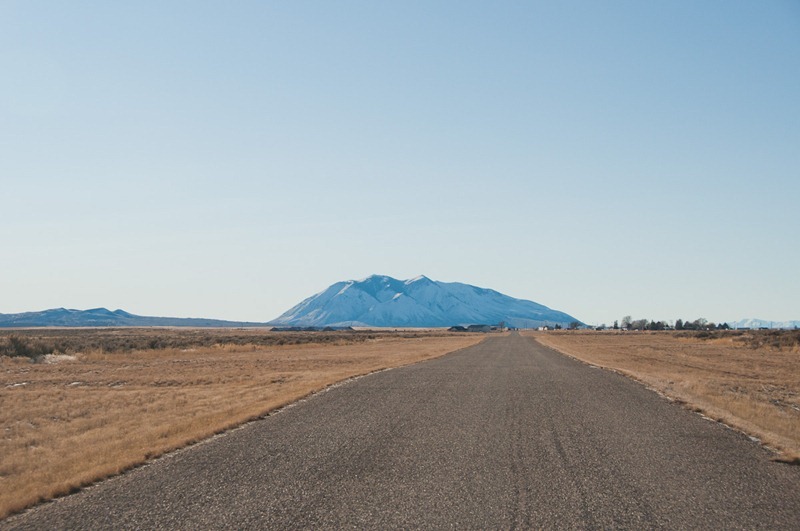 Until finally I got to the town of "Atomic City". I was very annoyed to find no "Welcome to Atomic City" sign to pose in front of though. Here is Main St, Atomic City: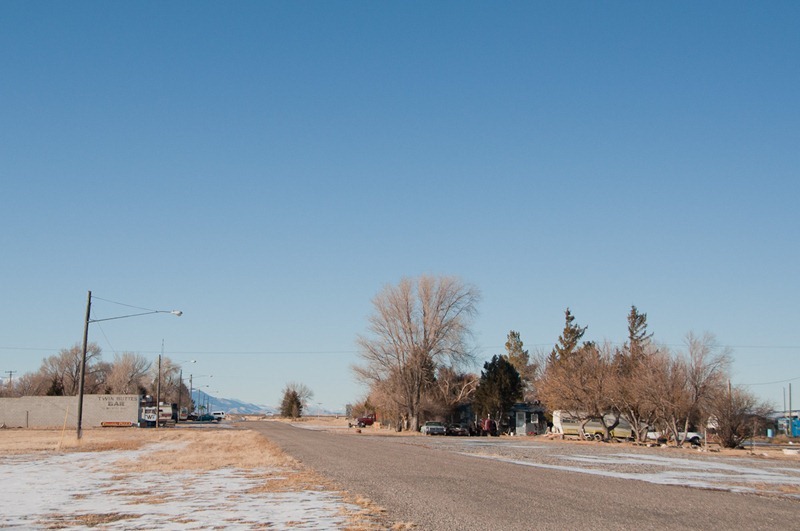 It mostly consists of run down buildings, boarded up buildings, and rusting cars. Occassionally there is a trailer or RV, but the only actual in-tact building appears to be the fire department.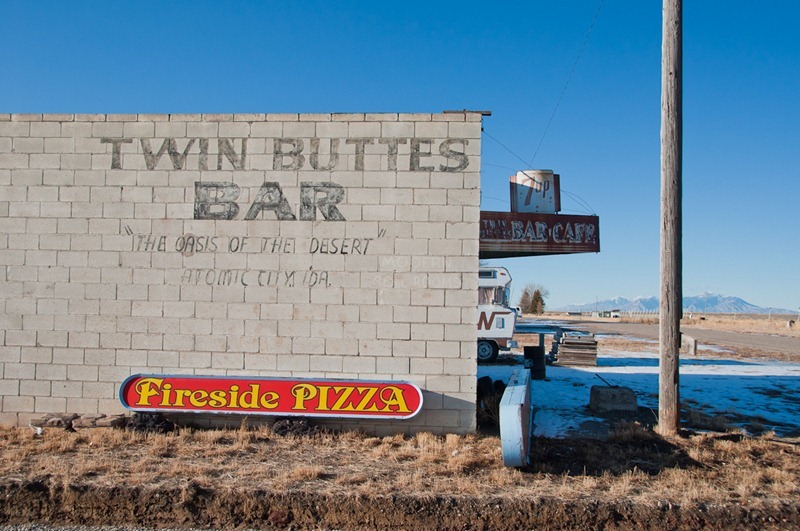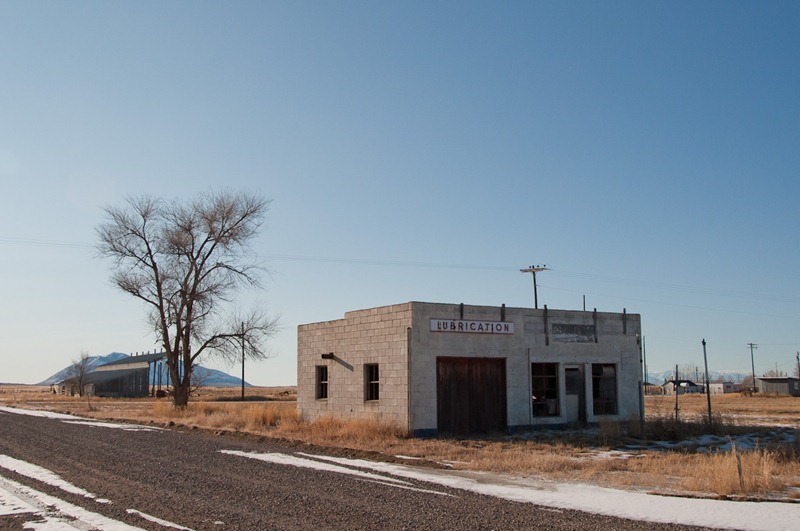 The only sign of life I saw is this cat, who I have nicknamed Atomic Cat.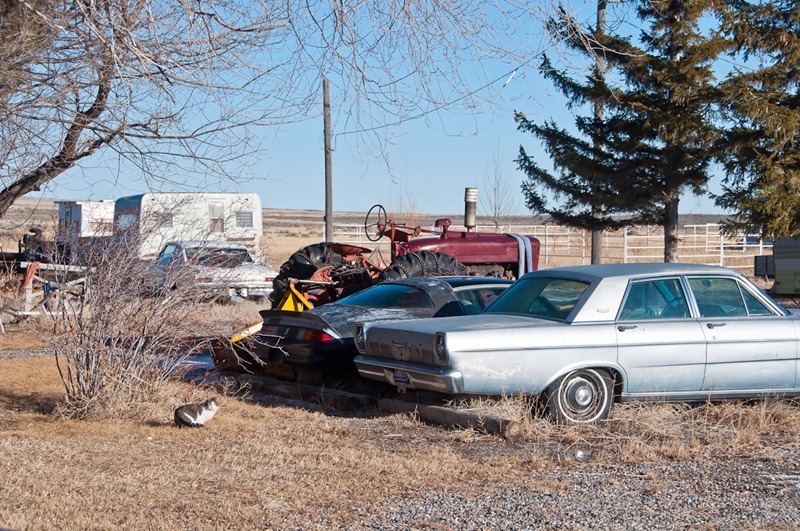 I found a ditch full of water that had frozen completely and utterly solid. The car was saying it was about 1°C outside, but with the sun it really wasn't that bad. I drove off back towards the highway. It feels completely different out here, feels very much like being in the Great Plains rather than out west.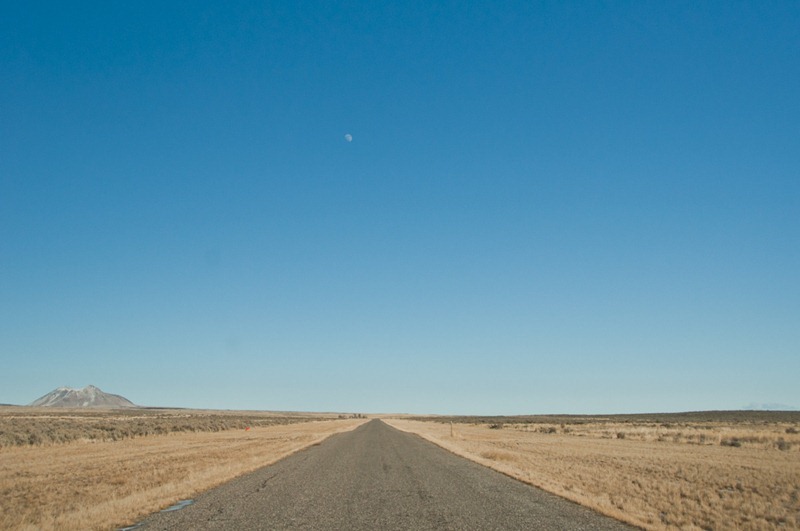 Atomic City was busier back when the Idaho National Lbratory was newer, however has shrunk to just 29 people now. The INL is the main nuclear power station research/testing site in the US and they have done research on quite a few different designs. Their old Experimental Breeder Reactor I is now a National Historic Landmark that you can visit, however it isn't open in the winter months, which is a shame as I would have very much liked to have seen inside the world's very first nuclear power plant. They also house some interesting stuff like the jet engines that that US Air Force used in their experimental (thank goodness!) nuclear powered aircraft program.
I pressed on and saw some odd things, like earthen roofed farm buildings, and my first grain elevator for 2012.
By late afternoon I was appraching the mountains around Yellowstone and could see these imposing mountains on the horizon: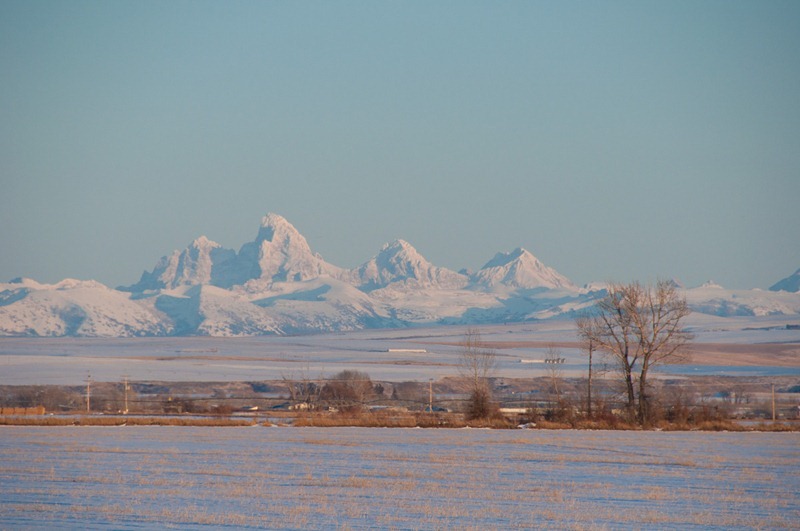 These are the Tetons, unusual in that they have almost no foothills, with a faulting zone along their eastern side.
I drove through the town of Rigby, hometown of Philo T Farnsworth, inventor of the television. I also passed the World Potato Museum, but opted not to visit. The sunset here was amazing, with the Eastern Idaho Railroad kindly providing me with some much needed railroad tracks to glint off of.
Onwards and upwards I went. Into dense pine forest, and deeper snow. I started passing many, many petrol stations, sometimes mere minutes apart. It became annoying, each one having a reduced speed zone around it, and nothing else, just a petrol station all on its lonesome. Turns out this is to feed the massive herds of snow mobiles that descend on West Yellowstone ("Snow mobile capital of the world") over winter. I pulled into a petrol station to top up and for the first minute the pump was barely pumping; I guess in the cold (it was now heading below -10°C) the petrol gells up? Got there though. A snow groomer was there too, it looked very cool with all its lights, tracks, plows, safety gear, and huge warm cozy looking cab. I want one!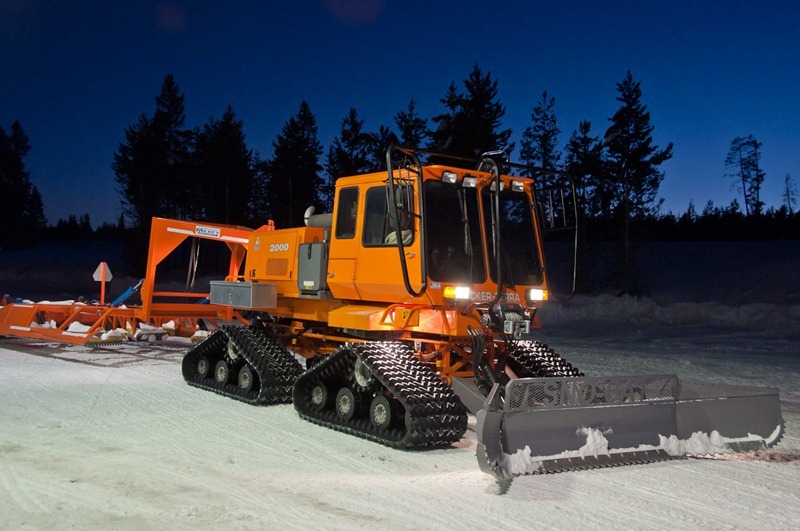 I arrived in West Yellowstone and was warmly greeted at the One Horse Motel. Very nice motel, they'd already put the heat on for me and the bed is wider than it is long. I went off for dinner and was served half a (fat!) chicken, beautifully deep fried.
Walking back snow mobiles were everywhere. They're annoying. Very loud, driven by the kinds of people that collect speed boats and jet skis. At the petrol station there were a few snow mobilers. Rather than quietly drive off when done, they revved their engines excessively and sprayed snow and ice everywhere as they fishtailed and donutted away. Sigh. Here I am in an absolutely stunning part of the world, and all I could smell was petrol fumes, and even at midnight I could still hear their engines roaring as they sped around the town. It just seems so unneccesary!
Back at the motel I set my alarm for 3:30am NZ time and headed off to bed, for I had a very big day planned tomorrow!