Day 25 - Los Angeles CA to Las Vegas NV
Los Angeles. A city of 4 million people, and yet when it comes to things to do , there seems to be surprisingly little. We decided that heading towards Griffith Park would be the thing to do, that way we could see the Hollywood sign, and maybe a bit of Hollywood itself and some of the city. So we set off.
We were soon zooming down the freeway, listening to "Backspin", a retro 80s and 90s hiphop and rap station on Sirrius XM; after all, if one is in LA, one should listening try and blend in!
Unfortunately LA traffic had other ideas and we were soon stuck in traffic, staring at smog. We could just make out the faintest outlines of skyscrapers amongst the chronic smog. One particularly amusing sight we saw was a local walking their dog, carrying a baseball bat! Obviously a safe neighbourhood?!
We eventually arrived at Griffith Park and after a few dead ends found our way down to Hollywood Boulevard. Of course there is more to Hollywood Boulevard that what you see on TV, and we entered at the rundown-70s-era end, with it's faded neon signs and car dealerships. We cruised along and after a while found the "real" Hollywood Boulevard. We parked and fed the hungry parking meter.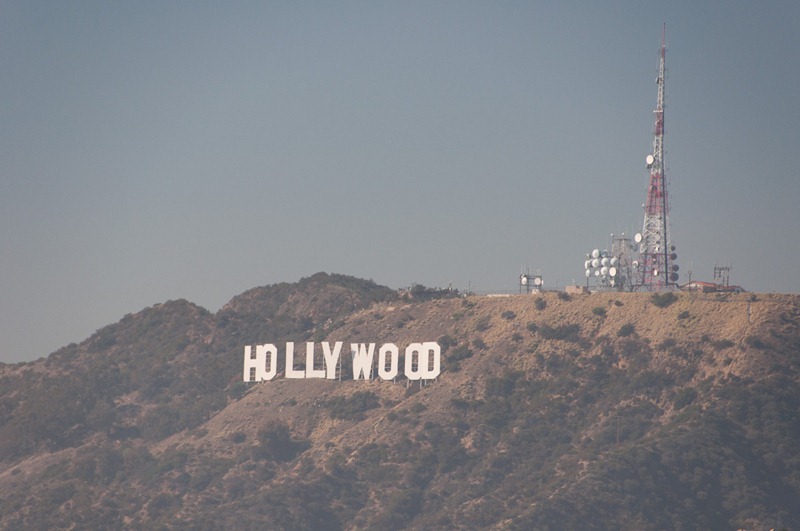 You didn't realise there is a radio tower right above the Hollywood sign did you!
We strolled down the path looking at the star's stars. Some of the entries seemed a bit strange, I wonder what the criteria is?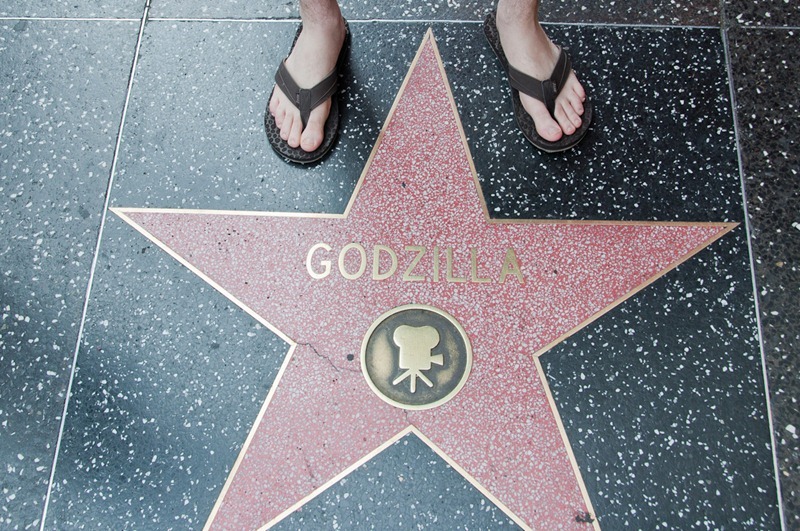 Up ahead a large chunk of the road was sealed off with rent-a-cops everywhere and big fences. Turns out it was the set up for the Academy Awards which was to take place two days later. They already had the red carpet out and we got to walk on it, although there was a sheet of plastic over the top to protect it.
Down the road we spied a massive building advertising that it was affilited with the Church of Scientology. Hmm.
A short while later we heard an almight cacopoany of sirens and horns; sure enough the LA Fire Dept soon screamed through the intersection. Their horns are amazing, conveying anger and haste and sheer massiveness in a split second. One blast of their horn to an unsuspecting motorist would mean an instant change of underwear. I kind of want one for my car!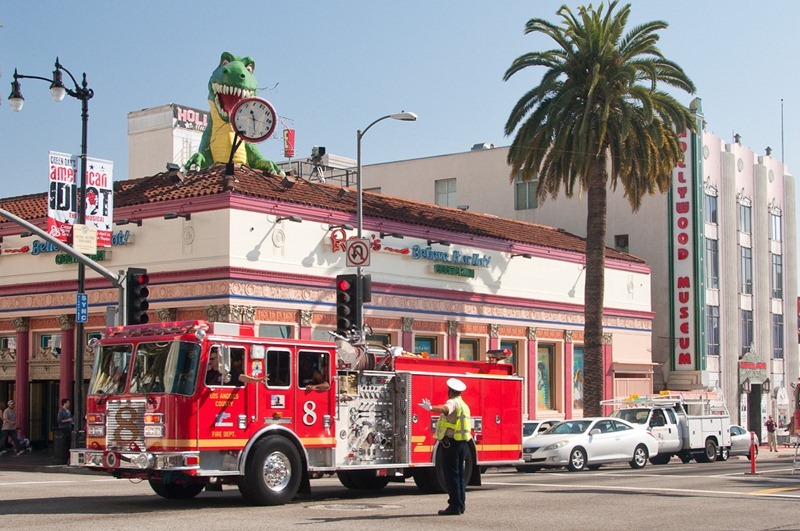 Afterwards we went for a drive up to Griffith Park, along a "narrow and twisty road that is sure to put off many motorists" (it wasn't that bad).
The view from the top was pretty amazing, for all the wrong reasons.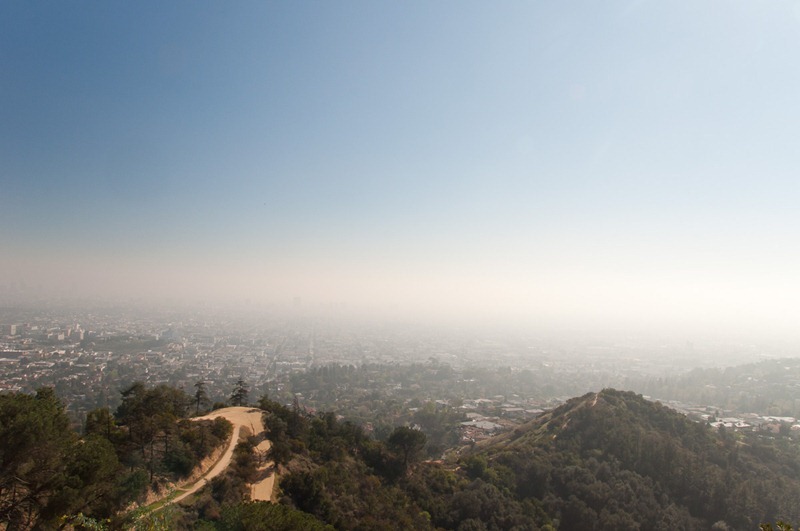 The observatory was very nice looking, although I wonder how smart it is having an observatory right next to smog capital of the world, and right next to a city of 4 million light bulbs?!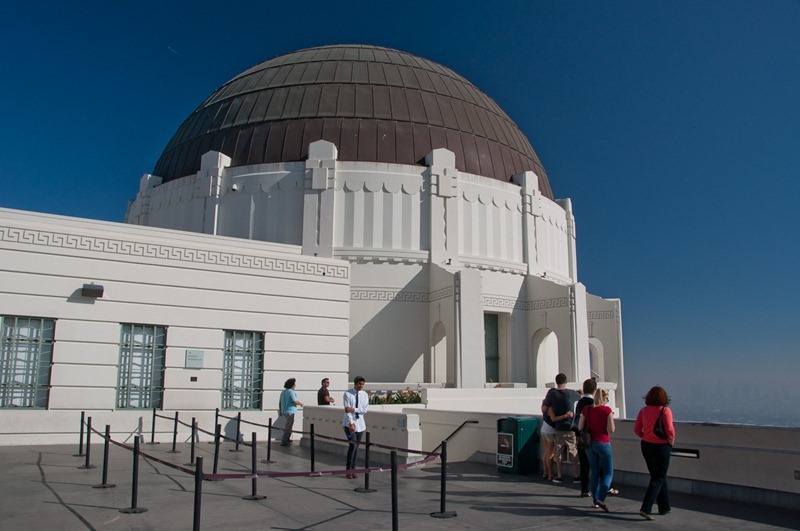 It was a beautiful warm day up at the top, but really, the smog was amazingly bad. A raven was soaring high above the city which gave me a wonderfully ironic shot. Meanwhile someone had paid a plane to tow a message; pretty sure we were the only ones who could actually see it.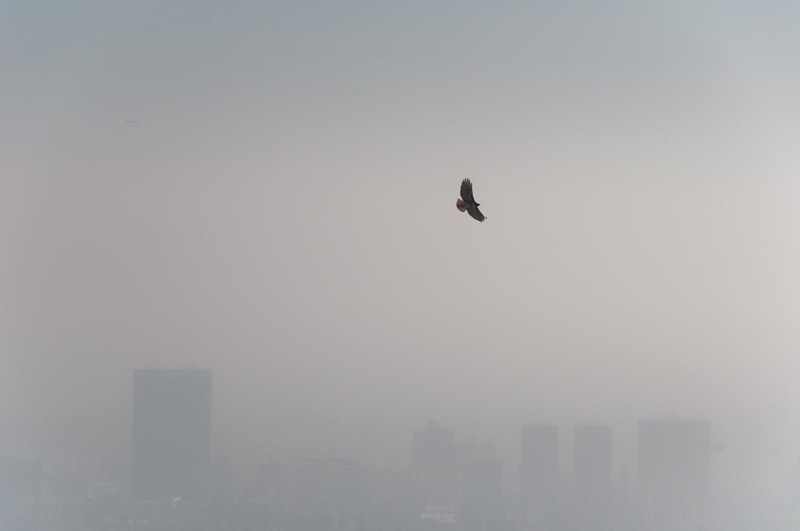 It was now getting on and we had to collect Henk from the airport. We had allowed about the right amount of time, but Henk was running early, and I had vastly underestimated the LA traffic. It was getting pretty bad, and to top things off, the LAX Airport Police decided to inspect our vehicle on entry, in case we decided to blow up the arrivals carpark or something. Sigh.
We picked up Henk and roared off into traffic. It got to the point where at every turn, the GPS would try and recalculate a new route that avoided the new traffic jams it had just learned off. I eventually had to turn off traffic avoidance as it was spending all its time recalculating and routing us around in circles.
Some well placed road works meant what should've been a 5 minute drive down a couple of miles of road turned into half an hour of crawling along at barely walking pace; in fact a woman walking the opposite way turned around and overtook us. Out on the freeways even our HOV status (high occupancy vehicle, meaning 2+ people in the car) didn't help as the HOV lanes were clogged solid, as was every other lane. It was dark by the time we got to Cajon Pass, the main route east out of LA. We were making reasonable progress when suddenly the whole of I15E screached to a halt. After an eternity of crawling along with stationary traffic as far as the eye could, we made it past the accident site where someone had tried to make a U turn through the steel barrier at 70 mph.
The only train I saw leaving LA was a Metrolink commuter train that came barrelling past along the median of the freeway; gave me quite a fright when it screamed by from behind me, just a few feet away. I hadn't even realised there was a railway line there!
About 4 hours later (on a supposedly 2 hour drive) we pulled into Barstow and had a reasonable meal at Mega Tom's Burgers. Then we continued on in heavy traffic to Las Vegas, eventually pulling in at 11:30pm. Our under 5 hour trip had taken us nearly 8 hours; add in the driving during the day and I'd spent about 10 hours in heavy traffic. Needless to say I slept well!