Day 23 - Needles CA to Barstow CA
Ahhh the desert! It's been a while since I've been out here to railfan, so I was pretty keen to explore some more and cover some ground that I'd glossed over previously; and chief amongst that was Goffs Rd. So I headed off and soon found the right exit for Goffs. I'd spied a grain train leaving while I was filling up my car with the hideously expensive California gas (nearly $5/gallon, vs just over $3/gallon in Wyoming) and soon saw it again sitting at the signals. Further on I spied a stationary stack & trailers train and found a road in to explore. Not much to see, other than some guys sitting in a van (presumably) watching it.
Driving out I saw an opposing train approaching so snapped a shot of that, but it wasn't anything amazing.
Soon the train that'd been waiting was moving out so now I had somehing to follow. Found a familiar S curve and snapped away, the distant mountains looming large.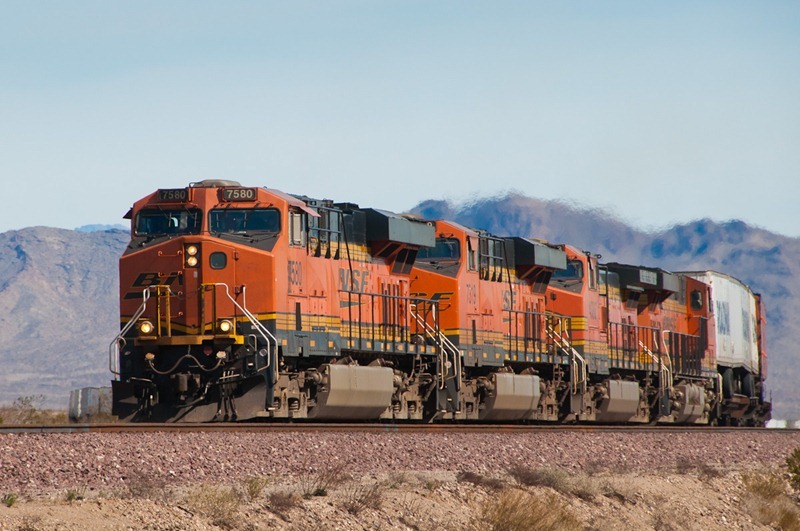 I chased on and caught it over some dry washes (no streams out here!)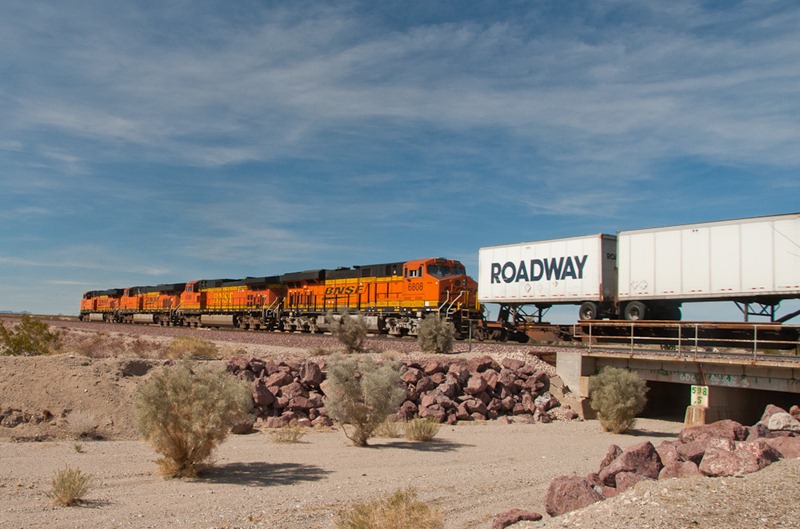 Onwards I roared; despite the steep climb here, these hotshot intermodals get plenty of horses per ton so they're a pretty good match for me.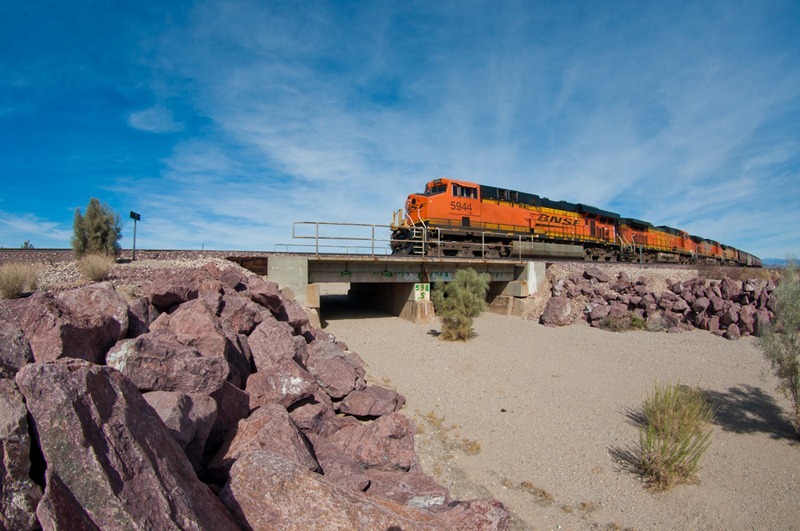 As the tail end DPUs clawed their way across the bridge I was excited to see a very clean warbonnet, the only flaw being the replacement hood door that did not blend in at all!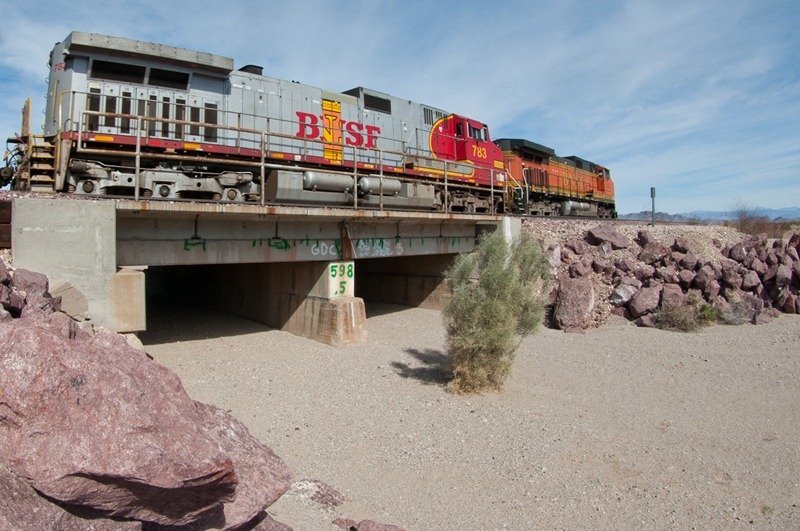 I zoomed on but what I really wanted was a nice sweeping overview. I soon found a spot that fit the bill.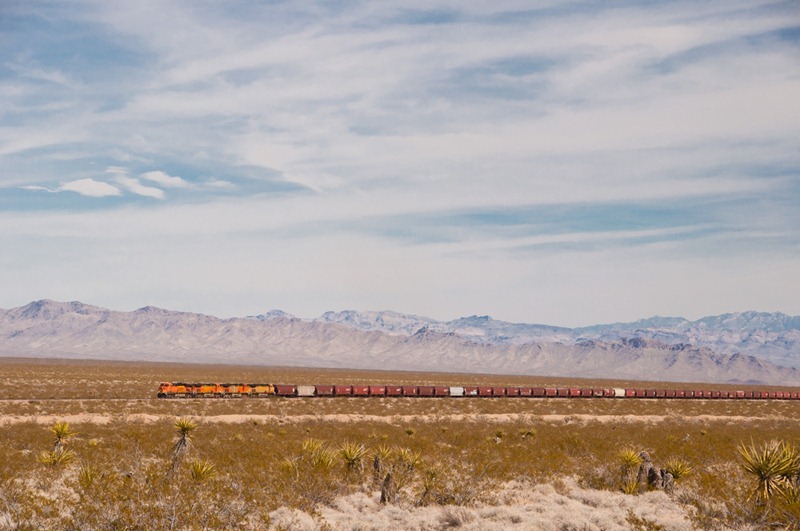 But what I really wanted was something even more dramatic. After a little hunting I found a nearby hill that offered reasonable altitude, without being too far away. I geared up, stashed some food, consumed some water, and headed off.
First obstacle was a fairly pathetic fence that I easily snuck under. Then I started scaling the hill, keeping a careful watch for slithery things.
Up I went, scaling no more than a couple of hundred feet. I found a nice shady spot (the sun out here is very strong) and kicked off my shoes, pulled out my book, had a nibble and started to wait. A stake-out, as I like to call it.
I didn't have to wait too long before I staw a tell-tale silvery snake working its way towards me. Into position I got and snap snap snap.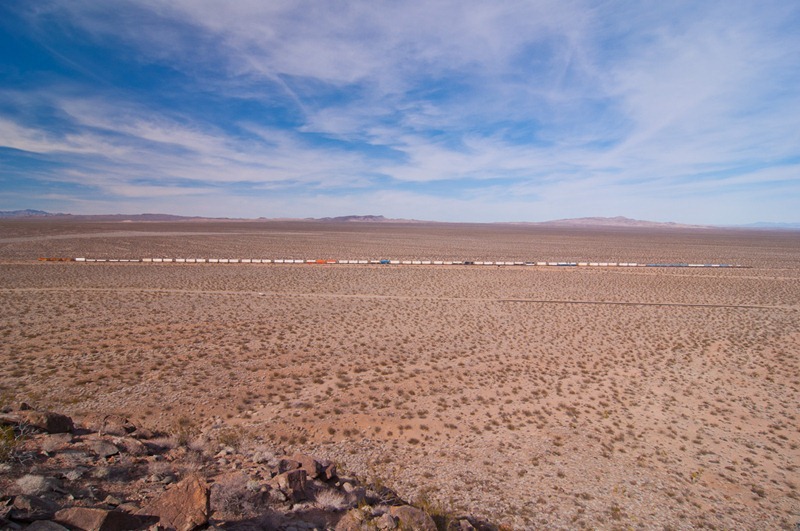 Hardly the world's biggest intermodal train, but capturing an entire train in one shot is no easy feat usually! Even if I only had a hundred feet or so of elevation, any gain in height out here in the desert makes a big difference and the vistas can be amazing.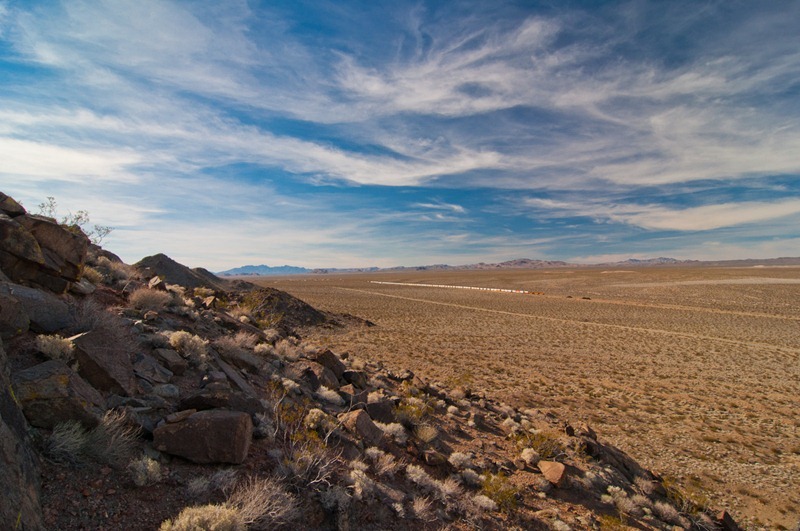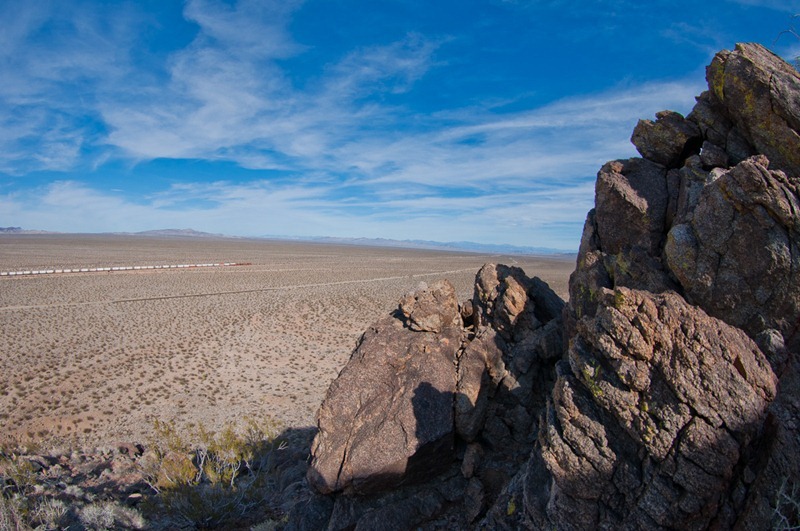 Predictably enough more trains arrived. There was a maintenance gang working around the corner but they weren't holding the trains up too much it seemed, with a steady, if not heavy, stream crossing me by throughout the afternoon. If there is one thing I like about the BNSF TransCon, it's the relentless parade of trains. Sure, I might get a one or two hour lull, but it's nothing compared to the waits I've endured on the Los Angeles – Salt Lake line!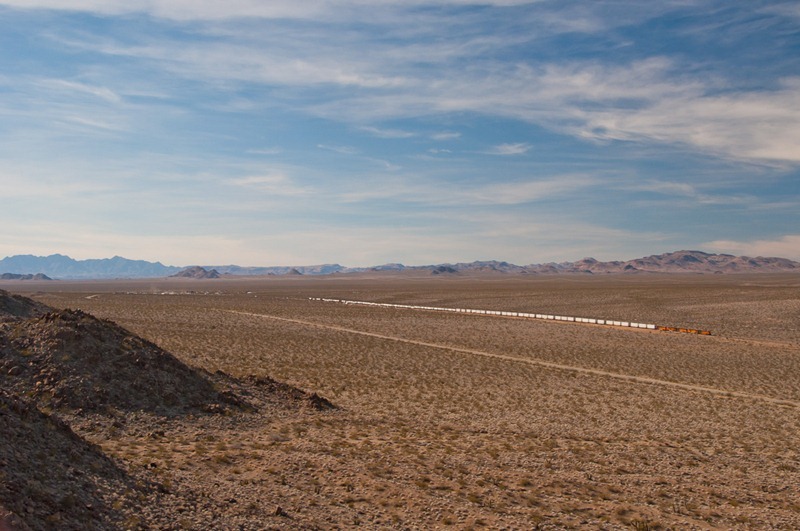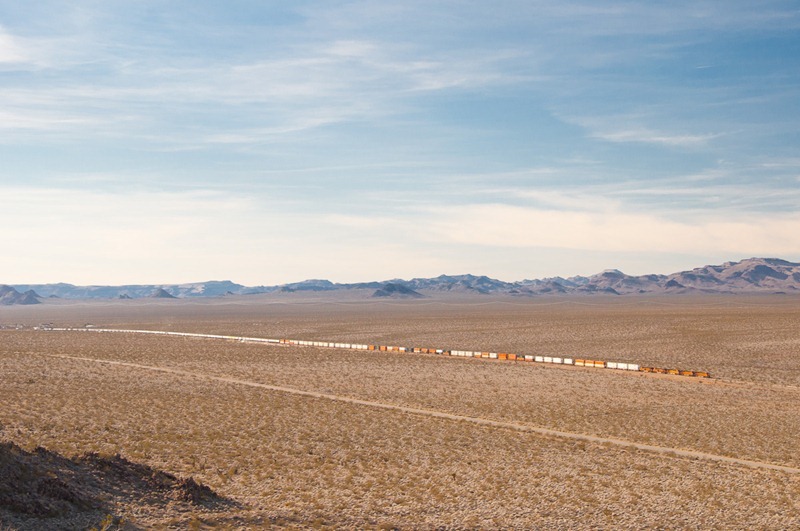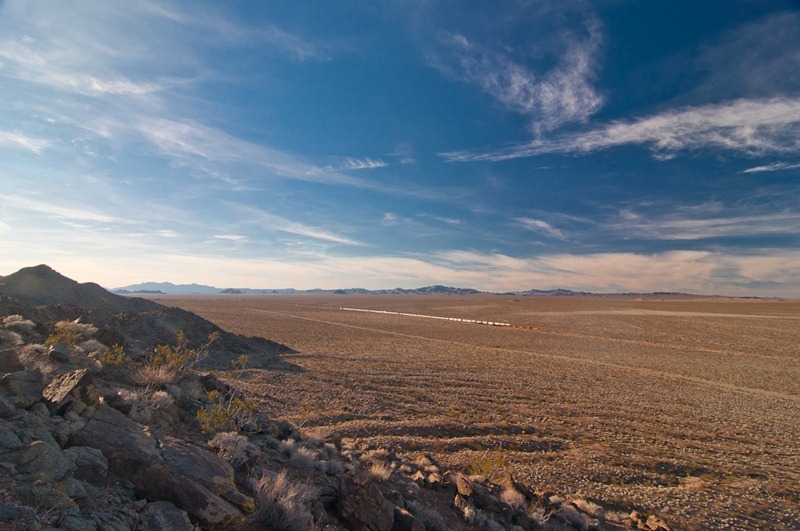 The shadows were starting to lengthen now and it was getting cooler so I decided to head lower. Of course, I hadn't got far before the next train came on by.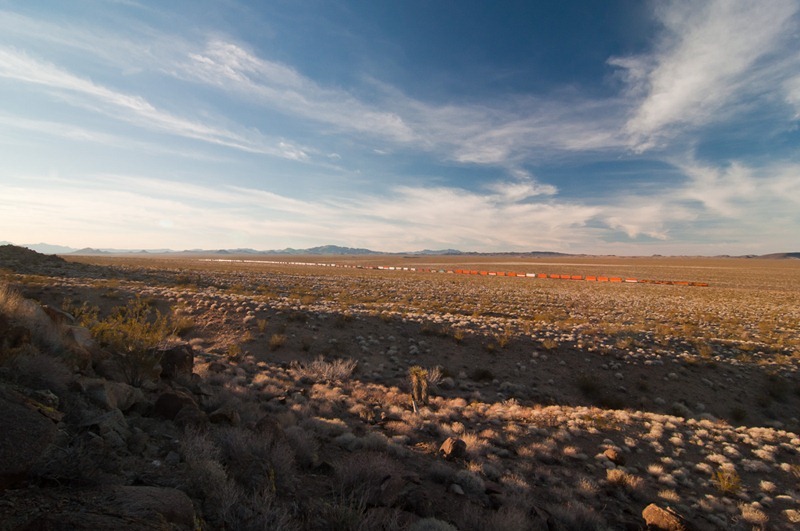 I had been hanging out for an earth-worm, but apart from the one I'd seen earlier in the day, there had been no signs of worms out this way. The earth worms, especially a westbound fully loaded worm, are a sight to see, with almost uniformly brown grain wagons, and sometimes up to 3 sets of locos at different locations along the train. Capturing an entire earth worm in one shot would've been impressive.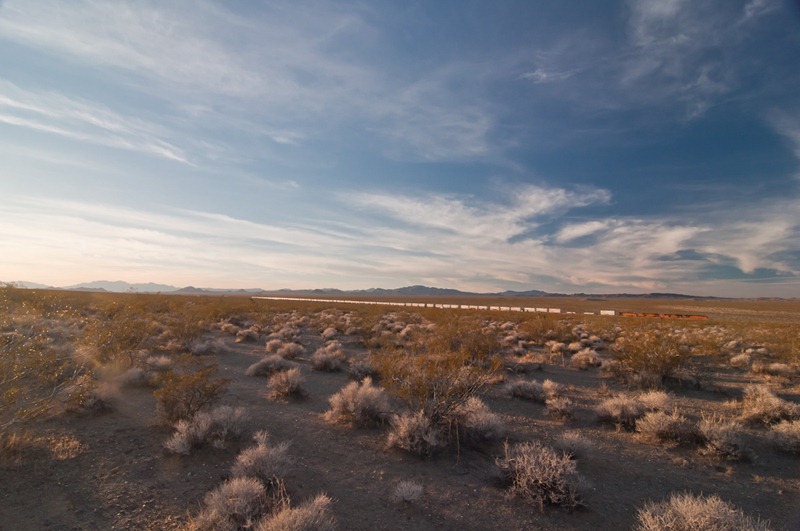 Never mind however, the uniform white containers and trailers make for good contrast against the desert flora.
I watched the sun set as it caught some clouds on the horizon and caught a few contrails.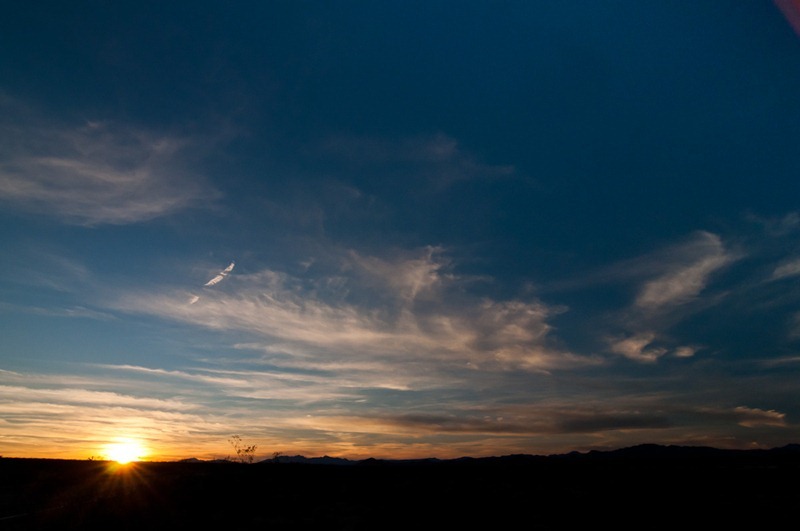 In the past I've found winter railfanning annoying due to the very short days, however I'm realising now this is a blessing as I'm easily able to capture the sunsets, and the winter light isn't nearly as strong and contrasty as summer light can be.
I drove on hoping to catch some trains in the sunset, however my time was running out very quickly and I'd already missed one great shot at the Goffs Rd crossing.
I soon found another spot with the promising triangle of lights off in the distance.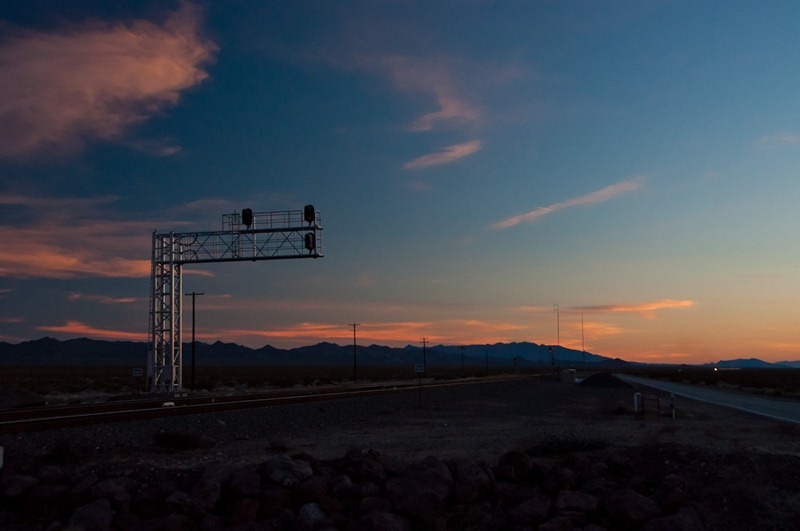 By the time the train arrived I was shooting in very dim light, drastically under exposing the shots and shooting at high ISOs to try and suck out as much light as possible, all without getting any motion blur from the train. Tough stuff!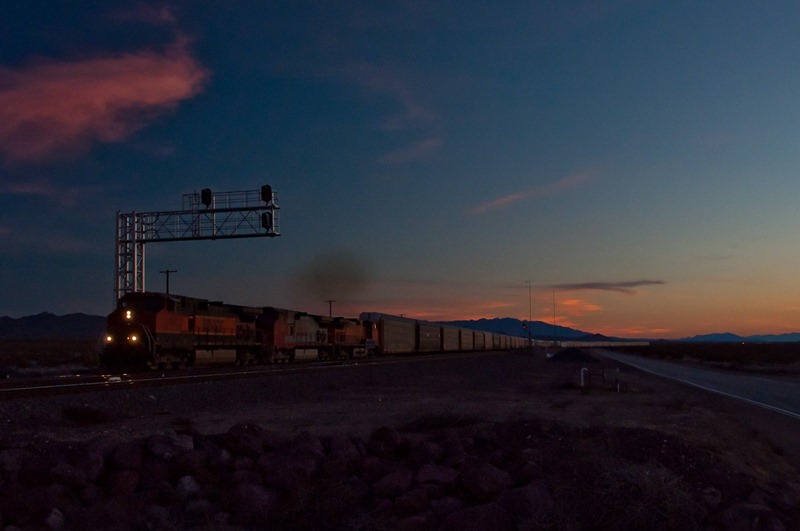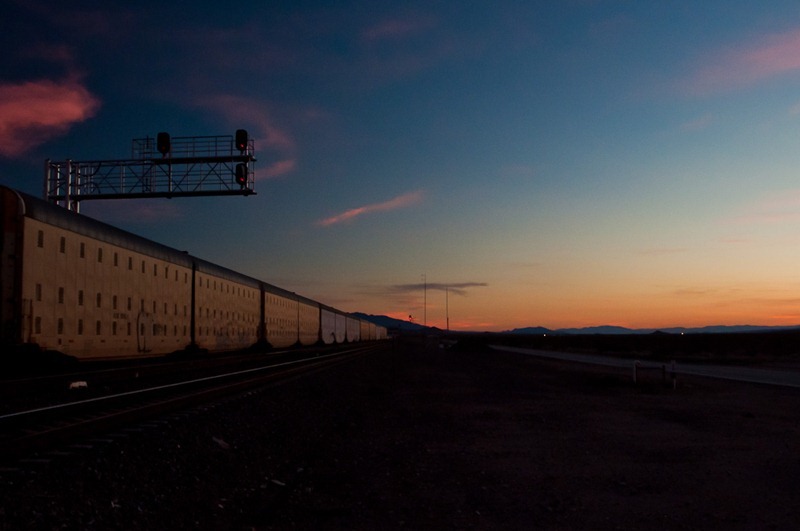 The auto racks made it easy to get a reflection on their sheet metal sidings. I zoomed on, eager to try and find another spot. I spied more lights in the distance and set up, only to decide it was moving too slow and it'd be dark by the time it found me. Continued on and found a train waiting in a loop, giving off a distinct "stuck" air. More lights in the distance though so off I roared. The light was rapidly fading and I still didn't have my shot! Only when I was almost on top of the train did I slide into the sand on the side of the road and race across to get my shots.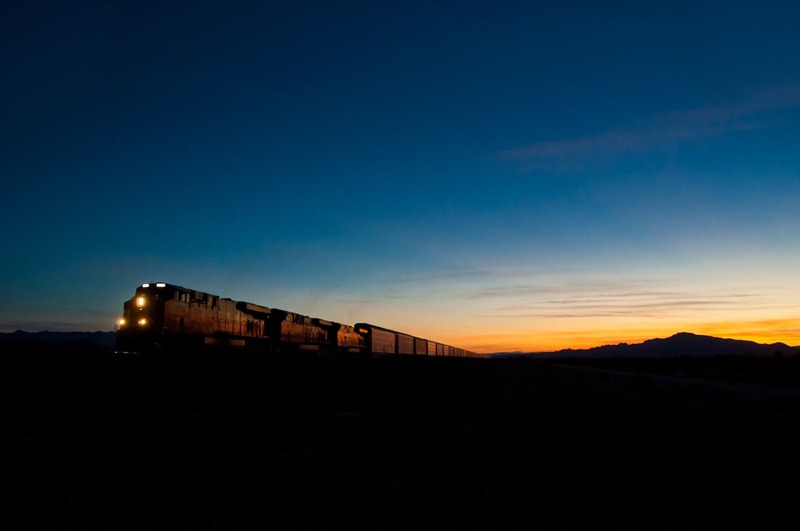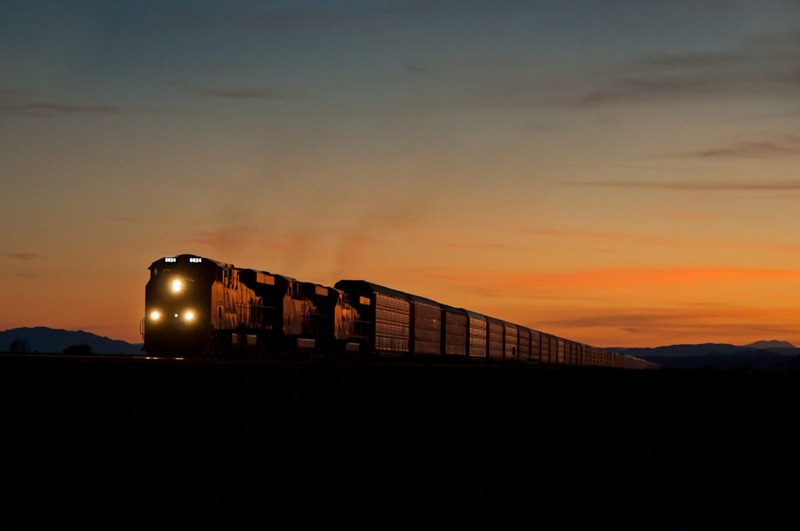 Now, of course, I was very happy! The train started slowing and soon stopped. I dashed off and got my tripod. As I hoped, the train soon started easing off again, and I got some great motion blur from the uniform consist of autoracks.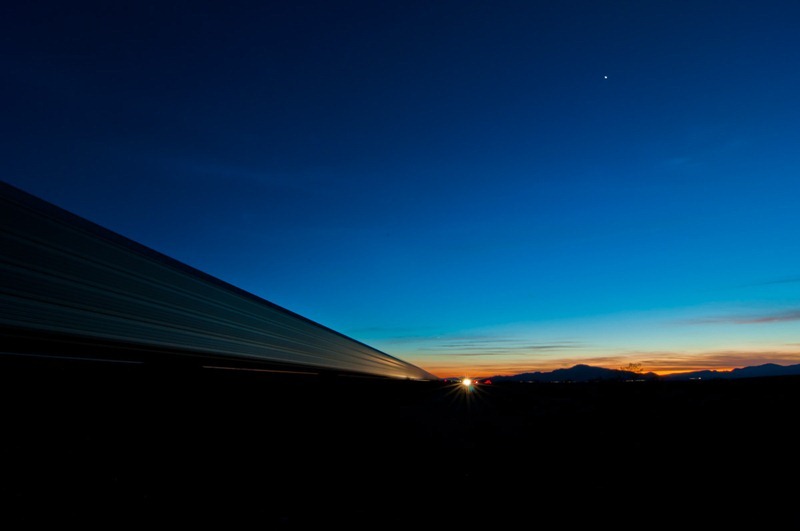 It was now getting very dark, and when I mean dark, I mean very dark. No moon, no Vegas lights, no street lights, no cars, no city lights. Just thousands and thousands of stars, and the lingering glow of the sun on the horizon.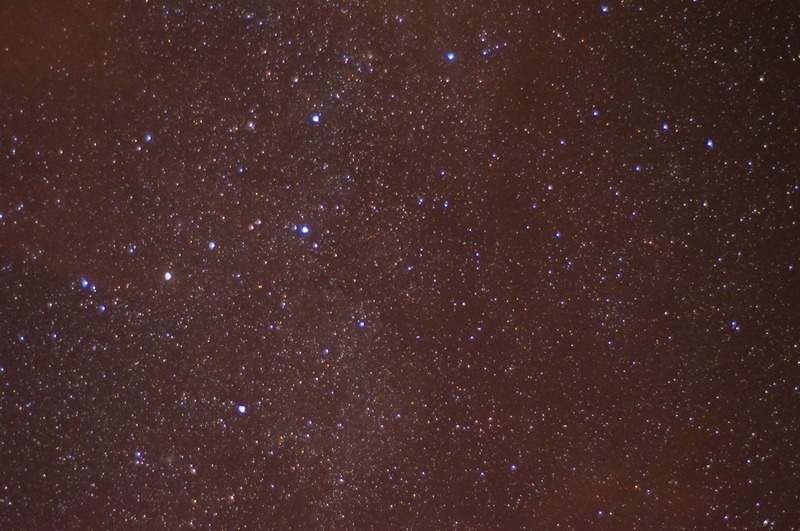 I tried getting some shots with the train illuminating things, but misjudged my lighting and ended up with nothing but black! However I had a stroke of luck with a photo that had been ruined by an oncoming car…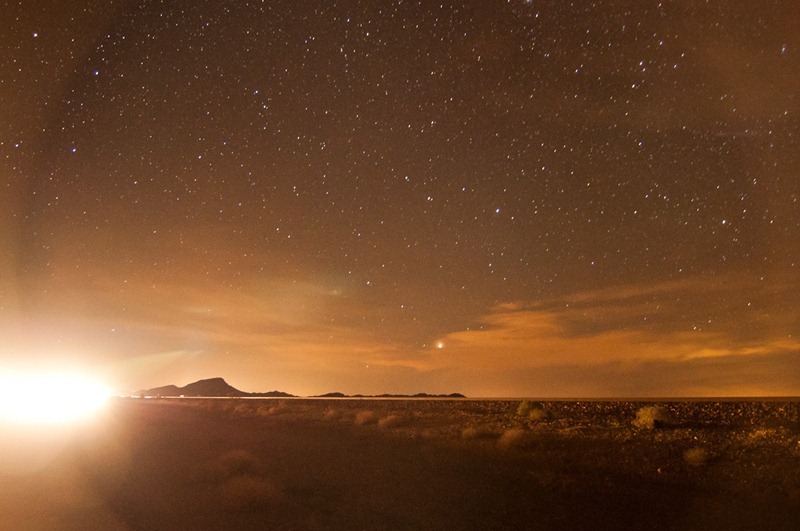 I realised that the lights of Vegas, clearly visible as a glowing halo that looked like some kind of nuclear catastrophe on the horizon, made for very interesting photos. so I played with my lenses, tweaked my settings and made great use of my intervalometer to time bulb shots.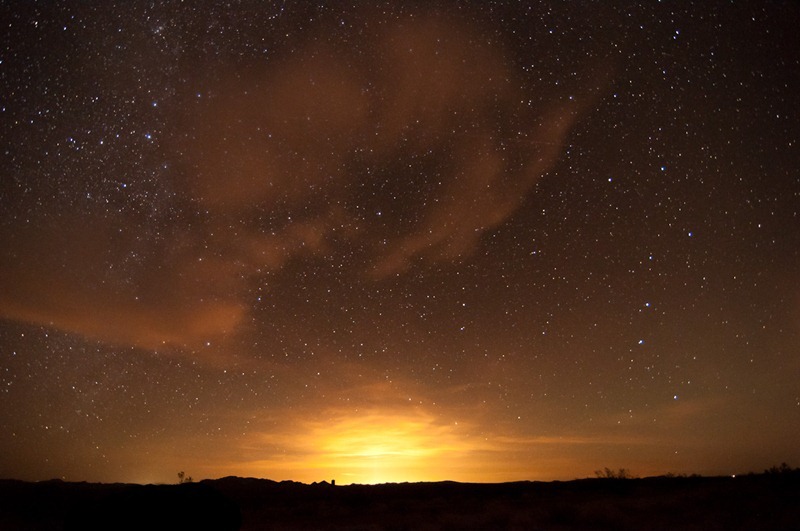 I rattled off many shots, and sometimes I got lucky with a plane leaving a nice streak across my photos.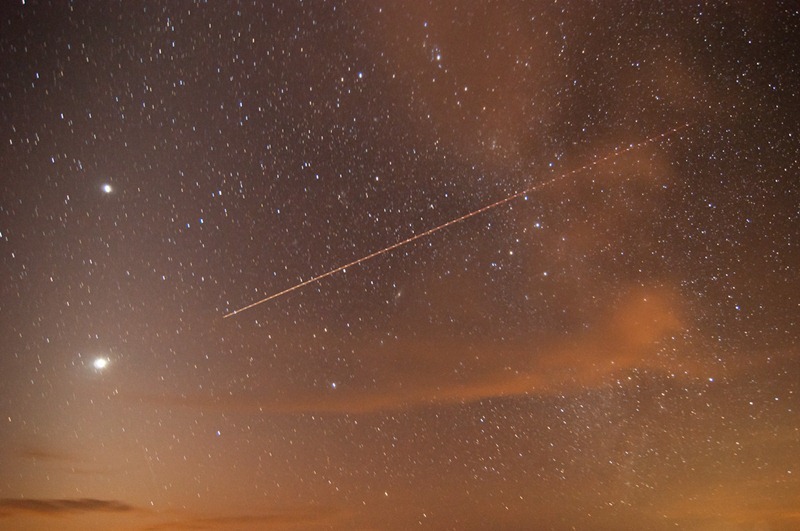 By now it was thoroughly dark. I saw, or rather sensed, a shadow around me and looked up to see a large bird of some sort flying around me, doing a circle before landing nearby and, presumably (since it was so dark I couldn't see) watching me. I'm not sure what kind of bird it was; hawk, raven, small eagle, or maybe an owl since it was absolutely silent. Whatever it was, I quite enjoyed my silent visitor.
It was getting on, even if it was only 7:30pm. Night time arrives early here! I headed on towards Barstow, even if Needles was much closer. I found a motel, not especially cheap, and ordered pizza online since it was quite late. The pizza here is quite fancy, and true to form, there were plenty of Dominos vouchers for an even cheaper meal.
I ate my dinner and set my alarm for an early start in the morning, having a fair distance to cover in the morning.