Day 27: Sandypoint, ID to Cascade Locks, OR
Here is a photo of my room at the Meandering Moose Motel in Sandypoint, Idaho, since it was so pleasantly nice: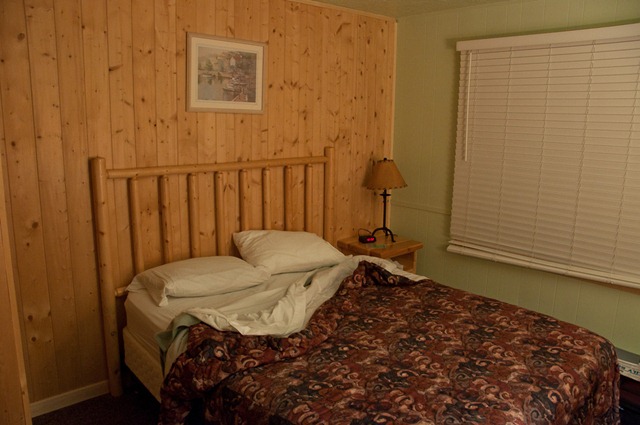 Went down to the "beach" here in Sandypoint, only I had a bit of trouble finding it.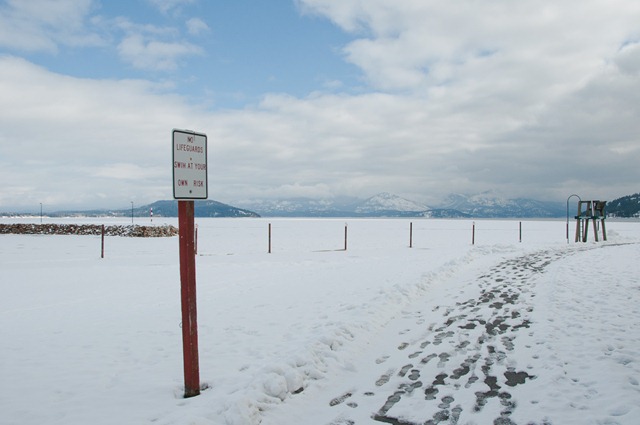 I walked down to the logs, checking every so often that I was still walking on the beach; didn't really feel like breaking through the ice. I think I eventually found the lake, but who knows? The lifeguards weren't on duty, which possibly wasn't that surprising!
I trudged back to the car and soon gave up trying to get anywhere interesting with their network of one way streets (who puts two one way roads, both going in the same direction, next to each other!? What is so amazing about that direction that everyone needs to get there?)
Headed off on my quest towards Spokane, Washington. First stop was Athol, just south west of Sandypoint, where the UP mainline crosses the BNSF. Except of course you can't really get any easy photos there, so I stopped around the corner and waited a bit for a train. Got one soon enough, though within about 30 seconds it had passed me; trains over here move .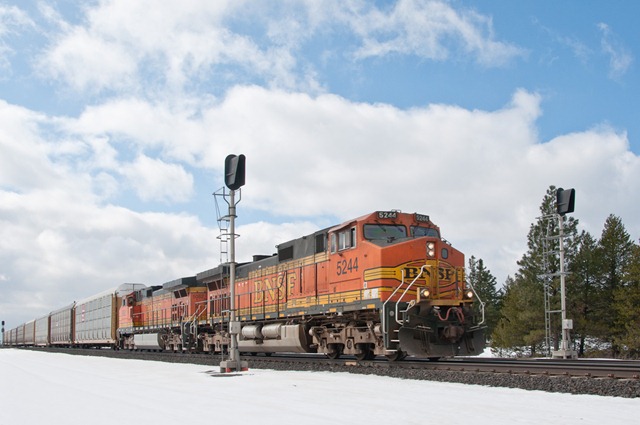 I continued on my way and stopped at a train shop in Spokane, Washington, but their prices were all full retail and they had a puny stock of N scale, so only ended up buying a train magazine.
Back on the road I was now well out of the forests of Montana and into massive open plains. I spied a train making its way through the huge fields and pulled off for a photo.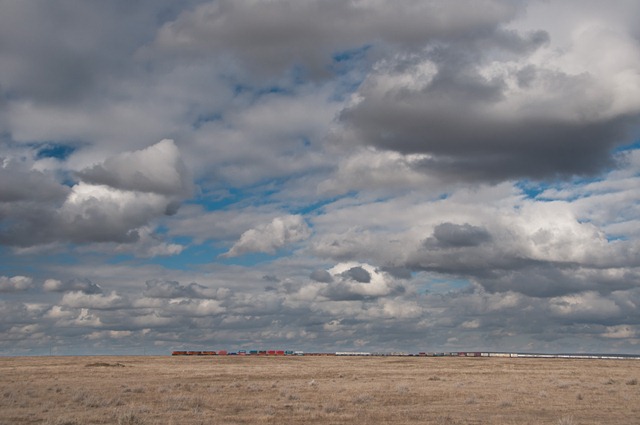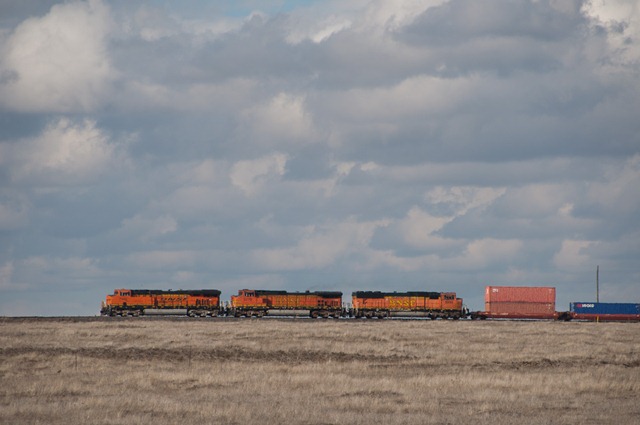 Even out here, on a cool cloudy day, the amount of heat shimmer across the fields made crisp photos impossible. The view down the road was pretty cool though:
I continued on and somewhere (I am going to totally guess and say near Lind, WA) I missed the turn off for my highway and had to take a back road to get back on track. But at least this time the back road was drivable! Plus , the scenery was magic.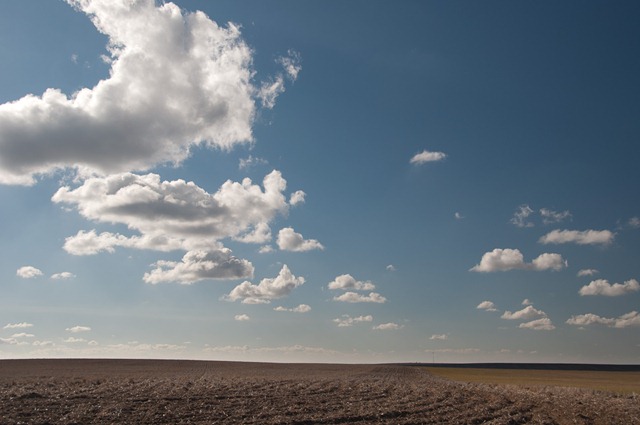 Great fields stretched as far as the eye could see. Every so often a grain elevator (yep, still not free of them!) would crop up, or a herd of wind turbines could be seen peeking over a hill.
I drove on through amazing unrealistically green fields (I intend to raise this with God one day) and down my little twisty road, before I was almost back on the highway and suddenly, whoa! Slammed on the brakes, parked, and armed with my camera I set off on a little photo mission.
I wandered round for a bit and caught a train racing through, but the photo isn't anything amazing. Everything else was though. I'd found myself a lovely grain elevator, weigh station, run down cottage and very rustic outbuildings.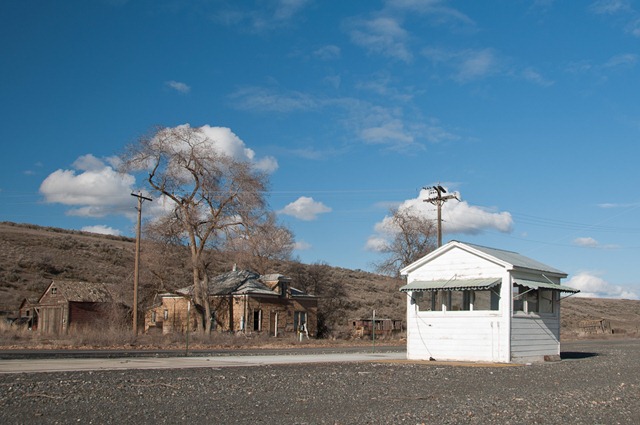 Old cottage and weigh station
The cottage was amazing…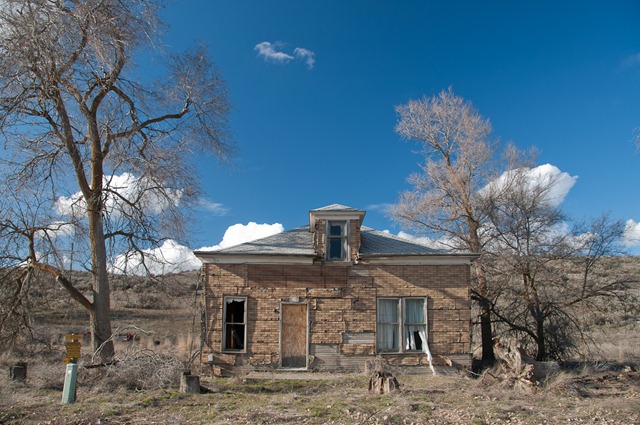 Welcome…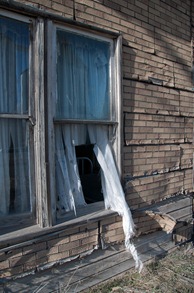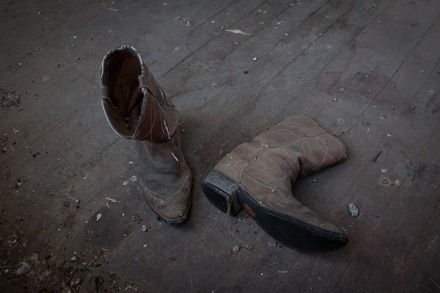 Artfully blowing lace curtain / view through the window
All completely unposed or staged I'll add, this is exactly how I found it. Yes, even the boots on the lovely wooden floor. Also… notice how the bricks are peeling off the house!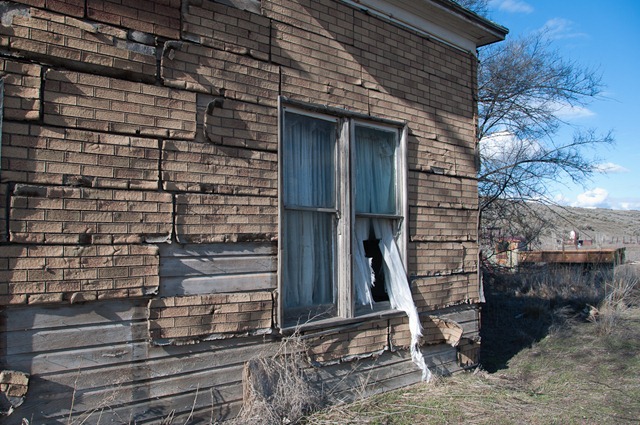 I can't really explain that one.
Behind the house were more "rustic" buildings: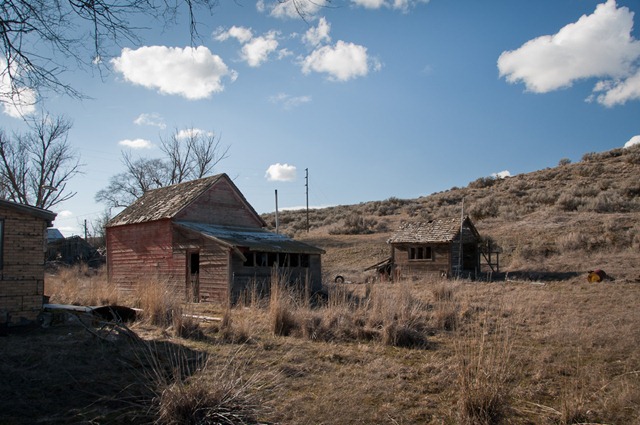 And then next to them was a real wee gem: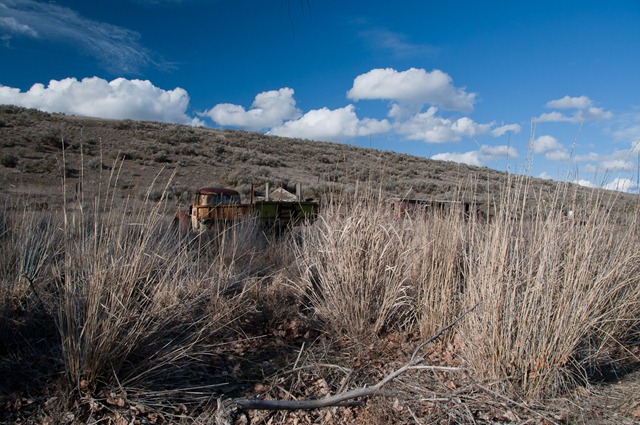 I spent a long time trying different angles and generally enjoying the amazing scenery and lighting. I wandered over to the weigh house and took a peer in. It itself was quite a scene: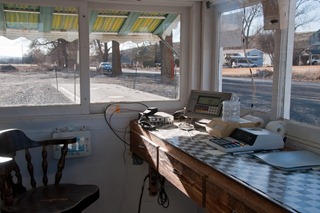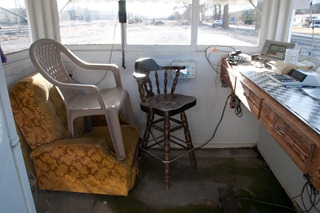 Interesting seating arrangements!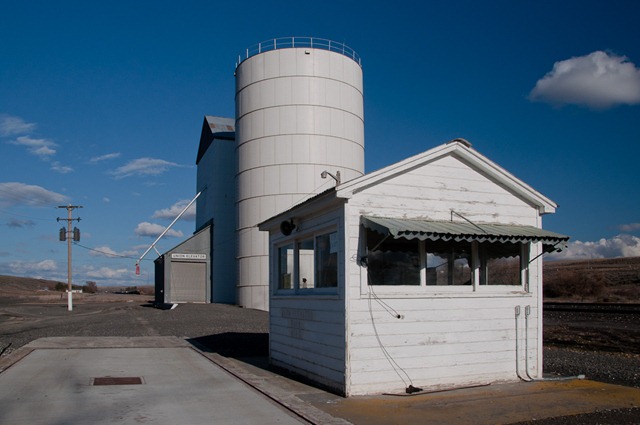 Weigh station and grain elevator.
The building was very cute, I will have to add one to my railway.
Even the little house across the road was a bit of a sight, with plastic deer grazing around the letter box, and ears & a dish on their (presumably) septic tank.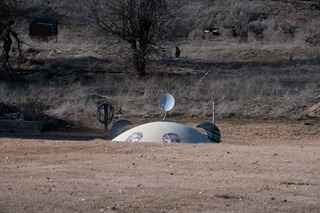 Back on the highway I spied a very simple model of some grain silos, which were obviously just some tin cans piled up! And an in-progress transmission line.
Then it was time to bid Washington farewell and move into Oregon. Oregon begins in the middle of the river: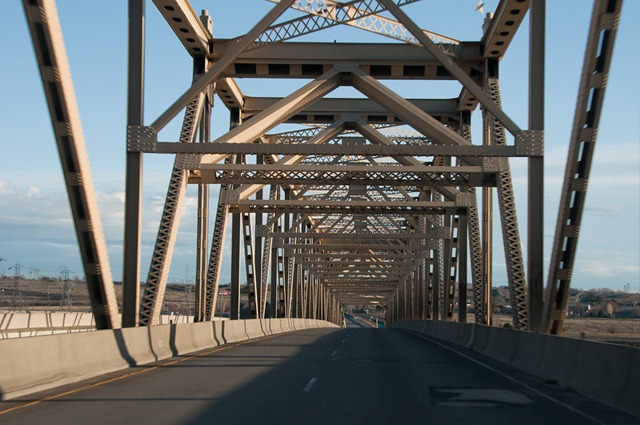 This is the town of Umatilla where again I failed to make an extreme right hand turn at 50mph, and had to take a minor detour. Lake Umatilla, which I mistook as a river (easy mistake; it's long, same width as a river, and has water flowing in at the top and exiting at the bottom; how is that not a river?!), turns into the Columbia River, which in turn leads on into the Columbia River Gorge, a name I'd heard many times before, but didn't realise I'd actually be driving along it in a few hours time.
Heading down the highway I spied a train and soon enough caught up with him. The sun was getting very low now, which made for terrible driving but amazing views. I pulled off and tried to clean my windscreen, and oh shucks I just happened to be at a crossing :-) I got a friendly shave-and-a-haircut toot sequence from the driver.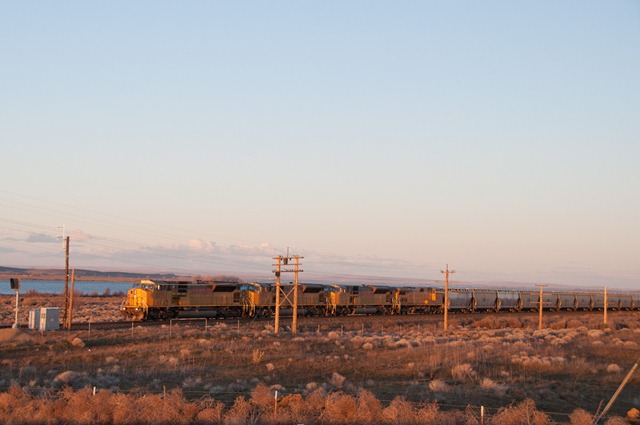 I was rather excited to see a trio of SD9043MACs on the front of the train; these are the largest diesel locos still in mainline service, although technically they were a bit of a failure. There were supposed to be extremely powerful and replace 2 locos with a single one; problem with doing that is now any breakdown will strand your train, rather than being able to limp home with on a single loco. Add to that they were initially very unreliable and it's not hard to see why they've been retired, scrapped, sold off, or downrated. I still like sight of them though.
And what a sight they made heading into the sunset! The train appeared to be the UP version of an earthworm, only with white hoppers.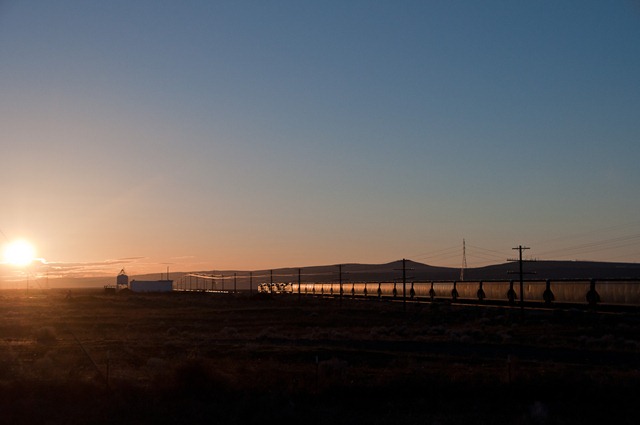 I let him go and hopped back on the highway. Sun was setting behind some distant clouds now and made for quite a sight as I roared down the highway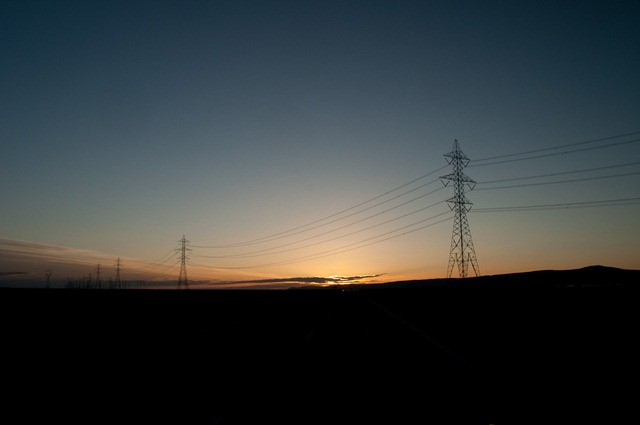 And then… what's this, another train? He'd stopped for something and I found a sideroad to catch him from. Caught him slowly accelerating as he went onto a bridge: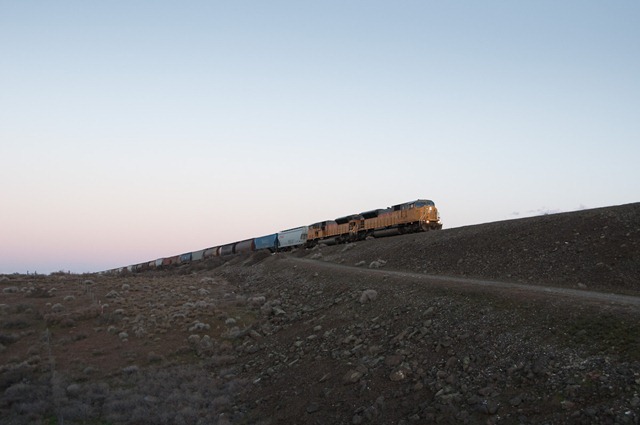 I would've had a photo of him on the bridge, but my camera's memory card decided it was full, just as the locos were perfectly positioned on the bridge. Oh well. Serves me right for now downloading my photos more often.
I drove on and soon it was dark. I could feel the road getting pushed in towards the river and soon I was travelling down a mighty canyon. There wasn't much to see on account of it being very dark out, but every so often I would pass a town squished in between the river, highway, and cliffs.
I had a break at a rest area and noticed after I'd been for a walk that I'd parked right where someone had chosen to lose their dinner. Charming. Read the displays at the kiosk about "Oregon Fever" where settlers would trek from Missouri to Oregon on the promise of large allotments of fertile land. They had some diary excerpts which ranged from detailed recollections of how "I found some Italian Water Cress which my companion was sure was fennel. I fried it up with a little bacon fat and salt and had a delightful meal. My companion was expecting me to peel over at any moment, however by the next evening he was begging to be poisoned too." … all the way to "Detained by hed wind. Walked 5 mile. Detained by hed wind till evening."
I drove on and got to Cascade Locks where I decided I would bunker down for the night. Spent a while finding a motel, as the ones on the Oregon side looked full, or very expensive, and the ones Washington side had never heard of Wifi!
To get to Washington I had to cross "The Bridge of the Gods" which cost a dollar each way. It was a huge rickety steel structure and I drove into dense fog as I approached Washington.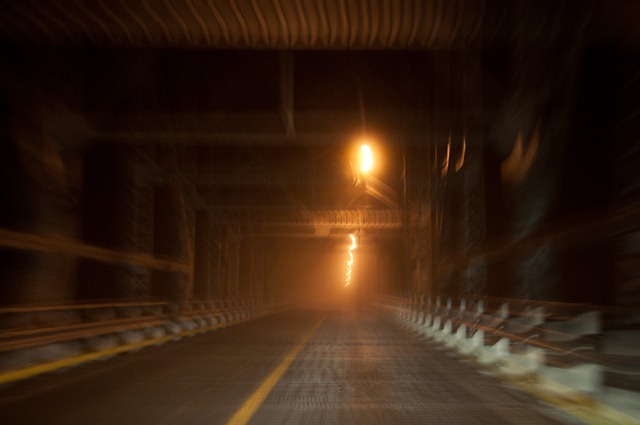 Nice steady hand-held long-exposure, taken while driving :-)
I eventually found a nice motel and hunkered down there. Dinner was… dinner was the other half of the pizza from the night before, and there was still some left over! But them when it cost me nearly $20 I should hope so!
600km today, about 7 hours of driving. But then I started in Idaho, crossed Washington, and finished in Oregon, so I think that's quite a good effort.