Verde Canyon Railroad
Plan for the 5th was to go on the Verde (verr-dee) Canyon Railroad. So we woke up early and headed off for Sedona, the half way point. On the way we, quite unexpectedly, passed through the Oak Creek Canyon which was quite spectacular. Gigantic towering walls of red rock were all around us as we slowly zig zagged down the canyon. No photos as the only places to pull over were US Forestry Service picnic areas which were all fee areas :-(
We soon arrived in Sedona which is very touristy. After visiting such places as Tuba City and Helper which are definitely not on the average tourist's path, it was quite a shock to arrive in touristville. For example: the busses in Sedona are decorated like trams, with half-arch windows and clerestory roofs (fake naturally). Seriously; clerestory roofs on a bus?!?!??!!! At least here in Flagstaff the (somewhat stumpy) busses are normal looking!
Brought a tee shirt from Jake's Canyon House and made a phone call to clarify why the Verde Canyon RR wanted us there an hour prior. Lady at the reservation line answered the phone with "Hi hun, sorry hello and welcome to the …" so not sure who she was expecting a call from! Official response was that they have 400 people to board and so we need you there nice and early. Hmm.
Got there, got our tickets, got some overpriced and very average burritos and then had 45 minutes to kill before we could board the train. Finally it was time to board and it took a whole 2 minutes. Another 15 minutes later and we were on our way. So I think the whole reason to turn up early is so you buy their expensive food and uninspiring souvenirs. At least our carriage was nice; I opted to pay a little more and get first class seating, which was in big comfy sofas in an African themed carriage. The carriage was ex New York Central RR commuter service, and I think they'd just sprayed "Tuscan stucco" paint over the entire carriage & put some artsy lights over it. Before we left we got a complimentary glass of champagne, although the glass was an aeroplane style plastic tub – classy!
We trundled down the line and past an impressive slag heap. The scenery was ok, but after Colorado nothing really compares. Their brochure said it was on par with the Grand Canyon; they've obviously never visited it in person or taken a chopper ride over it :-) The most exciting thing for me was probably that some of the carriages were similar to one I purchased in Orem, UT, and seeing a bizarre not-cactus plant.

Not a cactus, or even a succulent, but I can't remember what it's called.
Along the way they pointed out rocks that looked like turtles and frogs; personally Frog and Seal Rocks on the Weka Pass Railway are more impressive. The desert-scape was impressive though..
Saw an Osprey along the way, and a roadrunner. The roadrunner was smaller than I thought though.
Some bits of the canyon were nice, and in one place it did tower above the railway quite a bit. Grand Canyon? Not really. And nothing compared to your average mom & pop railroad in Colorado which all seem to have a 300 ft drop or towering cliffs somewhere along the line :-) We went through a tunnel at one point which they got a little too excited about; steam train + tunnel is much more fun.
Along the way we passed a bald eagle nesting site, but all I could see was bird poo. They've painted their locos up in an eagle inspired scheme, but when you consider how amazingly powerful eagle wings can be when in a logo or design, I think their paint job is about as boring as it can get!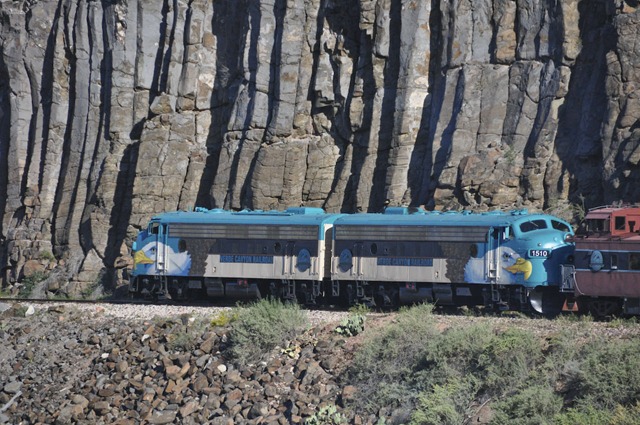 Compare some other eagle logos I've found and you'll see what how amazing it could've been:
Union Pacific / Harley Davidson / Avon School



Eagle Athletic / Eagle Systems / Pride Heating And Air

Hmm; the weird off white and pale blue and almost friendly looking eagle of the Verde Canyon just doesn't compare. The bald eagle inspired logos are one of the most powerful things I've seen over here, I just love them! The painted carriages are even less inspiring, and I've seen just how sharp the exact same carriages can look (eg Rio Grande's yellow/silver/black or Great Northern's orange/deep green). It's a shame when a railroad doesn't live up to its potential, and they have nice carriages and nice locos with lots of possibilities, but a very boring paint scheme and logo.
The actual ride also failed to live up to the hype; it wasn't bad , but it was nothing compared to any of the trips we did in Colorado either. Their weird check in policies and expensive food didn't help matters either.
So we finished that and zipped back into Flagstaff (hour & a half drive, short for Arizona). Had dinner at the Downtown Diner again, which was pleasant enough. Had a bit of free time so we went to see Zombieland at the local cinema. More or less just like a movie theatre back home, but no allocated seating! Zombieland was awesome, exactly my kind of movie. Incredibly funny, very well cast and produced. All about a band of four characters who attempt to survive in a zombie infested world. All sorts of creative means of zombie killing were employed, such as being crushed by a grand piano, or being given a "close shave" with hedge trimmers. Will have to go see it again when it comes out in NZ in a month and a half .
Then it was back home and off to bed. Much nicer motel tonight, took a little bit more choosing, and made sure I checked the room before hand :-)